In today's world, Lean is no longer constricted to the manufacturing and automotive industries. Lean experience can be taken and applied to hospitals, school districts as well as media companies. Not only these but craft brewers and even copywriters look for people with Lean manufacturing management experience in order to streamline their businesses. The ultimate goal is to end-to-end digitizate the supply chain and production process. Despite the size, every company wants to reduce waste and maximize the customer value. Hence, there are numerous opportunities of Lean manufacturing in the business world. Lean managers are in a way problem solvers who not only help in identifying the different types of wastes and defects in the manufacturing process but also take the remedial steps to eliminate them and continually strive to enhance productivity and output of their operations. Thus, they are highly-demanded by businesses to enhance their productivity. So, opting for a career in Lean manufacturing 2022 is definitely a good decision. In this blog, we'll focus on providing you with valuable insights about the future scope and opportunities of Lean manufacturing so as to help you build your career in this field. So, let's begin with knowing the fundamental skills required for one to possess in order to enter the field of Lean maufacturing and process improvement.
Skills Required
In order to become a Lean manufacturing professional, one should possess the following skills and abilities-
Lean principles
Knowledge of visual management
Communication skills
Business knowledge
Management skills
Technical understanding
Learning Outcomes
Learning Lean manufacturing helps you in-
Identifying the main features of a production line process and finding ways to make it more effective.
Understanding the concepts like 'Just in Time manufacturing' as well as 'Lean manufacturing' and applying them to the process.
Identifying the ways to efficiently run a production line.
Monitoring a simulated process and identifying the skills required to make it work efficiently.
Relating concepts like JIT manufacturing and Lean manufacturing to the context of an assembly line.
Lean Manufacturing Principles
Lean manufacturing follows the following principles-
Waste elimination
Kaizen
One piece flow
Poka-Yoke
Jidoka
Respecting human elements
Heijunka
Just In Time production
Roles and Responsibilities
The main responsibility of a Lean manufacturing professional is to-
Implement continuous improvement programs for labor, quality, cost, inventory planning, shipping, etc.
Drive continuous improvement culture and ensure permanent changes.
Lead Kaizen events for process improvement.
Manage and organize Kanban, JIT deliveries, inventories and WIP utilizing ERP system.
Train employees on the principles of continuous improvement.
Implement the 5S System in order to organize the workplace.
Career Prospects
With a prominence on enhanced productivity and reducing unnecessary waste, Lean manufacturing is an absolute fit for organizations willing to be at the forefront of new developments like the introduction of new technologies along with the related workforce shifts in the industrial sphere. Thus, there is an increasing demand for Lean manufacturing experts in the industry that makes it one of the desirable careers for freshers in 2022. So, let's look at some of the highest-paying careers in this field-
Lean manufacturing engineers
Lean manufacturing engineers are the professionals responsible for the execution of the lean manufacturing technique that includes methods of reducing waste in a manufacturing system without sacrificing productivity. So, one's tech savviness and knowledge of Lean manufacturing can get them a job as a Lean engineer. Average salary- Rs.3,85,052
Production planning managers
Production managers or unit production managers are responsible for budgeting, shooting schedules, and managing the daily business side of a production. Also, they oversee what's called as the below-the-line crew. So, it is a profile worthy for candidates interested in planning, organizing and negotiating budgets. Average salary- Rs.7,70,000
Operations managers
Lean operations managers focus on a business strategy driven by the principle of doing more with less. They are responsible for running a business and improving the daily operations in a company. Eventually, their goal is to provide perfect value to the customer through a perfect value creation process that has minimal or no waste. Average salary- Rs.7,67,549
Lean manufacturing managers
Lean manufacturing managers lead and design the goals and strategies of Lean manufacturing for enhancing the operations and processes within the organization. Moreover, they manages all the activities for continuous improvement as well performance improvement. Average salary- Rs.13,71,484
Supply chain managers
Lean supply chain managers focus on eliminating the non-value added time and consequent reduction of lead time at every step of the supply chain starting from the manufacturing of raw materials by suppliers to delivering finished goods to the end users. Average salary- Rs.8,84,427
Lean coordinators
Lean coordinators are the professionals who execute specific lean production projects, conduct internal and external KanBan, manage constraints, one-piece flow production, look into organizing the workplace and setup reduction. Moreover, they establish lean teams for organization and train members working on the lean processes. Average salary- Rs.3,60,568
Process improvement managers 
Process improvement managers are the business development professionals responsible for overseeing the important business systems and find ways to increase their efficiency. Moreover, they develop, elevate the company's performance of vital business systems and processes and detect problems and accordingly find solutions. Average salary- Rs.15,69,805 The following graph shows the pay scale of manufacturing engineers in accordance with the work experience.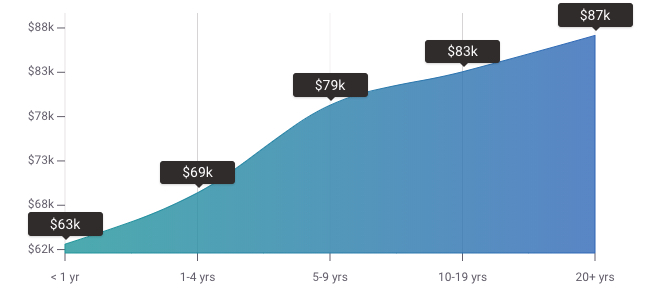 Owing to the learnings and ability to spearhead a culture of change in an organization, the candidates possessing Lean manufacturing skills are in high demand. Thus, it is a great career option in 2022 and the coming future for aspiring candidates. We've discussed almost all the highest paying jobs in this field for you to explore as per your area of interest. Once, you are ready to enter this field, all you need to do is to follow a proper route to reach your goal. So, let's look at the procedure to be followed further-
How to proceed?
The first step is to get a bachelor's degree in your field of interest and try to gain some work experience in this area because eventually, what's going to get you a perfect job in lean manufacturing is the skills that you possess. So, you have to equip yourselves with relevant skills and techniques and the best way to do that is by enrolling in certification programs that validate your skills and knowledge in the field of lean manufacturing. Thus, you can refer to the following tutorial to understand in detail the certification programs on Lean offered by Vskills that not only provide you with the necessary skill-set but also awards government certification as a proof your knowledge. Alongside, you can try out the practice tests in order to test your level of preparation and analyze your performance at each step.
So, what are you waiting for? Get yourself certified in Lean manufacturing with Vskills to start your career in this field!!