Giant enterprises are running toward succeeding in the competition which ultimately requires a lot of meaningful insights. However, with the increasing extent of disorganized data, it becomes difficult to analyze it in real-time. That is when the firms need technologies using which they can analyze and forecast the market trends with a simple click, and Business Intelligence serves this purpose. Business intelligence (BI), uses software and services to turn data into meaningful insights and assist organizations to make intellectual and tactical business decisions.
A Business Intelligence Professional is accountable for managing data using various ways. They present resolutions for improvement by developing and managing BI solutions. Creating reports including processing VBA applications through the application life cycle is one of their major responsibility. Analyze business processes and requirements as well as create and maintain documentation. Moreover, they also identify opportunities for improving processes and strategies with technology solutions. Looking at the importance Business intelligence holds in today's world, we've tried our best to offer you all the relevant information related to a BI Professional as well as the future scope and opportunities of Business Intelligence in the year 2022.
Roles and Responsibilities of a Business Intelligence Professional
Some of the major roles and responsibilities of a business intelligence professional are listed below:
Managing the specified reporting areas on regular basis and providing periodic reports.
Assisting in the development of data solutions for businesses.
Developing reports from executive dashboards to supervisor-level focused areas.
Validating the data in reports that have been created, and introducing the users to them.
Conduct enterprise data solutions and data audits.
Internal and external audits are included in and supported.
Skills required in Business Intelligence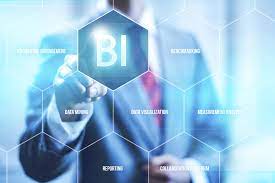 Below mentioned are some of the major skill set required to start your career as a BI Professional:
Computer formulas, databases, models, and queries.
Defining, data must be collected, facts must be established, and valid conclusions must be drawn.
Knowledge of ETL tools.
Report writing, corporate communications, and procedure manuals.
Ability to effectively deliver information to groups of management, clients, consumers, and the general public.
Be able to build practical and well-designed data visualizations in SSRS or Tableau.
Qualifications required to become a BI Professional
To become a BI Professional you're expected to have a bachelor's degree either in finance, information technology, statistics, or data analysis, along with 2-3 years of experience in the business intelligence industry. Moreover, you should also have more than a year of experience with SQL technologies such as SSRS, SSIS, and SQL Server and more than three years of expertise with Microsoft Office, focusing on Excel and Access and the knowledge with one or more business intelligence tools such as Birst, Tableau, or similar products are greatly desirable.
Why pursue a career in Business Intelligence?
The demand for Business intelligence is increasing proportionally and hence the requirement for BI employees is increasing. Hence, this means that the companies are looking up for skilled professionals to work for them. As the volume of data available to organizations is increasing, so there is a need for professionals who can understand and analyze it. Therefore, roles within Business Intelligence and data are set to become more and more in demand as they are crucial to making business operations smarter and more profitable. It also offers job security and various career opportunities that are highly reputable and interesting like business intelligence analyst, BI developer, BI engineer, etc. Also, one of the major reasons to choose a business intelligence career is that you don't need to have any technical background to start your career in it. Moreover, you're expected to have good communication skills, teamwork skills, problem-solving, and critical thinking.
How Business Intelligence is transforming the business landscape?
Business Intelligence offers a lot of options to summarize and visualize the information in a systematic manner to streamline the business decisions
Business Intelligence ensures smooth business operations by integrating BI into business processes by accumulating information across departments to ensure proper coordination and efficiency enhancement.
BI tools offer visibility by presenting complex data and analysing trends to positively handle the company operations.
BI tools offer a competitive edge by leveraging information and comparing with other companies to handle competitions
Business Intelligence is considered a backbone of modern business operations.
BI tools provide graphical and visualization assistance for a better overall presentation
Scope and Future of Business Intelligence
Business Intelligence includes the accumulation, analysis, and visualization of data in a bid to help the organization to make better business decisions. It requires the human mind to strengthen the processes, strategies, and procedures for the betterment of the company. Recently, the business market is realizing the actual potential of business intelligence and they are now ready to invest large amounts to hire such professionals. Factors such as increasing perceptive consumers, associated with strict government and industry restrictions and an explosive marketplace, have led to the adoption of Business Intelligence. This has, therefore, led to extreme improvements in operations and processes and increased competence. BI has a very crucial role to play in terms of collecting data which includes interrogating, reporting, and is responsible to answer questions pertaining to what happened in the past.
BI is certainly growing at a very fast pace. Today many companies are investing their time and assets in developing their business development sector to improve their business. Since the data a company holds is increasing there is always a need for professionals who can extract meaningful information and suggest business-related opinions. However,  it's a very good time to be a part of a data-driven company as a BI professional when it is evident that data is the future. So, join the data revolution and leverage the edge it will give your career.
Career Prospects
Some of the most trending and fastest-growing career opportunities in business intelligence are listed below along with the average annual salary of a beginner. Now, let's dive into the career prospects of business intelligence.
1. Business Intelligence Analyst
A business intelligence analyst's job is to make the already collected data into use for the company to increase efficiency and maximize profit. They analyze large amounts of data and then produce reports and identify trends to generate actionable business insights. I would say a career in BI as a BI analyst is a good one. They collaborate in cross-functional teams to expand the awareness of BI technologies and administer the demonstration of BI solutions.
Average Salary: INR 7 Lakhs per annum
2. Business Intelligence Project Manager
A product manager is the one who determines the customer need and the more extensive business objectives that a product or feature will fulfil show what a win looks like for a product. They work to build and deploy data warehouses, portals, and apps, these professionals collaborate with internal teams. Moreover, they also identify business gaps and design solutions to fill them. Additionally, this role demands highly influential communication across a range of stakeholders and a strong tendency to function and organization.
Average Salary: INR 18 Lakhs per annum
3. Business Intelligence Developer
This professional is actually an engineer who is in charge of developing, deploying, and maintaining BI interfaces that include query tools, data visualization, interactive dashboards, ad hoc reporting, and data modelling tools. BI developers create appropriate solutions that accomplish the requirements of clients. Moreover, they also deliver ETL to help with data integration needs. A BI developer is also in charge of database applications in DB2, Oracle, or SQL Server.
Average Salary: INR 6.5 Lakhs per annum
4. Business Intelligence Administrator
If you want to do research and organize data for companies then this is the right career choice for you. They also administer essential business information about infrastructure, systems design, software, and other equipment. Moreover, they are also responsible for creating standard and custom reports that summarise the data.
Average Salary: INR 7.5 Lakhs per annum
5. Business Intelligence Consultant
These professionals work to enhance the internal decisions and strategy making of the company. They evaluate existing data and analytics systems and plan a more suitable BI roadmap. BI consultants assist businesses in learning new data management practices. Moreover, consultants help businesses improve their operational efficiency by enhancing existing software or implementing new systems.
Average Salary: INR 10.5 Lakhs per annum
Average Salary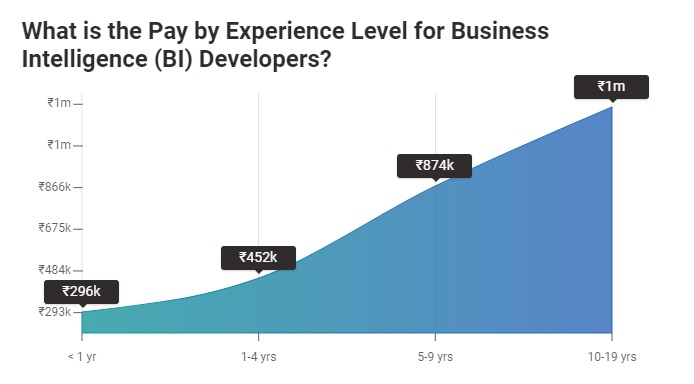 According to statistics, the BI and analytics market is expected to be worth $26.50 billion in the year 2022. Businesses that use business intelligence analytics are likely to benefit five times faster, more informed decisions. According to the US Bureau of Labor Statistics, demand for qualified analysts and managers will rise to 14% by 2026, with overall data professional needs rising to 28% by 2020. This exceeds promontories for nearly every other occupation. Thus, this is the best time to take up business intelligence as your career and boost your professional life.
What to do next?
If you're thinking to step into the field of business intelligence then you must first establish a good foundation before you can become an expert in this field. And you should have the right skills before you can move on to practical teaching. So you should definitely look forward to gaining knowledge by attending lectures, joining study groups, taking online certification courses, and taking tests to check yourself where you stand.
We are here to ease your work by providing you with the best online certification courses on the web. Vskills is offering a Certified business intelligence professional course that will help you begin your career in this field and will give you a clear idea of the topics that need to be covered. The best part is that this certification is recognized by the Government of India so this will add value to your resume as well. We would also like to wish you all the best in your career. Happy Learning!