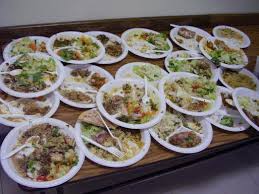 Food wastage in weddings is one of the biggest problems in India. People spend thousands of money on the food in weddings but approximately 40% of the food prepared gets wasted away. In some cases, the waste is to the extent of 20-25 per cent when the number of dishes exceeds the number of guests invited to the marriage halls. In a country where thousands of people have no food to eat, so much food is thrown away just like that.
Guests invited in weddings are mostly responsible for the food wastage because of different thoughts, mostly they have the fear that if they go second time to take the food they won't get it, for the first time they have seen the food they have never eaten before or due to lack of education they do not realize that if they take extra food it will get wasted.
While the money spent on the weddings cannot be controlled, some measures can be taken to minimize the wastage of food.
Choose the dishes wisely. The guests are not there to educate their taste in food so keep the things that are familiar so that it does not get wasted just because people want to try something new!
Have servers behind the wedding buffet to help guests with correct sized portions. People move around in a hurry and don't concentrate on how much exactly they are putting on their plates. So, having servers to assist them to avoid wastage is a trend worth a try.
Tie up with an NGO to supply the leftover food while maintaining proper hygiene standards. It is something you can tell the caterer to do for you or approach one on your own.
A norm abroad but ignored in India, RSVP is a must! Please tell your guests to confirm their presence in advance. Of course, last minute cancellations and additions are obvious, but at least it gives an approximate idea of people who are going to be attending the event.