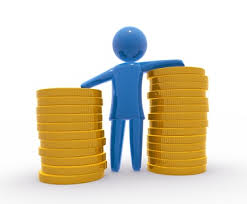 Financial Management is made of two words finance and management. So financial management is the effectively and efficiently management of finance in the planning, organizing, staffing,coordinating and controlling functions of the company. First obtaining fund from the shareholders, debenture holders and loan from banks and second sensibly employing the funds in assets. It also monitors and controls all cash and bank transactions, receivable and payable, salaries etc. of the company.
The success of a company depends on its strong financial management. Financial management uses accounting, economics and business laws to make sound decisions. The primary financial goal of the business firm is to maximize the wealth of the firms owners for long term not for short term.
Financial Management is easy in proprietor business, which is run by only one employer. It is also easy to the some extent in partnership business but difficult in limited liability. In partnership business there must be at least two partner and companies. In partnership business there must be at least 2 and maximum 20 but 10 in banking business. In limited liability companies its shareholders enjoy limited liability.
Click here for government certification in Accounting, Banking & Finance