Financial Inclusion – How accessible banking would mean growth for India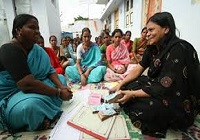 Poverty' by definitions is, a state of scarcity of essential resources needed for a comfortable survival and Financial inclusion means giving opportunities of affordable and easily accessible banking facilities and credit to people.
Before I begin to elaborate upon how the inclusion of poor will lead to our country's growth, it is very important to analyze the present scenario of our country.
In a diverse country like india, with a population exceeding 121 crore and with 83.3 crore population living in rural area, it is of utmost amazement that 276 million people ( 2011 statistics )
still suffer from poverty. There are more then 41% i.e 49.61 crore people still without a bank account. The average bank to area ratio is so poor, that is few places specially in rural areas people are unable to find banks within 5km sq area. Around 80 % of our population doesn't have life insurance or health insurance. The knowledge about finance or the financial literacy rate is also very poor in the country. Most of the people are still unaware of the government loans and interest
rates and other financial policies. The population of the country is constantly at rise and so is the need for revenue generation, this has lead to need of including the low income group people into our financial system. So now the question which we all must be wondering about is how inclusion
of poor who do not even have money for a standard lifestyle will contribute to our country's growth.
• The first and foremost thing which is necessary for the financial inclusion of poor is opening of
more and more number of bank branches which will directly contribute in increasing the job
opportunities and also business opportunities as our government has realised the importance of
banking business agents who will be the key player in providing banking opportunities to every
household.
• Since the poor population in our country is very high so their inclusion will give a motivate
people to put money in the bank accounts for the use and help of the poor. So the money, though
very little will be utilised by banks for the investments plans and hence contribute in revenue
generation.
• The subsidies given by our government to the needy can be directly transferred to their
accounts which will save a lot of paper, work and the leakages which we face today. Hence the
workload will decrease and the money could be easily utilised for the growth and welfare of the
poor people.
• With opening bank accounts, people can be provided with health and life insurance which will
make a huge impact by supporting the people when they really need help and hence there will be
more heathy and confident population. This will also decrease the burden on government hospitals
and hence provide a better hospitality to the people.
• Poor will be provided loans with less paper work which will give the young talent a platform to
perform and I, with confidence can say that more entrepreneurs like Sachin
Bansal(Flipkart),Bhavish Aggarwal(Ola Cabs) etc will emerge. In addition to this, poor who borrow
money from money lenders at very high rate of interest and are trapped into poverty cycle will be
benefited and hence contribute to the development.
• Education loans can be provided to the government school students so that they are able to
pursue there higher studies. This will provide more skilled population and also fulfil the dreams of
students which now are crushed because of the financial crisis.
• The financial inclusion will also have a positive psychological impact on people by providing
them a sense of confidence ,inclusion and their own little contribution to the country and hence, will
uplift there psychosocial status.
There is another aspect of growth which is different from economic point of view. The living
standard , the happiness and the equal opportunities provided to the population contribute a lot
towards the growth of the country and I believe that poor people have the right to easily accessible
and affordable banking facilities, irrespective of the place they live in. They also deserve the high
standard bank branches with all new technologies and ATM machines near to their house to make
their life more comforting and hassle free.
Also now as we are moving towards projects like MAKE IN INDIA and DIGITAL india, these
projects can be a helping hand for financial inclusion of the poor by providing infrastructure and
internet connectivity throughout the country.
Click here for government certification in Accounting, Banking & Finance