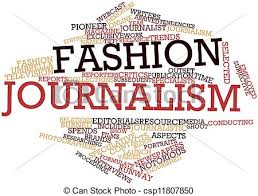 An Overview!
Fashion, it is a way to be, a thing to follow, can be created, can be learnt, is a profession too!
Fashion is a multi-purpose word, a very popular word indeed. There are fashion houses, fashion designers, fashion students, fashion models & fashion journalists. Though they all function independently, they are a part of the Fashion Ecosystem called the Fashion Industry. When designers create new trends and represent it in fashion shows, it becomes of much more worth when it is covered & presented via mass media. Thus, Fashion Journalists play an utmost important role in increasing the popularity of the fashion houses, designers & new trends. Fashion Journalists can be photographers, critics, writers, reporters. They are responsible to catch up with and give coverage to all the possible fashion events around them, write or critique about the latest fashion trends/designs or Fashion Industry stories. They might interview the famous designers & broadcast or publish articles about them & their works.
As a Career
A person who possesses passion & interest in the field of Fashion can delve into making a career in this field. One basically requires a bachelor's degree in Fashion or Journalism or any other relevant field and basic sense of fashion knowledge. Working as interns with Fashion blogs, magazines, fashion houses, etc can add to the probability of earning a better employment. One should comprise of basic Oral & Written communication and be willing to work with deadlines & under pressure.
As a Profession
Fashion Journalism is a growing profession and is exposed to stiff competition. A fashion journalist might work under a magazine, television channel, radio channel, online blogs, online magazines, fashion houses, etc. One might also work as a freelancer. The field is studded with glitz & glamour from fashionistas to beauty pageants, celebrities to fashion designers, new trends to beauty hacks, all fall into one's basket of life. However, one needs to be in proper contact with the industry people like the publicists, the designers or fashion house owners once you get into the field, so as to make a stable space for yourself in the industry.
Fashion journalists are expected to put in their heart & soul into the research & coordination. They might have to work on weekends or on night shifts since this industry works at late hours. They should be dedicated, creative and must be very socializing. Despite of the highs & lows of the career, Fashion Journalism is a very interesting profession.
Criticism & Challenges
A lot of Fashion Journalists face criticism when it comes to their reporting and critiquing. The industry requires people who can write informed critiquing reports with a profound understanding of fashion and garments. Most journalists are mere front row attendees who make superficial judgments and write biased reviews. Every profession aims & strives for professionalism and holistic knowhow. However, some journalists violate the basic ethics and bring down the level of professionalism they are expected to deliver.
Like every other field of journalism, fashion journalism too has a set of standard ethics & morals to be followed!