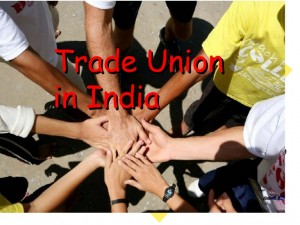 Indian Labour Movement.
Living conditions of workers – miserable.
Establishment of Bombay Mill Hands Association – 1890 – president – N.M. Lokahnde .
Objective –

Invite attention of government and public to many grievances of the textile workers of Bombay.
But they were not a trade union as they had no

Membership
Funds
Rules
No trade unions could grow – poverty and illiteracy.
1st World War period
1st World War – sparked off  trade union movement in India.
Sharp rise in prices, cost of living => wage lag
Indian workers launched a series of strikes from 1918 to 1920.
>200 strikes in first 6 months of 1920.
Rising cost of living, ruthless exploitation and suppression, political agitation against foreign rule, establishment of ILO in 1919 => AITUC in 1920.
AITUC had 64 trade unions when it was formed in 1920.
1920-29
Features :

Formation of AITUC
Expansion in the no. of trade unions and membership
Enactment of Indian Trade Unions Act, 1926
Increase in freq of industrial disputes => work stoppages
Split in AITUC
Formation of AITUC
Direct result of establishment of ILO in 1919.
Formed to represent Indian labour at International Labour Conference.
British Trade Union Congress and American Federation of labour were setup – individual trade union operated in different contexts => felt the need to establish a central federation.
Indian trade union => central came first, then individual trade unions in different industries.
1st president of AITUC – Lala Lajpat Rai
Expansion of the no. of trade unions and membership
No. of  trade unions continued to increase.
Concentrated in the provinces of Bombay, Madras, Bengal.
Considerable trade union activities – Railways, shipping, cotton, jute, mining, engineering, printing and paper.
Enactment of Indian Trade Union Act, 1926
Need for nominating the workers' representatives in ILO, Indian Trade Unions Act, 1926 was passed
Provided protection against criminal liability under section 120(B) of Indian Penal Code to officers and members of the trade union registered under this act.
Security against cases of civil damages arising out of trade disputes.
Increase in frequency of Industrial Disputes
Strikes and lockouts were very frequent.
Crores of man days were lost.
May 1, 1927 was celebrated at Bombay as the Labour Day – the symbol of opening of a new era of the Indian Labour movement as a conscious part of the International Labour Movement.
AITUC Split
AITUC suffered three major splits dividing and weakening the trade union movement
Happened at the Nagpur Session in 1929.
3 major parts

Truncated AITUC
Indian Trade Union Federation
Red Trade Union Congress
1930-39
Great depression and its effects on trade union activities
Reunification of trade union movement.
Great depression and its effects on Trade Union activities
Economic activities came to a standstill, falling prices, wage cuts, mass unemployment, starvation
Decline in membership of trade union.
Truncated AITUC, Indian Trade Union Federation and Red Trade Union Congress were not in a position to offer any resistance to the onslaughts of employers and deteriorating labour standards.
Employers resorted to wage cuts, retrenchment and schemes of rationalization.
Reunification of Trade Union Movement
There was a split in the Red Trade Union Congress in 1931.
Indian trade unions were divided into 4 groups –

Original AITUC – control of radicals
Indian Trade union Federation – control of moderates
Red Trade Union Congress – control of communists
Group of independent trade union not attached to any central organization.
Indian labour Movement was unified – 1940 – series of compromises – RR Gokhale, VV Giri, NM Joshi, Diwan Chamanlal.
Happened at Nagpur in 1940.
1940-49
Two major events:

2nd World War
Indian independence
2nd World War
Effects:

Attitude towards the war and the split in the trade union movement.
force to trade union growth and increase in the number of industrial disputes.
beginning of the practice of paying DA and bonus.
Creation of tripartite bodies in the field of labour and industrial relations.
Attitude towards the war and the split in the TU movement
AITUC became a divided house.
Nationalists + communists = attitude of neutrality towards the war.
Radical democrats went in for all-out support to the war efforts.
The radicals formed a IFL – Indian Federation of Labour in November 1941. Jamna Das Mehta was the president.
At the end of the war, there were 2 central federations,

AITUC
Indian Federation of Labour.
Trade Union growth and rise in the number of industrial disputes
Trade Union movement gained impetus during the war.
Prices and profits soared up because of shortage in consumer goods.
Dearness Allowance and Bonus
To neutralize the effects of rising prices on workers' real earnings due to the war. It was to be abolished after the war was over. But this didn't happen.
There were controversies and the courts decided that workers have a right to claim bonus out of the profit of the industry.
Dispute resolved with the payment of bonus act, 1965.
Post Independence Period 1947-66
The expansion of employment-intensive public enterprises resulted in the rapid growth of trade unionism within them.
The central Government at that time exerted a major role in determining wages and working conditions. Trade union structures were highly centralized.
A series of labour movement splits occurred during this industrializing period.
Division in the labour movement continued with the creation of :

Hind Mazdoor Sabha (HMS) in 1948
The United Trade Union Congress (UTUC), 1949
The Bharatiya Mazdoor Sangh (BMS) in 1955
The United Trade Union Congress-Lenin Sarani (UTUC-LS) in 1951
Various laws were introduced to regulate working and employment conditions and to systemize industrial relations.

Industrial Employment (Standing Orders) Act (1946)
The Industrial Disputes Act (1947)
The Indian Factories Act (1948)
The Minimum Wages Act (1948)
The Plantation Labour Act (1951)
The Employees' Provident Fund and Miscellaneous Provisions Act (1952)
The Companies Act (1956)
The Maternity Benefit Act (1961)
1967-79
Industrial stagnation set in from 1967 to 1979 – made more acute by oil price shocks in 1973 and 1978 – triggered inflation.
Railwaymen's strike in May 1974 provoked Prime Minister Indira Gandhi to issue a State of Emergency in 1975.
The national emergency lasted from 1975 to 1977; during that time, the right to strike was suspended and union activities were restricted.
Labour militancy became a common phenomenon, particularly with the extremely high labour upsurge.
During the 1967-79 period, there were 2,437 strikes on an average per year, involving average of 1.87 million workers annually and 12.39 million lost work days.
The situation was further worsened by a severe drought in 1979.
The number of registered trade unions more than doubled, from 15,314 in 1967 to 34,430 in 1979.
1980-91
The economy suffered from severe internal and external aggravations, resulting in an industrial recession from 1980 through 1981.
From the mid 1980s, the Government imposed an economic liberalization policy that offered

export incentives and
encouraged domestic market competitiveness
The labour market was made more flexible, making it easier for companies to subcontract and outsource their production of consumer nondurables to the unorganized sector.
Such a flexible labour market brought an adverse impact on trade union activities and reshaped the industrial relations system.
As a consequence of economic downturn and political suppression in 1981, the registered unions sharply declined from 34,430 in 1979 to 15,042.
In 1991, the number of registered trade unions drastically increased.
1992-present
After borrowing a massive bailout loan of US$1.8 billion from the International Monetary Fund (IMF), the economy became more open, liberalized and privatized than ever before.
During the Bharatiya Janata Party (BJP) regime, Bharatiya Mazdoor Sangh (BMS) and its affiliates grew – membership of 6.2 million  – the largest CTUO (central trade union organization).
The 2004 election results required the formation of a coalition government – the United Progressive Alliance (UPA).
The INTUC (Indian National Trade Union Congress), the second-largest CTUO (central trade union organization), wielded more political influence because it was aligned with the INC (Indian National Congress).
The number of trade unions increased, but they became more divided at both the national and state levels.
The number of CTUOs increased to 12 in 2008.
Click here for government certification in Human Resources