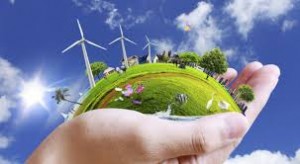 Environment refers to the surroundings or conditions in which various species including human beings, animals and plants coexist and function. The terms 'environment' and 'nature' are often used interchangeably. The concepts of environment have evolved over time and differ from one region to another, as determined by contemporary conditions. Environment includes water, air and land and the interrelationship which exists among and between water, air and land, and human beings, other living creatures, plants, microorganisms and property. Thus, environment comprises biotic as well as abiotic components. Our environment can be defined as the aggregate of all external conditions and influences affecting the life and development of an organism.
In recent times, environmental  science and ecology have emerged as significant branches of modern science that deal with the study of the environment and its constituents. Although these disciplines established their importance in the twentieth century, a sensitivity to the environment can also be found in ancient literature.
Studying the environment helps us understand the history of human impact on nature and culture, and the interaction between man and nature. Studying the environment helps understand its different components including kinds of resources and their proper utilization. Such knowledge enables exploration of problems such as pollution , water scarcity, global warming, etc, and the causes linked to these. A  careful examination of such issues would help communities achieve a harmonious balance in the ecosystem through efforts in the conservation of natural resources, water and waste management and other measures.