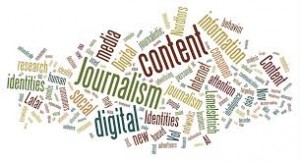 There is a lot change and development in technology in these last two decades. Whatsoever gets in touch with technology has been changed, same with the journalism. There are so many new type of journalism that has been emerging. Following they are briefly discussed-
Networked Journalism: This type of journalism refers to the diffused capacity to record information, to share that information and to distribute it. Here every journalist became the node of the network. New professional figure has emerged that is networked journalist.
Crowdsourcing And User-Generated Content: It refers to the information, photographs, videos, audios that is being provided to the news organization by the member of the public. However, all these information required to be filtered before it is being used by the news organization. This information gives a clearer idea about the reality because it is being submitted by those who have actually faced or attended the event/situation that is being covered.
Visual Journalism: Now a days videos are replacing text content for the information to the people. It helps to engage viewer. There are many examples of this kind of work like 'Money And Speed': Inside the black box, it is an interactive documentary which was developed by VPRO Dutch Broadcasting, which tries to explores the future of finance and sources and web links as well.
Automated Journalism: There are many softwares like crawler that identify and retrieve press releases, news etc. from the different sources to repackage them and resend them to the specific networks of information diffusion. Some of the business news organizations are using this kind of technology like Forbes etc.
Global Journalism: As we have talked about how with the help of technology how the information is disseminating smoothly. So because of development in translation softwares are supporting the circulation of news stories worldwide and then news organizations are doing the rest.
But all this come with the cost of less time for analysis because there is a lot of information coming from different sources and ways so it's quite hard to scrutinize and analyze each information. Therefore this development is changing the practice of professional journalism. However these developments are very helpful because of which anyone can access information from anywhere so we cannot neglect them.
Click here for government certification in Media