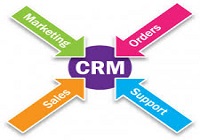 Have a look into any business out there, maybe there are big players like Apple, Amazon, Lufthansa, FedEx and every others or the business you see locally in your areas may be your retailer, your hairdresser, your drycleaner. You will see one thing common in all of them, they launch their set of activities and conduct their operation in such a way that it enables them to maintain the existing customers and attract the new customers towards them. The business can move forward in prosperous path if they become able to strengthen that magical relationship bond between them and customers.
Try to remember, there was a time in past where you would bring product to the market and costumer would buy if they liked it. But the table has turned now and its does not matter how your product is, it won't get sold unless your customers want it. You may think what if I bring what customers wants, but let me remind you, you are not only one out there. The era we live in has grown so competitive that even if you bring some craziest or weirdest business in market I bet you, you won't be alone there for long, you might enjoy privacy in market for some time if your business is super-duper unique one, but just let some days pass by, you will see someone with same or may be the improved version.
There for the question arises lingered with the big question mark, what can be done about the situation or how I can retain my customers and attract new one. All those marketing communication and advertising you do and those promotional activities are very very essential but being a marketer you must not forget about customer relation management. Go check out the those bulky books written by experts, it will explain that customer relation management is the philosophy according to which the business goal can be achieved through identification and satisfaction of the customer's stated as well as unstated needs, wants and desires. But don't let those experts fool you with that incomplete definition. You have to understand it's much more beyond that mere definition, it involves overall integration of marketing, sales, customer service, supply-chain functions and all other activities of the organization to gain greater efficiency and effectiveness in delivering the customer value. If you think it's just about the sales and profit maximization you are purely wrong because it deals with the interaction of your business with your customers. If you are able to develop strong, sustainable and successful relationship with your customers you will directly or indirectly enjoy the positive impacts in the operation of the business.
You, me, he, she, they every one of us. Ultimately we just want to taste the sweetness of profit. And we are brought up being fed that to earn profit either you have to increase you sales or you have to reduce your cost. These is so imprinted in our mind that we just focus on this and leave aside the most important part 'customers'. Now before it's too late you have to embrace the customer relation management because it can be key to developing a strong customer base following which profit rush in. With the implementation of customer relation management philosophy in your business you just not reduce your cost and increase in volume of sales but also you increase the customer satisfaction. With time if you want see the increased number of customer drawing towards the business and if long term sustainability and profitability is something you long for then you should definitely go for customer relation management.
If you have ignored this till this date, now is the time you have to change your approach because it has come out as the demand of present. The need of organization to be customer focused is must must situation today and customer relation management can help you with that. So, gear up your business with technology that can help you to enhance your service speed and service quality and conduct lots of researches on how to assess the customers' needs and how can you actually satisfy them so that can gain the benefits of customer of customer relation management and excel your business not only is sales but also in customers satisfactions.