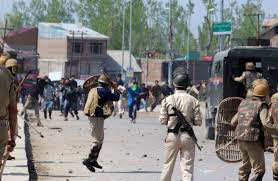 Nature is our very existence, for,  if it was not for nature we would not have got the gift of our existence even, we would not have been created . Of all the gift of life, visible in so many forms, shapes and sizes,  the valley of Kashmir,  is the most beautiful bounty  present on earth, also known as "the heaven on earth" . Since there are two sides of a coin, if there is a heaven, there is a hell too . As exuberant and invigorating Kashmir is, it has always been a state of unrest and turmoil due to national and political differences .
Being a high alert zone, the state of Kashmir is taken under wing by Central Reserve Police Force (CRPF) .  Being India's largest paramilitary force, it aims to look after the internal security of every part of India besides playing a catalyst in maintaining law and order . But the role and functioning of the CRPF seems quite a shot in the air due to the inefficacious and inept relationship with the State police and localities . According to a study undertaken after the massive protests in the Valley in 2010, in several instances as revealed, while the firing was done by the local police, the blame was passed on to the CRPF, thus painting a gloomy picture of the force's morale . Although it was blamed for a majority of civilian deaths, the study suggested that the force might just be a convenient target .
Recently, anger flared up against the fragile coalition government in J&K as a 15 year old, Suhail Ahmed Sofi, was killed in police firing on saturday on pro-azadi protestors in Budgam district . The firing as a result of protestors demanding accountability for the killing of two youths last week, with the arrest of separatist Masarat Alam, created a catastrophic situation leaving atleast 24 people injured and two policeman arrested and booked for murder in a bid to placate anger over the killings .
Although the paramilitary personnels believe that the state police use them as a shield and pass on the blame to them while committing human rights violation themselves, the truth seems to be caught between the devil and the deep sea in Kashmir .