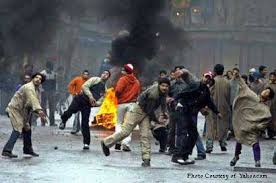 CRPF(Central Reserve Police Force) is the largest India's Central Armed Police Force.It assist the Union Territories or State in police operations to maintain law and order. A civilian(Suhail Ahmed Sofi) was shot dead by security forces in the Kashmir Valley on Saturday during a strike called by hardline Hurriyat Conference against the killing of two youths in an army operation in Tral, Insisting the authorities to register a murder case for the same.
Two other young boys were injured in firing by the Central Reserve Police Force on Saturday in Budgam district of Jammu and Kashmir during the protest and they are in under going treatment. An incident which crop up indicated that the security forces had violated the Standard Operating Procedures during the incident. Standard Operating Procedures is a procedure which is specific to the operation that describes the activities to complete task or job in accordance with the rules and regulations prescribed for it.
Additional Deputy Commissioner has been asked to investigate about the incident which led to the death of a young boy. The death of a young boy sparked more violence in the area.The security forces came under heavy stone pelting.To control the situation they fired. CRPF(Central Police Reserve Force) spokesman Ashish Kumar said that the matter is being investigating."We are trying to find who had opened fire on the protestors". Authorities described the detention of separatists leader as a 'preventive measure' for maintaining law and order. The leader of the hardline Hurriyat Faction Syed Ani Shah Geelani is already under house arrest.
The spokesman said"we regret an unfortunate incident and extend our sympathies to the deceased family members.Killing of a third person in the Budgam district is a worst example of state terrorism. Now, FIR(First Information Report) had been lodged for this tragic incident. A stringent action should be taken for the armed force. There is a hope that investigation would be taken to the logical conclusion and action should be taken against the personnel who is involved in an incident