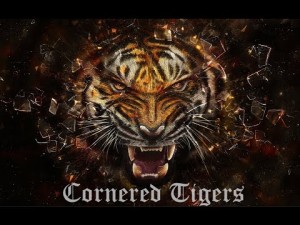 We humans have a potential to fight back almost from any situation which he or she faces in his or her life but in order to recognize this potential and will power he or she has to consider himself someone whom they have never met before or the skill which they never explored before.
Basically Cornered Tiger is synonym which was used by Imran Khan during the 1992 Benson and Hedges World Cup when Pakistan were languishing second last and were seeing a possible exit from the World Cup. So in a match against England during the toss time he wore a t-shirt which had a tiger imprinted on it. When Ian Chappell asked him the reason behind that Imran Said that he wants his teamates to play like a CORNERED TIGER. Basically Imran Khan wanted to generate a fearless attitude in his team members so that they don't think about the present situation and can express themselves freely. Well It did them wonders and at the end we all know who exactly won the world cup in 1992.
Basically we fear a lot after various situations which are uncertain. We should basically have an approach of a tiger as whenever a tiger is cornered by all the problems and threats in his life, he reacts aggressively and tries to fight back from his problem.
Similarly we human beings should also try to counter the problems in which we face daily with  same aggression and intensity and we should never ever think about the outcome if we know we are in the right path.
We should have the self belief and trust that we can counter any problems in the world and moreover we should also realize and acknowledge the potential which we possess to its full potential.
At the end I would say that
Every Human Being is a Tiger in this world. It depends on that particular individual whether he wants to acknowledge that and tries to solve all his basic problems more freely and aggressively or he just wants to sit back and become someone who only knows to live within his fears of uncertainty.
THE CHOICE IS YOURS!!!