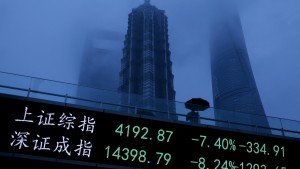 Chinese markets are highly in talk for past 2 days, just because Chinese market's index fell unexpectedly around 30% from a 52- week high value. The unbelievable fact is that as per Street's prediction this fall was no where nearby to China. As China was on a growing pace investors found China to be an attractive ground to play, which eventually led Chinese markets to rise by 150%. To attract better investments and to enrich the economy China reduced interest rates almost 4 times in the same year. This was identified to be the major reason for the unexpected fall of Chinese markets. Other major contributing reason is that brokerages bought shares worth billions of dollars and also almost 28 companies has planned to enter IPOs in a couple of months. Though Government has taken its best possible way to manage the markets, it didn't work and so investors were not happy as well.
Street says that defensive shares are more in Indian market than Chinese markets. Defensive stocks include FMCG, pharma, infotech and health care which sums up to be 31% in India compared to 20.8% in China. But, cyclical stocks are more in China than India. China being a major player in commodity market, showed a major decline in copper prices and oil prices as well.
China being a large manufacturing hub, fall in Chinese markets would affect international trade. Production process in China may get interrupted which reduces the imports done by China as well as the exports. So countries involved in international trade with China would get affected in terms of supply and receive basis.
But the positive point towards Chinese issues is that investors may now find China to be risky which may eventually lead to withdraw money from China and to invest in emerging markets. India being the attractive one among the emerging markets investments may flow into India which would contribute to a rise in FDI and FIIs. So, Chinese crisis may affect India in terms of positive and negative terms.
Click here for government certification in Accounting, Banking & Finance