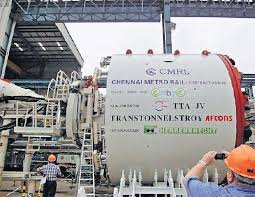 The city Chennai, capital of Tamilnadu was the seat of power for many south Indian kingdoms through many years. Chennai is one of the four metropolitan cities. It is also an important part of south India as well as the largest city of India. The credit of the becoming economy goes to the metro reopens in the city which is an another flair of development. The first metro rail service in the city between koyambedu and Alandur started from June 29, 2015.
In November 2014, The trains of Chennai metro rail received clearance from the Research, design and standard organization.
Chennai metro rail was the first project in the country that will integrate other public transportation systems. The lines of metro rail are double tracked. A total of 32 stations, 20 are underground and 12 are elevated.
Chennai metro rail project has played a very vital role in the development of the city. The places which are nearby the metro stations started to charge more rent. The rent was Rs. 6000 earlier now it is Rs. 12000 which is double of the amount. The prices of land has risen up by Rs. 2 crore to Rs. 2.5 crore from Rs. 1 crore or less.
The traffic volume on the roads is increasing. Hence the government of Tamilnadu have decided to implement Chennai metro rail project (CMRP). The commuting time between bus stand and railway station will be less as compared to earlier because of the metro connectivity.
Restaurants and shopping complex which are nearby the metro route will also also get benefit due to chennai metro rail project.  
People will start to use public transport. Metro stations have all the basic facilities. It will be easy to travel via metro rather than any other means of transport.
The government of Chennai has taken a positive step towards the progress of the city. Metro rail project will surely enhance the importance of this metropolitan city Chennai.
Chennai metro reopening also enhancing the beauty of city Chennai. It is a kind of tremendous change. People can travel more conveniently by metro. It will be easy to reach the destination within few minutes.
Truly said that metro reopens in Chennai is an another flair to the development of the society.
Click here for government certifications