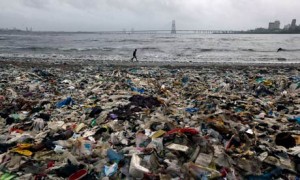 India is currently facing the problem of Resource Depletion due to high contamination and pollution of the available resources. Scientists and Researchers are worried about the next 30 years when almost all the Resources will found exhausted. The main reason behind the depletion of resources is poor management of wastes produced by the society on day to day basis. In India, we don't follow the Community bin system. We have a door-to-door collection system for the municipal solid waste generated at household level. the municipal solid waste is not properly segregated at source and at processing or dumping site and dispossed off in open dumping yard near by a city/town.
These dumps are creating more public health issues and degrading overall environment by polluting Land, Ground-water and run off through the wastes during rainy season is polluting most of the surface water too. Population growth and the very reasonable expectations of of people for consumer goods and services requires more material to be extracted, processed and used, and this results in increasing volumes of wastes that need to be properly managed.
We live in amazing times. The challanges to achieve sustainable waste management are immense. But so too are the opportunities to have real impact and to deliver change that can improve the lives of many. The natural resources on which we all depend are under greater stress than ever before. Hence to achieve the the goal of sustainability, each of us will have to contribute. "Because we can not direct the winds but we can adjust our sails"
Few small things that we can do because someone has to deal with the waste we r producing:
1. Stop throwing plastics, these can be reused and recycled.
2. Try to minimize the Refuse (garbage/rubbish)
3. Keep the waste segregated (dry, wet and rubbish) so the processing of waste can be easy
4. Disposing wastes and plastics into water-bodies.
If we are not for the zero waste then how waste we are for the society