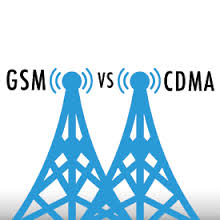 Two basic technologies in mobile phones, CDMA and GSM represent a gap you can't cross. They're the reason you can't use many Reliance[CDMA] phones on Vodafone's network and vice versa. But what does CDMA vs. GSM really mean for you?
CDMA (Code Division Multiple Access) and GSM (Global System for Mobiles) are shorthand for the two major radio systems used in cell phones. Both acronyms tend to group together a bunch of technologies run by the same entities.
Most of the world uses GSM nowadays. The global spread of GSM came about because in 1987, Europe mandated the technology by law, and because GSM comes from an industry consortium. What we call CDMA, by and large, is owned by chipmaker Qualcomm. This made it less expensive for third parties to build GSM equipment.
For call quality, the technology you use is much less important than the way your carrier has built its network. There are good and bad CDMA and GSM networks, but there are key differences between the technologies.
It's much easier to swap phones on GSM networks, because GSM carriers put customer information on a removable SIM card. Take the card out, put it in a different phone, and the new phone now has your number. What's more, to be considered GSM, a carrier must accept any GSM-compliant phone. So the GSM carriers don't have total control of the phone you're using.
That's not the case with CDMA. In the U.S., CDMA carriers use network-based white lists to verify their subscribers. That means you can only switch phones with your carrier's permission, and a carrier doesn't have to accept any particular phone onto its network. It could, but typically, U.S. carriers choose not to.
3G CDMA networks (known as "EV-DO" or "Evolution Data Optimized") also, generally, can't make voice calls and transmit data at the same time. Once more, that's an available option (known as "SV-DO" for "Simultaneous Voice and Data Optimization"), but one that U.S. carriers haven't adopted for their networks and phones.
On the other hand, all 3G GSM networks have simultaneous voice and data, because it's a required part of the spec. (3G GSM is also actually a type of CDMA.)
So why did so many U.S. carriers go with CDMA? Timing. When Verizon's predecessors and Sprint switched from analog to digital in 1995 and 1996, CDMA was the newest, hottest, fastest technology. It offered more capacity, better call quality and more potential than the GSM of the day. GSM caught up, but by then those carriers' paths were set.
It's possible to switch from CDMA to GSM. Bell and Telus in Canada have done it, to get access to the wider variety of off-the-shelf GSM phones. But Verizon and Sprint are big enough that they can get custom phones built for them, so they don't see the need to waste money switching 3G technologies when they could be building out their 4G networks.
Click here for government certification in Mobile Application Development