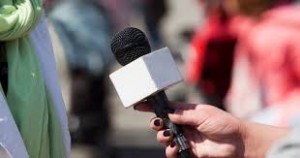 Careers in Journalism
Does the word 'Journalism' ring a bell in your ears? Does it increase your heartbeats? Do you follow Arnab Goswami or BarkhaDutt?Well, then you are at the right Blog! You have the opportunity to know what the kinds of career are that you can pursue in this field.
Journalism more or less is about collecting, editing, and coordinating the data that is to be published or broadcasted. Journalism as a career dates back to 140 years. It has gained fame and there are many institutions that offer different types of courses in Journalism. It is not just limited to editing in newspaper or reporting as a studio anchor, it has various genres which are taught by the means of various specialized courses.
Here are a few genres/careers in Journalism:

1) Broadcast journalism: News anchors, weather reporters, etc who disseminate news in front of the camera or the anchors who resonate the public with their melodious voices on radio are all a part of broadcast journalism. If you are passionate about working in front of the camera or maybe stuff like writing, editing or managing, you can make a career in broadcast journalism. You must have a proper diction, decision-making skill, oral communication skill and a revealing tone.
2) Investigate Journalism: Walter Lippmann said, "There can be no higher law in journalism than to tell the truth and shame the devil." Investigate journalism is surely your cup of tea if you have a dogged determination to uphold equality, truth & democracy. Investigate journalists' research and reveal stories that are being hidden by others. They expose the political scams, murder mysteries, environmental polluters, etc. You must have a tinge of skepticism & determination in you that will do the work automatically. One can pursue this career even with a degree in law. Find out the hidden Sherlock in you!
3) Photo Journalism: Did you find yourself hidden in the Ranbir Kapoor of 'Ye Jawaani Hai Diwani'? Do you have a penchant for capturing the world in a lens? Exploring various realities and atrocities of the world, clicking away pictures that tell stories and showing people what a situation looked like through your eyes, if that is your style, you can become a photojournalist.
You must be willing to work under pressure, risks and dead-lines.

4) Sports Journalism: Do you follow Sports like a religion? Are you captivated by the sports channels so much that you can't let others have the remote? But, you are no P.T. Usha or Sachin! Build up the passion to become a sports journalist. You can write/edit for magazines, newspapers about sports related events. You can host radio or tv shows for sports channels. You can become commentator/announcer for sports councils. You can also become media representative for various sports teams or channels. You get your dream opportunity of meeting various sports stars too!

5) Social Media Representative: Are you an internet maniac? What if we say that you can make a career out of that? Due to infinite popularity of social media like FB, Twitter, Instagram, Linked-In, etc, companies, marketers seek people who have a proper knowledge about social media. Web-designing, digital marketing, social media management, SEO consultant, social media developer, public relation expert, etc are some careers as a social media representative. Various journalism schools offer a course in this field to teach consumer behavior, online marketing, professional networking etc.

If you are planning to pursue journalism, give it your best shot.