Capital Market and Money Market in India; pillars of economic development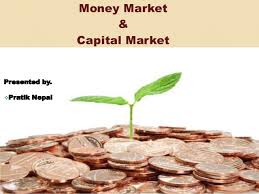 Growth of GDP and foreign trade are the main essentials for any economy in order to become best in the global world.
But it is possible only when their will be a sound financial system which meets long-term and short-term needs of finance of a business organisation.
Capital market and money market are the pillars on which the economic development of a country rests. Capital  market is a market for securities where companies and the government can raise long-term funds. Bond and stock market are main ingredients of the capital market. Indian capital market is comprised of Indian equity market and Indian debt market.
National stock exchange of India limited and Bombay stock exchange are the key players in the Indian equity market while in Indian debt market the key players are Mutual funds, Financial institutions etc.
Money market is a market which deals with the lending and borrowing of short-term funds. Indian money market consists of organized, unorganized and co-operative sectors.It plays a vital role in easing the financial system from a liquidity crunch.
Therefore, economic development of a country depends on capital as well as money market.
Click here for government certification in Accounting, Banking & Finance