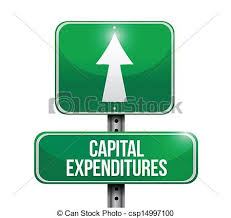 What are the various aspects of capital expenditure??
It is fairly common for major investments (e.g., the construction of a new plant) to
depress operating performance and even lead to operating losses during the first
few years after they enter service.
For instance, the construction of a new plant generally leads to:
1)additional general and administrative costs, such as R&D and launch costs,
professional fees, etc;
2)financial charges that are not matched by any corresponding operating
revenues until the investment comes on stream (this is a common phenomenon
in the hotel sector given the length of the payback periods on investments). In
certain cases, they may be capitalised and added to the cost of fixed assets, but
this is even more dangerous;
3)additional personnel cost deriving from the early recruitment of line staff and
managers, who have to be in place by the time the new plant enters service;
4)lower productivity owing both to the time it takes to get the new plant and
equipment running and the inexperience of staff at the new production
facilities.
As a result of these factors, some of the investment spending finds its way onto the
income statement, which is thus weighed down considerably by the implications of
the investment programme.
Conversely, a company may deliberately decide to pursue a policy of under-
investment to enhance its bottom line (so as to be sold at an inflated price) and to
maximise the profitability of investments it carried out some time ago. But this type
of strategy of maximising margins jeopardises its scope for value creation in the
future (it will not create any new products, it will not train sufficient staff to prepare
for changes in its business, etc.)
Click here for government certification in Accounting, Banking & Finance