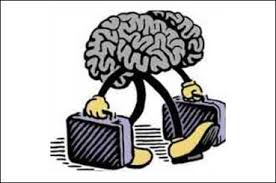 Brain drain is the migration of scientists, doctors, engineers and other technically qualified persons usually from a developing or underdeveloped country to an advanced or developed country.
This has become a major concern for all the developing countries including India over the past few years. Every year hundreds of our best brains make frantic efforts to leave India.
A recent study conducted by the Indian Institute of Management- Bangalore (IIM-B) shows that the students going for higher studies abroad has increased by 256% in the last 10 years. When 53,000 Indian students went abroad for higher studies in 2000, the figure shot up to 1.9 lakh in 2010. US is the most sought-after place, followed by the UK, Australia, Germany, and France. The question arises why our young and talented scientists, engineers and doctors go abroad and settle there? Most of the students prefer staying back in the host country due to better work opportunities and heavy pay packages. After getting good global exposure and getting introduced to the high-quality life and facilities, the students become reluctant to go back to the home country. Another major reason for this one-way traffic of talent is a lack of research facilities in India. Many of our best students go abroad for higher degrees or for research work.
There is a huge difference in the fees paid by the students studying in the premier institutes in India as compared to the students who study aboard. While an Indian Institute of Technology (IIT) student has to pay an average fee of Rs.9000 per month, the fee paid by an Indian student studying abroad per month is anywhere between Rs.90000 and Rs.240000. It's high time that we pay attention to the seriousness of the problem. While the government is doing their bit by making the medical students going to the US for higher studies sign a bond with the government, promising to return to India after completing his / her studies and if the student doesn't fulfill the bond obligation, the ministry can write to the US and the permission for the student to practice in the country will be denied, we should do our bit to contribute towards the country's development.
Click here for government certifications