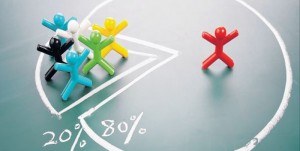 Bonus share is a free share of stock given to existing shareholders of the Company. The bonus issue is based upon the number of shares that the shareholder already owns.
Companies generally tend to accumulate their earnings in reserve funds instead of paying it to share-holders in form of dividend. This accumulated reserve fund is then converted into share-capital and the bonus shares are given out of accumulated earnings of the company which earlier may not have been given out in the form of dividends.
The bonus share issue does not increase the value of the company as the increase in share capital is offset by a corresponding decrease in the Reserve profits.
Post bonus issue, the share price fall in proportion to the bonus issue. As such, personal investment of the investors stays the same but it often adds significantly to long term wealth of the shareholders. There may also be a fall in the EPS as the earnings of the company are now divided by more no. of shares.
The companies declare bonus issues because a higher number of shares increases liquidity and traded volumes of the stock. A lower price also makes the share more attractive for small retail investors. However in certain cases companies issue bonus shares just to hide their financial woes.
For example, if Investor A holds 150 shares of in a company and the company declares 3:1 bonus, then the investor will get 3 bonus shares for every share he owns. Now investor A will have a total of 600 shares i.e. initial holding of 150 shares and addition of 450 bonus shares for free.
Can you recall any company which recently issued Bonus Shares?
Click here for government certification in Accounting, Banking & Finance