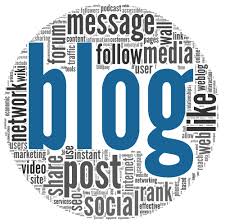 In today's world we all are familiar with the term,blogging.
Now what really is blogging?—The answer really is too simple.A particular individual may have a particular site or particular web document where he regularly posts his views about a particular event.The blogging may be on any topic including computer,health,gaming,and many other.
Blogging is an mode of interacting with different people and so as to share common personal views and in the course interact with different people from the different parts of the world.
The many benefits of blogging includes not only having recognition online but also receiving offline recognition.It lets one to say out the truth out aloud and then so as to find the measures of some situation together
Now to start blogging the main requirements are———–>
1.Choose a particular topic before starting blogging
2. Get a web address before you can print your details online
3.Must have an complete portfolio with your complete details online for people who will like to contact you
4.Write the blog on a particular topics
5.Try to stick to the particular point.
6.Give your own views
7.Must check the comments for answers
Thus my friends start blogging….
Click here for government certification in Information Technology