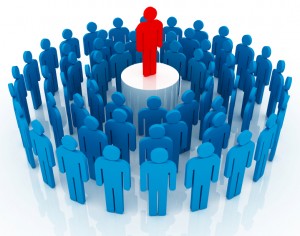 1.     Leaders are not born – had that been the case, every leader's children would have been leaders. This theory was rejected in 1940s.
2.     Leaders are not made – there is no specific method of training which can be given to a person so that he becomes a leader.
3.     Situation doesn't make a leader – it is not the situation that makes leaders because everybody who is affected by the situation doesn't become a leader.
So what is leadership?
Leadership can be defined as the learnt ability of an individual to influence a team or a group of people towards the achievement of a goal or a set of goals. It is a process whereby one individual uses a non-coercive technique to other individuals or groups or teams towards attaining organizational goals. Therefore, leaders are neither born nor made nor does the situation make them such, it is just an ability to influence people to achieve a goal.
Leaders –
1.     Leaders exhibit leadership skills.
2.     Leaders influence others.
3.     The influence is non-coercive in nature.
4.     A leader and a manager can be the same person.
5.     Power is a function of resource dependency.
6.     Leadership and management are the two ends of the same continuum.
Click here for government certification in Human Resources