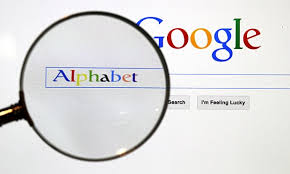 Google (2002): Don't be evil.
Google (2015): We renamed our parent company after the entire system of written communication for some reason.

For Larry Page and Sergey Brin, this is a very exciting new chapter in the life of google- the birth of Alphabet.
Nearly 17 years after finding and building up this giant tech company, Page and Brin remain as ambitious as ever, if not more so!
August 10, CEO Larry Page announced that company's core business (Search, Advertisements, Maps, YouTube, and Android) will now be called Google and rest of it will become distinct business units with their own leaders.
New Status:
Larry Page: CEO, Alphabet
Sergey Brin: President, Alphabet
Sundar Pichai: CEO, Google

What is Alphabet?
Google is not just a search engine, it has so much more to it! The company founded in 1998, has developed by leaps and bounds and since then, it has claimed 182 acquisitions (for the record) and acquired a whole host of other ideas and businesses, some of which will now be part of Alphabet instead, which is now the new parent company!
Sundar Pichai has been given the responsibility to supervise
Search, Advertising, Maps, Apps, YouTube, Android: all these will be a part of Google now.
Some of the businesses which will become separate companies under Alphabet:
Calico (life extension biotech research)
Nest (makes the nest thermostat and other smart phone products)
Fiber (high-speed internet service)
Ventures and Capital (early and growth stage investing)
Why was this name chosen?
Page said, because the alphabet represents language, one of humanity's most important innovations, and is the "core of how we index" in a google internet search.
But, BMW is not very pleased with all these developments, the German automaker company owns the trademark "Alphabet" and the domain "alphabet.com".
How does Google (urm, Alphabet) solve this?
When you dominate the internet world, you got to have a killer URL. And Alphabet, rose to existence by Google's surprise reorganization, epitomizes it. Moving past the dotcom era, Alphabet has a unique URL-http://www.abc.xyz
All in all, all the separate businesses and Google will report to the holding company called Alphabet (company's new name)!
It remains to be seen how well Page, Sergey and Team handle new born challenges.
Click here for government certification in Information Technology