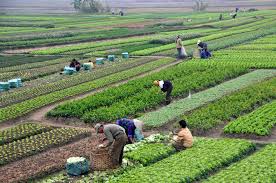 With the new government forging its way to a devolving and economical country ,with a series of steps one after the other to improve Indian economy by uplifting the  corporate sector  with campaigns like make in India and Swach bharat Abhyan ,Blissfully ignoring the  outline of the Indian economy.
Agriculture ,India has a large and diverse agriculture sector occupying on an average 16% of the GDP. Agriculture and  allied sector account for 13.7% of the GDP  in India and about 50% of the work force ,
Agriculture is the main support for Indian transport system as railway and roadways secure bulk of their  business from the movement of agriculture goods ,even the most of the export from the country is of agricultural products .
Yet the budget does not seem to  pay any attention to the needs of the farmers.
Some of the major problems of the agriculture sector are as follows :-
outmoded agriculture techniques
inadequate irrigation facilities
the problem of subdivision  & fragmentations
The major reason for decrease in agricultural profit has been found to be the fragmentation of agricultural land are
growing population: with increase in population it is seen that the agricultural land is decreasing exponentially
due to The law of inheritance
the decline of joint family system
Decline in handicraft & village industry
rural debt   to indigenous landlords
These are the key problems that the Indian economy faces which cannot be improved by mere changes in the taxation policies.
Click here for government certifications