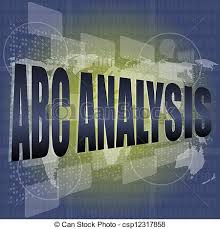 ABC Analysis is a technique of inventory control by classifying the all items of stores in to three  categories, namely
CATEGORY  A : A few items accounting for substantial usage in terms of total monetary value (  10 % items covering 75 % of value )
CATEGORY C : Large numbers of items of small value  ( 70  % items covering 10 % value )
CATEGORY B : In between items A and B  ( 20 % items representing 15 % value)
The main objective of the analysis is to decide guidelines for selective control over inventories. It is extremely difficult to control effectively if there if large number of items in stock.This system ensures strict control over a few materials ,which represents  bulk of the cost, so the direction of control is more cost effective .
This system also saves time and investment by taking corrective action on the three categories of store by using discretion.
Generally Category A items deserve strict control with say weekly control reports,maximum follow up efforts to reduce lead time etc.Category=b items require moderate control, and less expensive control may be applied to category=C items.
However care should be taken for critical items which are in category B or C but extremely important from the view of production process.
Advantages of this method :-
It ensures closer control on costly items
Clerical cost reduced and inventory maintained at the optimal possible level.
Storage cost is reduced under this method .
Click here for government certification in Accounting, Banking & FinanceClick here for government certification in Logistics & Supply Chain Management