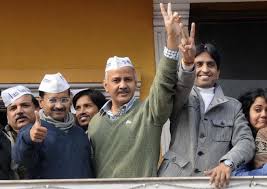 The Aam Aadmi Party on Sunday held a Mohalla sabha, to decide the state budget. Three such meetings were held in presence of Deputy Chief Minister Manish Sisodia. Rs 50 lakhs were allotted for each mohalla, priorities were given to the citizen's. "Janta ka Budget" were held in West Vinod Nagar, then in Sanjay Lake & ending in Mayur vihar phase-II.
Chief Minister, Arvind Kejriwal said  "Our first step towards Swaraj. Mohalla's are just like Parliament and in their parliament decisions will be taken by the common people on how they will use their funds, if works out well will be put up in all the constituencies".
"There will be 400 mohalla sabhas in the city. Politicians have misused the public money, this is your money and the common people will decide where to use it.. We will set Delhi as an example for the democracy in our country" Kejriwal said."
"On Saturday and Sunday(18th, 19th April) 35 such meetings were held in Patparganj constituency . That was just a beginning" says Sisodia.
Same format was followed in all the mohalla's. To an audience of people who are residents of the mohalla, asking for "one thing they need priority expenditure in their area". Priorities were listed in many pieces of paper by party and volunteers too.
Once process was completed, Sisodia read out the list and taking votes by raising their hands. Repeatedly, people were asked not to vote for all the issues but only for those what they think is must. "The more number of hands raised up, on an issue priorities will be given" Kejriwal said at the first meeting.
Sisodia called out all the issues loud and asked for the opinions by the resident's, So that it could be added to the priority list. People complained of a road that lay incomplete, and Children complained of teacher's not regular in there respective jobs in the school.
First gathering, many issues were noted down and votes were taken especially Construction of Public Library, dispensaries and renovation of roads was highlighted.
Second day, DDA park in Sanjay Lake, the issues were serious like the water lines and also the issues that got sanctioned by the people installation of CCTVs, removal of street dogs and monkey's from the area.
In all the meetings there were many MLAs from different constituencies. "Something like this has never ever happened before you need to do all that too, So watch how things should be done" Sisodia told MLAs.
The sabhas were held up just like any other Political functions, MLA Manish Sisodia went to every corner of the pavilion through a microphone. "This is your chance to build the budget this time. Don't put up personal issues here but those issues which will help your mohalla. Rs 50 lakhs are in your hands and we will do your bidding, But do think carefully" said Sisodia.
Soon the volunteers came in distributed the white sheets and pencils and were asked to write one, and only one issue that they need improvement in. Sisodia said "Sewar ka kaam hona chaiye" nearly all the hands rose up for this issue, another issue came up was that teachers don't show up in school and the food is bad, "You go to the school and inspect" Sisodia told the District Collector. A representative from DUSIB didn't seem to be present for the mohalla sabha, Sisodia threatened him with suspension on the microphone.
Few complains were ignored too, and the number of voices thrown up on the basis of that topics were written down. People present for the sabha said "They were included in this process, and this never ever happened before".