Human Resources (HR) Audit refers to a way for reviewing human resources policies, procedures, documentation, and systems. This process of reviewing helps in identifying the needs for improvement and enhancement of the HR function. Moreover, the candidates in the role of HR audit Professional helps to assess compliance with ever-changing rules and regulations. They also measure the HR management's mission, goals, strategies, policies, programmes and activities. And, they determine the action plan for future in response to the results from such measurement.
Role of HR Audit Professional
HR Audit professionals recognize the strengths and identify any needs for improvement in the human resources function. Some of the tasks performed by HR Audit Professionals include:
HR Audit Professionals ensuring the effective utilization of the organization's human resources.
They review the compliance in relation to the administration of the organization as well as provide a sense of confidence in management and the human resources function.
They maintain the organization and the department's reputation in the community and establish a baseline for future improvement for the function.
Vskills Certified HR Audit Professional: Overview
Vskills Human Resources Audit (or HR Audit) basically means a method that refers to the evaluation of human resources policies, procedures, documentation, and systems of an organization. This also provides recognition of improvement and enhancement of the HR function. However, HR Audit has gained widespread acceptance due to the increased focus of human resources in achieving the tactical and strategic goals of the organization. HR Audit not only locates problem areas in HR policies but also helps in meeting statutory compliances.
Course Benefits
Candidates who are employed in the HR department and are looking for a new job or promotion or simply more responsibility, then become an HR Audit professional will advance your level. This will work as an added qualification on your CV and significantly improves your chances of getting the desired role. However, this course will benefit the job seekers who are looking to find employment in the HR departments of various companies as well as the students who want to improve their skill set for getting better job roles
Vskills being India's largest certification providers gives candidates access to top exams as well as provides after exam benefits. This includes:
The certifications will have a Government verification tag.
The Certification is valid for life.
Candidates will get lifelong e-learning access.
Access to free Practice Tests.
Candidates will get tagged as 'Vskills Certified' On Monsterindia.com and 'Vskills Certified' On Shine Shine.com.
Test Details
Exam Duration: 60 minutes
Number  of questions: 50
Maximum marks: 50
Passing marks: 25 (50%).
There is NO negative marking in this module.
Career as HR Auditor
An efficient HR audit aids in recognising the need for HR function improvement and enhancement. It also assists the company in remaining compliant with constantly changing norms and regulations. Let us dive deeper into Career as HR Auditor!
Course Outline for Vskills HR Audit Professional
Vskills HR Audit Course covers the following topics –
Hr Audit Methods
Audit Of Hr Culture And Values
Preparation Guide for Vskills Certified HR Audit Professional Course
Candidates preparing for the exam should understand the importance of exam resources, as it is essential to get all the required exam study resources. This will provide an advantage to understand the concepts and meanings of the topics more accurately. In the Certified HR Audit Professional exam preparation guide, we will discuss some of the most important resources to help you prepare well for the exam.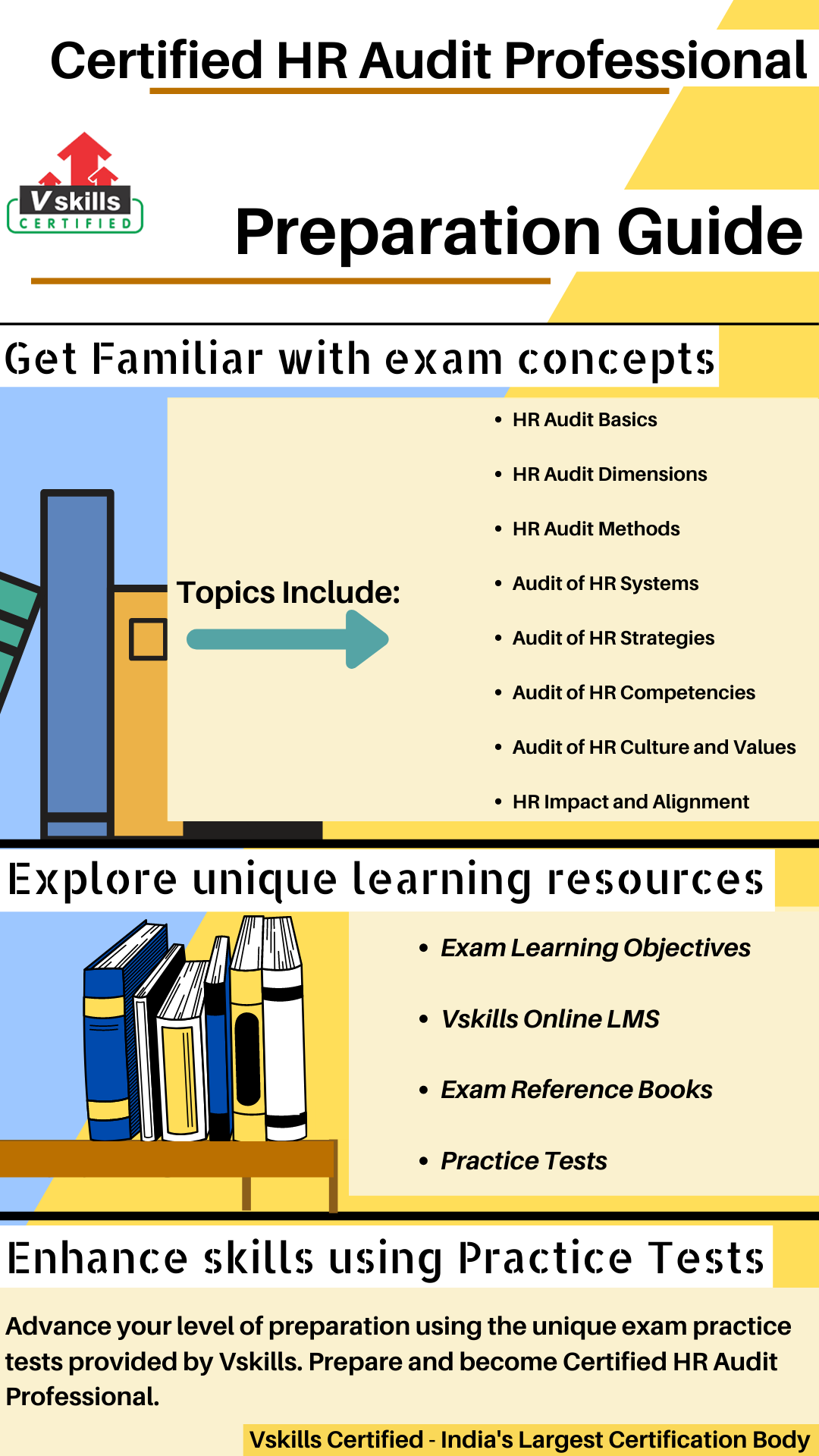 Study Resource: Exam Objectives
For every examination, the first task should be to get all the exam related details including the important contents and its topic. This will help candidates to easily start preparing for the exam and to understand things more accurately. For the Certified HR Audit Professional exam the topics include:
HR Audit Basics
HR Audit Dimensions
HR Audit Methods
Audit of HR Systems
Audit of HR Strategies
Audit of HR Competencies
Audit of HR Culture and Values
HR Impact and Alignment
Study Resource: Vskills Online LMS
Vskills Certified HR Audit Professional Course provides candidates access to online learning material for a lifetime to prepare better for the exam. The online material for this is updated on a regular basis. Furthermore, e-learning is bundled with hard copy material which helps candidates to improve and update the learning curve for superior and better opportunities.
Study Resource: Books for Reference
Reference Books can provide an advantage to learn and understand things more accurately. For the Certified HR Audit Professional exam, there are various books available which you can find online or in libraries. Some of the books are as follows:
HRD Audit Book: Evaluating the Human Resource Function for Business by TV Rao
HR AUDIT: AUDIT YOUR MOST PRECIOUS RESOURCES by DR. SIBRAM NISONKO
Study Resource: Practice Test
After understanding and learning all the concepts for the Certified HR Audit Professional Exam, it is time for practice tests. That is to say, practice tests are important for better preparation as by assessing yourself with these tests you will know about your weak and strong areas. Moreover, you improve your answering skills for getting better results. So, make sure to find the best practice sources.

Job Interview Questions
Prepare for your upcoming job interview with our latest online interview questions, the sole purpose of these questions is to prepare you for the job interview.