Certified Warehouse Manager is responsible to check the efficient receipt, storage, and dispatch of a range of goods and play a part in the supply chain process. As a warehouse manager also manage people, processes, and systems for ensuring that goods are received and dispatched securely. Further, there are tasks and responsibilities that a Warehouse Manager performs.
Talking about the market value, Warehouse managers are in great demand as the companies specialized in logistics, manufacturing and consumer goods are regularly hiring skilled warehouse managers. Moreover, various public and private companies also require warehouse managers for their warehouse or store departments.
Roles and Responsibilities
Warehouse managers have links with customers, suppliers and transport companies as well as monitor the receipt, order, assembly and dispatch of goods.
They use various handling equipment for ensuring that quality, budgetary targets and environmental objectives are completed.
They also coordinate the use of automated and computerised systems where necessary. 
Next, they also keep stock control systems up to date and make sure inventories are accurate and also plan future capacity requirements.
They also set up layout and ensure efficient space utilization. And further, they Initiate, coordinate and enforce optimal operational policies and procedures.
Lastly, they maintain standards of health and safety, hygiene and security as well as manage stock control and prepare annual budgets.
Career Opportunities as a Warehouse Manager
Whatever abilities you have, if you can be confident in that as a warehouse worker, they will be shaped into a variety of positions. Let us discover Career Opportunities as a Warehouse Manager.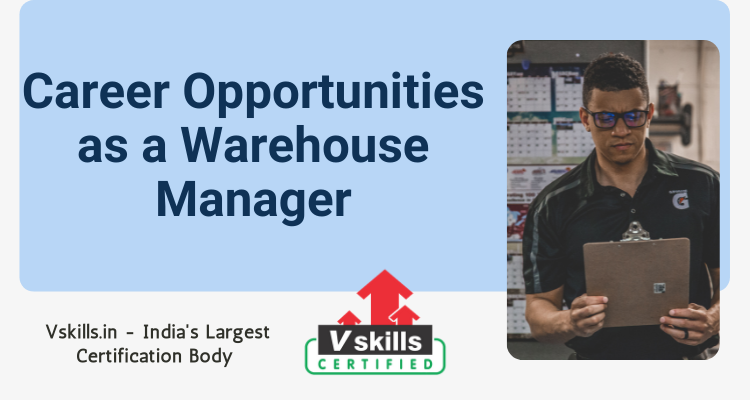 Vskills Certified Warehouse Manager: Exam Overview
Warehouses are an essential part of an organization's supply chains. The Warehouse Managers have an understanding of warehouse management and how it directly affects business. However, Vskills certification for Warehouse Manager examines the candidate's knowledge on the basis of the company's need for storing warehousing of goods and products. This certification will also validate the candidate's skills in various areas. This will cover concepts of warehouse management, knowledge of various warehouse processes and operating principles, functions of different picking equipment and strategies for employing them, and application of order picking methods, etc.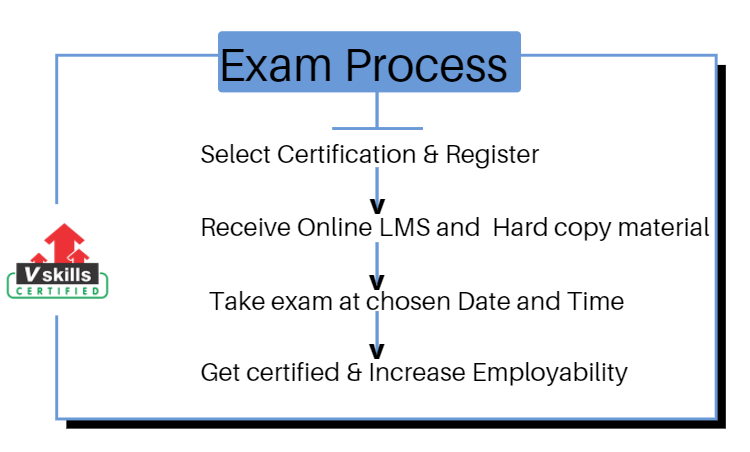 Vskills being India's largest certification providers gives candidates access to top exams as well as provides after exam benefits. This includes:
The certifications will have a Government verification tag.
The Certification is valid for life.
Candidates will get lifelong e-learning access.
Access to free Practice Tests.
Candidates will get tagged as 'Vskills Certified' On Monsterindia.com and 'Vskills Certified' On Shine Shine.com.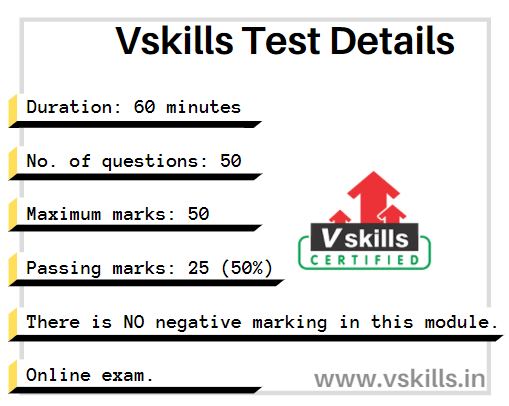 Course Outline
Certified Warehouse Manager covers the following topics –
Role of a Warehouse
Role of Warehouse Managers
Warehouse Processes
Warehouse Operating Principles
Picking Strategies and Equipment
Order Picking Methods
Warehouse Processes from Replenishment to Dispatch
Warehouse Management System
Warehouse Layout and Design
Storage and Handling equipment
Warehouse Costs
Outsourcing
Warehouse and the Environment
Quality Management in Warehouse
Additional Resources
Preparation Guide for Vskills Certified Warehouse Manager
Candidates should get all the exam related resources before starting their certification exam preparation. This is done so that the candidates can start preparation in a proper manner. Moreover, doing this will not only help them understand things better but it will also help them to quickly complete the syllabus. Further, this will provide an advantage to better understand the concepts. However, in the Certified Warehouse Manager exam preparation guide, we will discuss some of the most important resources to help you prepare well for the exam.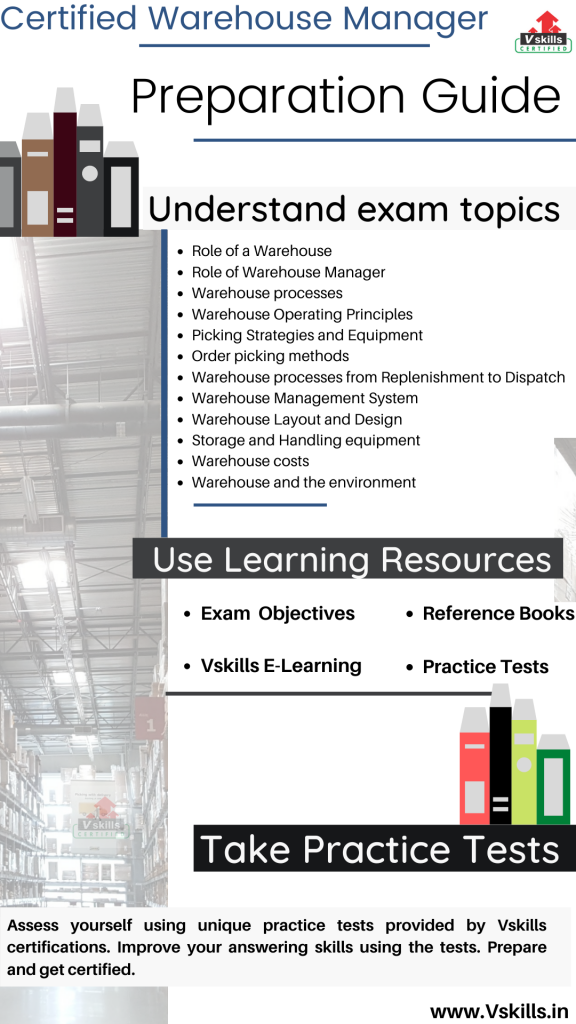 Refer Exam Objectives
Understanding exam objectives is essential for any exam as it provides a huge benefit to candidates during the preparation time. So, the first task should be to get all the exam-related details that include the important contents and its resources. Doing this will help candidates to understand things more accurately. For the Certified Warehouse Manager topics include:
Role of a Warehouse
Role of Warehouse Manager
Warehouse processes
Warehouse Operating Principles
Picking Strategies and Equipment
Order picking methods
Warehouse processes from Replenishment to Dispatch
Warehouse Management System
Warehouse Layout and Design
Storage and Handling equipment
Warehouse costs
Warehouse and the environment

Vskills E-Learning
Vskills Certified Warehouse Manager helps candidates to prepare for the exam using the online learning material for a lifetime. The online material for this is regularly updated. Moreover, the e-learning that is provided comes with hard copy material for helping candidates to improve and update the learning curve for getting better opportunities.
Refer: Certified Warehouse Manager Sample Chapters
Books for Reference
While preparing reference books can provide an advantage to learn and understand things more accurately. For the Certified Warehouse Manager exam, there are various books available which you can find online or in libraries. Some of the books are as follows:
Warehouse Management Book by Gwynne Richards
Excellence in Warehouse Management Book by Stuart Emmett
Evaluate yourself with Practice Test
After completing the topics for the Certified Warehouse Manager exam, candidates should start assessing using practice tests. Using practice tests will help them for better preparation. Moreover, it will provide an advantage to candidates as by examining and assessing with these tests they will know about their weak areas and improve them.

Prepare for Job Interview
These job interview questions on Warehouse Manager will help you to crack your interview whether you are a fresher or looking to upgrade your career. These interview questions are solely designed to serve the purpose to enrich you with knowledge.