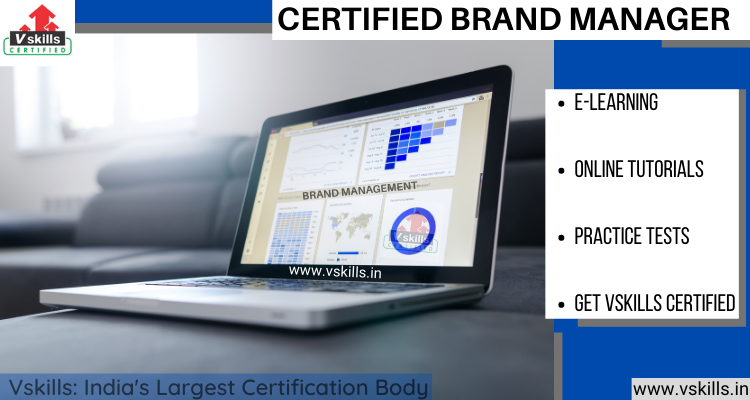 Brand Managers are responsible for analyzing brand positioning and consumer insights as well as help in shaping and communicating the vision and mission. They also translate brand elements into plans and go-to-market strategies. For better understanding check the below responsibilities of a brand manager.
Responsibilities
Brand managers manage a team of marketing people working on brand initiatives. And, also lead creative development for motivating the target audience.
They establish performance specifications, cost and price parameters, market applications, and sales estimates.
Brand managers measure and report the performance of all marketing campaigns, and assess ROI and KPIs. And, they also monitor the market trends, research consumer markets, and competitors' activities.
Next, they also control new and ongoing marketing and advertising activities as well as monitor product distribution.
Lastly, they align the company around the brand's direction, choices, and tactics.
Vskills Certified Brand Manager
Vskills Certified brand manager course will help candidates to learn about the process of developing and managing the brand image. Also, the certification validates the candidate's skills and knowledge in various areas that include brand management, product communication, brand portfolio management, and brand marketing. Further, this also adds on the concepts like long and short-term brand portfolio development, developing consumer and customer insight-driven brand marketing strategies, and digital management.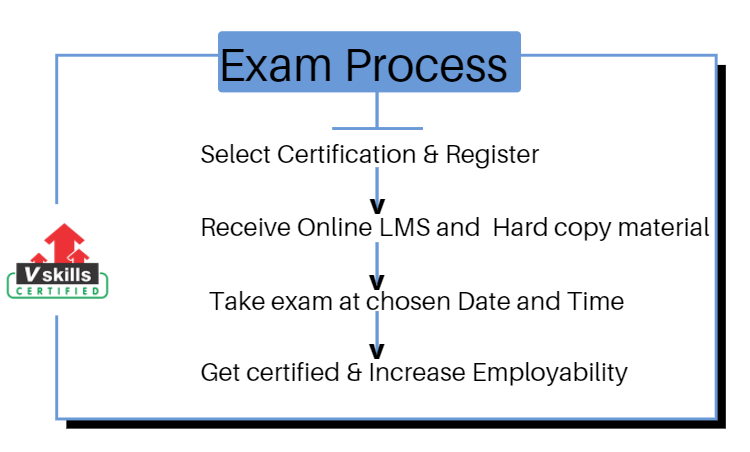 Vskills being India's largest certification providers gives candidates access to top exams as well as provides after exam benefits. This includes:
The certifications will have a Government verification tag.
The Certification is valid for life.
Candidates will get lifelong e-learning access.
Access to free Practice Tests.
Candidates will get tagged as 'Vskills Certified' On Monsterindia.com and 'Vskills Certified' On Shine Shine.com.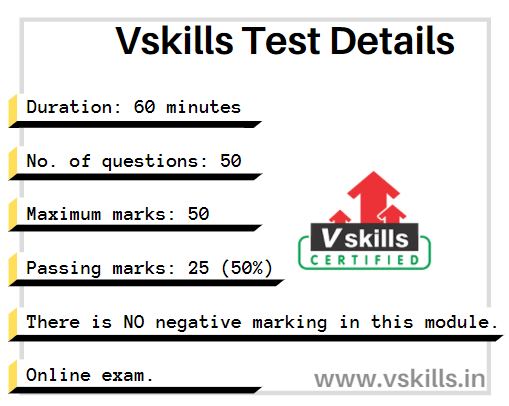 Course Outline for Certified Brand Manager
Certified Brand Manager covers the following topics –
Branding Terms
Branding Basics
Nature of Relationship
Building Successful Brands
Brand Building
Brand Names and Brand Extensions
Co-Branding and Corporate Branding
Brand Associations and Brand Image
Brand Loyalty
Brand Relationship
Brand Equity
Brand Management Process
Brand Evolution
Value of Brands
Brand Planning and Brand Potential
Brands and Consumer Buying Process
Consumer Search for Brand Information
Issues Associated with Effective Brand Names
Added Values Beyond Functionalism
Brand Personality
Branding to Make Tangible the Intangible
Response of Weak and Strong Manufacturers
Brand Positioning Strategies
Consumer Segmentation
Brand Architecture and Brand Portfolio
Perceptual Mapping
Brand Benefits and Attributes
Advertising and Branding
Successful Repositioning
Differential Advantage and Positioning
Brand as Strategic Devices
Brand Evaluation and Planning
Protecting Brands
Legal Perspectives in Branding
Online Branding
Business to Business Branding
Social Media Branding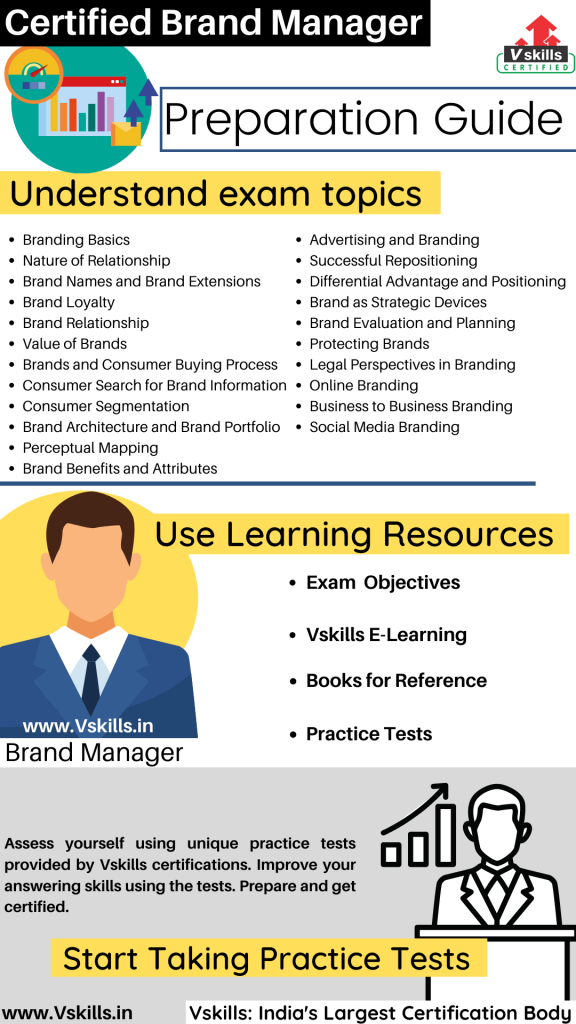 Study Resource: Exam Objectives
For any exam, understanding exam objectives provide a huge benefit to candidates during the preparation time. So, before starting preparing, the first task should be to get all the exam-related details that include the important contents and its resources. This will help candidates to easily start preparing for the exam and to understand things more accurately. For the Certified Brand Manager exam the topics include:
Branding Basics
Nature of Relationship
Brand Names and Brand Extensions
Brand Loyalty
Brand Relationship
Value of Brands
Brands and Consumer Buying Process
Consumer Search for Brand Information
Consumer Segmentation
Brand Architecture and Brand Portfolio
Perceptual Mapping
Brand Benefits and Attributes
Advertising and Branding
Successful Repositioning
Differential Advantage and Positioning
Brand as Strategic Devices
Brand Evaluation and Planning
Protecting Brands
Legal Perspectives in Branding
Online Branding
Business to Business Branding
Social Media Branding

Study Resource: Vskills E-Learning
Vskills Certified Brand Manager provides candidates access to prepare for the exam using the online learning material for a lifetime. The online material for this is regularly updated. Moreover, the e-learning that is provided comes with hard copy material for helping candidates to improve and update the learning curve for getting better opportunities.
Refer: Certified Brand Manager
Study Resource: Books for Reference
Reference Books can provide benefits to candidates to learn and understand things more accurately. For the Certified Brand Managerexam, there are various books available which you can find online or in libraries. Some of the books are as follows:
Designing Brand Identity: An Essential Guide for the Whole Branding Team Book by Alina Wheeler
Advanced brand management Book by Paul Temporal
Study Resource: Practice Test
After completing the topics for the Certified Brand Manager exam, candidates should start assessing using practice tests. Using practice tests will help them for better preparation as well as with these tests candidates will know about their weak and strong areas. So, prepare well for the certification and get yourself Certified Tag.

Brand Manager Interview Questions
Preparing for a role in Brand Management, then you must checkout these interview questions to prepare for the upcoming interview, these can prove handy in clearing the job interview, checkout for free !