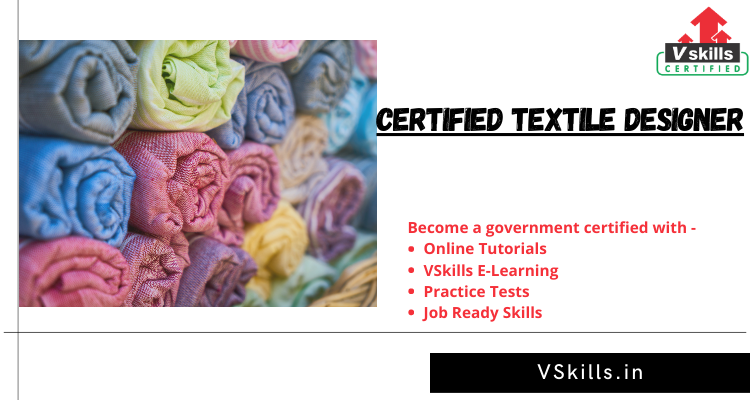 Certifications helps you to shine bright and add value to your skill set and resume. Design sector has been booming over the recent years and making a career in this sector can help making a lot of fortune. Vskills certification for Textile Designer assesses the candidate as per the company's need for designing garments with variation in color, fabric and texture. The certification tests the candidates on various areas in textile basics, textile production methods, textile printing, embroidery stitching and Indian textile techniques like Chikankari, Phulkari and Bandhani.
This certification will really give you a competitive edge over others and will define you in quite a different way! The certification will not only help you climb the corporate ladder but also will accompany your personal development in this era where survival of fittest prodigy rules. The certification can provide you with immense benefits. Let us dig deeper into the details.
Benefits of Certification
Certify and Increase Opportunity.
Be
Govt. Certified Textile Designer
How It Works
Select Certification & Register
Receive a.) Online e Learning Access (LMS) b.) Hard copy – study material
Take exam online anywhere, anytime
Get certified & Increase Employability
Test Details
Duration: 60 minutes
No. of questions: 50
Maximum marks: 50, Passing marks: 25 (50%).
There is NO negative marking in this module.
Online exam.
Why to take this certification?
This Course is intended for professionals and graduates wanting to excel in their chosen areas. It is also well suited for those who are already working and would like to take certification for further career progression.
Earning Vskills Textile Designer Certification can help candidate differentiate in today's competitive job market, broaden their employment opportunities by displaying their advanced skills, and result in higher earning potential.
Intended Audience
Job seekers looking to find employment in textile design, sale, production and quality control departments of various companies, students generally wanting to improve their skill set and make their CV stronger and existing employees looking for a better role can prove their employers the value of their skills through this certification.
Career as a Textile Designer
One of the fields within the realm of fashion design is textile and apparel design. To develop distinctive apparels, one must apply their imagination and ingenuity while keeping current fashion trends in mind. An garment designer must stay current with the fashion industry's changes as well as keep a close watch on the market and consumer demands. Let us know about Career as a Textile Designer!
Content Outline
The exam has following objectives –
Textile Design-Introduction
Digital Printing
Digital Printing Methods of Note
Digital laser exposure onto traditional photographic paper
Textile
Etymology
History
Fashion and Textile Designers
Production Methods
Treatments
Textile Printing
Technology
Methods of Printing
Engraved Copperplate Printing
Digital Textile Printing
Printing Methods
Preparation of Cloth for Printing
Preparation of Colours
Selecting Thickening Agents
Albumen
Printing thickeners and the dye system
Sari-Introduction
Etymology
Origins and History
Sari outside South Asia
Types of sari
Styles of draping sari
Nivi Style
Modern Style of Draping
Embroidery stitch
Common Stitches
Straight Stitches
Feather Stitches
Cross Stitches
Knotted Stitches
Chikankari
Origin
Technique
History of Chikankari
Fabric
Design
Phulkari
Threads
Embroidery
Thirma
Bawan Bagh (or Bawan Phulkari)
Bandhani
Some of the most common designs are
Dyed Textile- Popular Dyes
Bandhani and City of Wadhwan
Cutting cloth
Natural textile dyes
Origins
Processes
Common Dyestuffs
Natural dyeing with Indigo, Jaipur (Rajasthan, India)
Crimson and Scarlet
The Rise of Formal Black
Decline and Rediscovery
Preparatory resources for Certified Textile Designer
Make sure to pick the apt resources out of the unlimited resources available, as they will determine how well will you pass the exam. let us look at some resources that can be beneficial –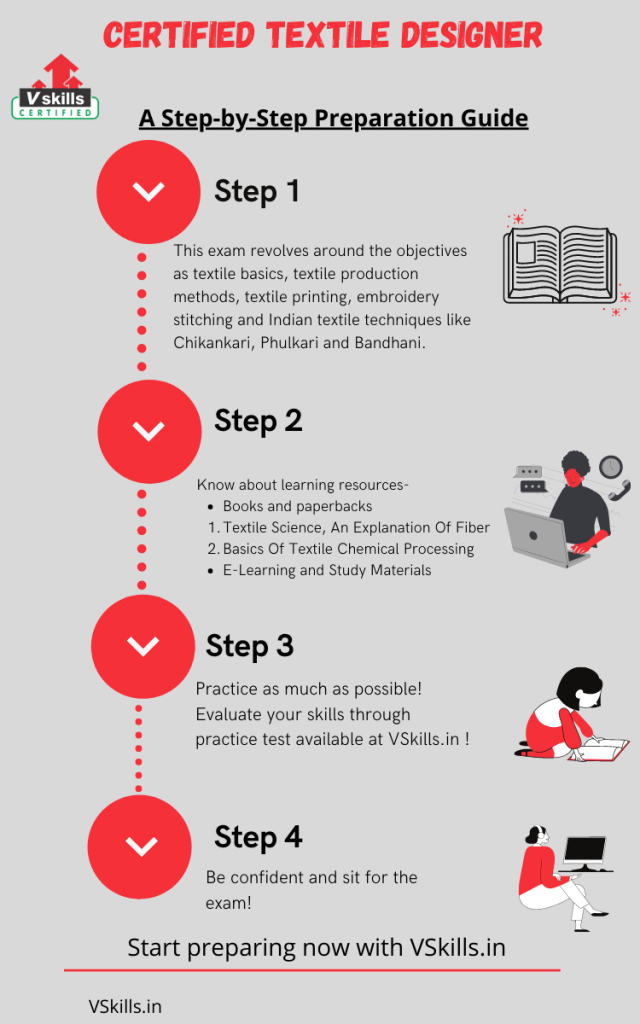 Step 1 – Review the Exam Objectives
Exam objectives let you define the framework for preparation and the path that has to be followed in order to pass with flying colors. Knowing about the objectives of the exam is very important as the whole exam is going to revolve around the objectives. The first and foremost thing before you start preparing is to get well versed with the objectives of the exam. This exam revolves around the objectives as textile basics, textile production methods, textile printing, embroidery stitching and Indian textile techniques like Chikankari, Phulkari and Bandhani.
Refer – Certified Textile Designer Brochure
Step 2 – Hitting the books
Books are the best valued resources and first resource that comes to our mind when we thin of preparing for any exam. You can find multiple books online or can refer to libraries and bookstores. There are even fantastic books online that can be very useful in preparation. Some books that you can refer are –
Textile Science, An Explanation Of Fiber
Basics Of Textile Chemical Processing
Step 3 – E-Learning and Study Materials
Learning for the exam can be fun if you have right set of resources matching your way of studying. Vskills offers you its E-Learning Study Material to supplement your learning experience and exam preparation. They are prepared by the experts of the subject matter and are reliable enough. They can help you build strong conceptual understanding and there are many other reliable sites that provides with the online courses and other quality content. This online learning material is available for lifetime and is updated regularly. You can also get the hardcopy for this material, so, you can prefer either way in which you are comfortable.
Refer – Certified Textile Designer sample chapter
Step 4 – Evaluate yourself with practice tests
Make sure that you have practiced enough before taking the written exam. practicing more and more will help in identifying the weak portions and remove the loopholes in your preparation. This is the best way to judge how well you are prepared. You can try a free practice test now! Practicing more and more will even make you confident and you will feel less strange on the day of the examination.

Job Interview Questions
If you are looking to crack your job interview in first attempt, then you must check out these interview questions. The sole purpose of these questions is to assist you in your job preparation.

Boost your chances to become a Certified Textile Designer. Start preparing and get a step closer to your Dream Job Now!