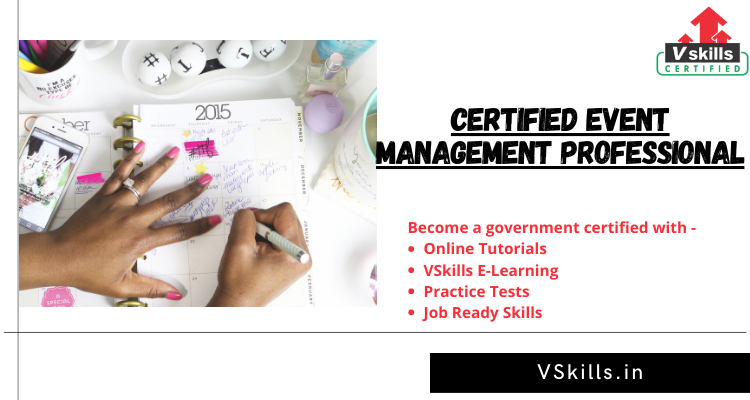 The most viable way of passing any exam is gathering the right set of resources and preparing with the help of proper planning strategy. They help you stand out in the crowd as you will be professionally working in the domain you are most interested. Vskills certification for Event Management Professional assesses the candidate as per the company's need for organizing and managing events. The certification tests the candidates on various areas in event management like planning, CPM/PERT, marketing, public relations, human resource management, taxes, laws logistics, financing, branding, catering, safety and security.
Certifications helps you to shine bright and add value to your skill set and resume. Event management sector has been booming over the recent years and making a career in this sector can help making a lot of fortune. This kind of certifications are quite challenging as they help you in figuring the right direction for you. So, let us get into details of this valuable credential.
Roles and Responsibilities
A Certified Event Management Professional exercises various responsibilities ranging from managing big events for a company to a small gathering. Vskills certification for Event Management Professional assesses the candidate as per the company's need for organizing and managing events.
Certify and Increase Opportunity.
Be
Govt. Certified Event Management Professional
Benefits of Certification
Certification Process
Select Certification & Register
Receive a.) Online e Learning Access (LMS) b.) Hard copy – study material
Take exam online anywhere, anytime
Get certified & Increase Employability
Test Details
Duration: 60 minutes
No. of questions: 50
Maximum marks: 50, Passing marks: 25 (50%).
There is NO negative marking in this module.
Online exam.
why to take this certification?
This Course is intended for professionals and graduates wanting to excel in their chosen areas. It is also well suited for those who are already working and would like to take certification for further career progression.
Earning Vskills Event Management Professional Certification can help candidate differentiate in today's competitive job market, broaden their employment opportunities by displaying their advanced skills, and result in higher earning potential.
Intended Audience
Job seekers looking to find employment in event management, public relation or marketing departments of various companies, students generally wanting to improve their skill set and make their CV stronger and existing employees looking for a better role can prove their employers the value of their skills through this certification.
Content Outline
The exam has the following testing areas –
Introduction to Events
What are Events?
Objectives of Events
Event Characteristics
The Wow Factor
Types of Events
Why Events?
So When Do We Need Events?
Event linked to Product Launch
Company Market Entry
Sales Conference
Product Education
Dealer Conference
Entertainment
Motivational
Workshops
Community Event
Event Manager Skills
Key Skills Needed
Communication Skills
Personality Development
Self Grooming Tips
Stress Management
Time Management
Team Management Skills
Customer Relationship Management
Understanding Customer Behavior
Customers Expectations
Building Customer Relationship
Structure of Events
Event Process
Brief
Concept
Budgeting and Discussion
Venue
Schedule of Items
The Suppliers
Event Planning
Planning
Event Planning
Concept
Project Scope
Feasibility Study
Proceed
Planning
Task Analysis
Scheduling
Analysis and Allocation
Implementation of the Plan
PERT/CPM
Event Marketing
The Marketing Environment
The Marketing Mix
Market research
Research Methods
Event Marketing Plan
Public Relations
Introduction
Functions of Public Relations
Goals of Public Relations
Steps in Public Relations Campaign
Public Relations in India
Site Planning
Basics
Event Settings
Site Selection Factors
Event Logistics
Basics
Scope and Models
Logistics Management
Factors to Consider
Logistic Planning
Event Financing
Financial Management
Income Sources
Expenses
Budgeting
Cost and Cash Flow Management
Financing
Break-Even Analysis
Pricing
Accounting and Audit
Human Resource Management
Introduction
Human Resource Planning
Volunteer Recruitment
Job Descriptions and Analysis
Recruitment and Selection
Screening and Selection
Recruitment Approach
Induction
Training
Supervision and Evaluation
Performance Appraisal
Motivation
Health, Safety and Security
Introduction
Risk Assessment
Fire Safety
Gate and Door Control
Crowd Control
Electrical Installations & Lighting
Food, Drink & Water
Sanitary Facilities
Waste Management
Special Effects, Fireworks & Pyrotechnics
Emergency Planning
Monitoring and Evaluation
Monitoring
Event Evaluation
Evaluation Process
Evaluation Methods
Event Surveys
Media Coverage of an Event
Beneficiary
Spotlight
Creative
People
Example Study – Sahara Kargil Benefit Soccer Match
Media Relations
Introduction
Building Relations with Media
Public Relations Assistance to Media
Media Relations Norms
Press Conference
Holding a Press Conference
Event Branding
Brand
What is Branding?
Brand Equity
Establishing a Brand
Event Branding
Event Branding Principles
Event Catering
Introduction
Types of Catering
Catering Planning
Buffet Set-Up
Suppliers
Distribution
Ancillary Services
Trade Media
Hotel Booking agencies
Convention Bureau/Trade promotion cells
Transport
Tourism
Security
Celebrities and Events
Celebrity Becoming a Brand
Celebrity Advertising
Literature Survey
Image Communication in Marketing
Factors Critical in Celebrity Advertising
Observations on Celebrity Endorsements
Reasons for Celebrity Endorsements
Flaws in Endorsing Celebrities
Property Creation
Social, Economic, Political and Developmental Implications
Introduction
The Implications of Special Events
Social and Community Implications of Events
Economic Implications of Events
Finally
Exhibitions
The Revolution Begins
What is Exhibition?
Why Visit an Exhibition
The Economic Impact of Exhibitions
Objective of Holding an Exhibition
Exhibiting for the Right Reasons
Types of Exhibition
Display Work for Your Exhibition
More Than Mere Exhibitions
Augmenting Tourism Numbers
The Indian Viewpoint
ITPO
Exhibitions in India
Exhibitions Overseas
Event Management Laws
Legal Aspects
The Companies Act of
Intellectual Property Law in India
Trademarks
Copyrights
The India Copyright Act
The Trademark Act
Event Management Taxes
Entertainment Tax
Service Tax
A Recap
Identify the Event
Budgeting
Hiring sand Rentals
What Can Marketers Do to Reach This Position?
Marketing Your Event
Creating a Budget
Positioning Your Product /Event
Attractions/ Flip Side
Employment Opportunities
Case Study
Tasty Bite the Way to a Customers' Heart and Stomach
Preparatory resources for Certified Event Management Professional
Make sure to pick the apt resources out of the unlimited resources available, as they will determine how well will you pass the exam. let us look at some resources that can be beneficial –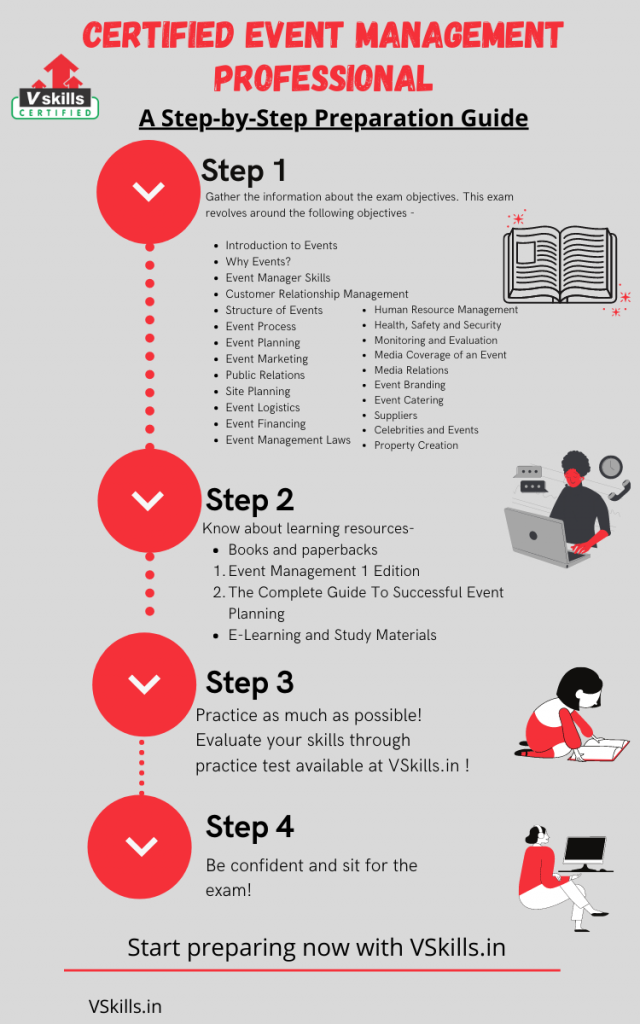 Step 1 – Review the Exam Objectives
Exam objectives let you define the framework for preparation and the path that has to be followed in order to pass with flying colors. Knowing about the objectives of the exam is very important as the whole exam is going to revolve around the objectives. The first and foremost thing before you start preparing is to get well versed with the objectives of the exam.
Refer – Certified Event Management Professional Brochure
Step 2 – Hitting the books
Books are the best valued resources and first resource that comes to our mind when we thin of preparing for any exam. You can find multiple books online or can refer to libraries and bookstores. There are even fantastic books online that can be very useful in preparation. Some books that you can refer are –
Event Management 1 Edition
The Complete Guide To Successful Event Planning
Step 3 – E-Learning and Study Materials
Learning for the exam can be fun if you have right set of resources matching your way of studying. Vskills offers you its E-Learning Study Material to supplement your learning experience and exam preparation. They are prepared by the experts of the subject matter and are reliable enough. They can help you build strong conceptual understanding and there are many other reliable sites that provides with the online courses and other quality content. This online learning material is available for lifetime and is updated regularly. You can also get the hardcopy for this material, so, you can prefer either way in which you are comfortable.
Refer – Certified Event Management Professional sample chapter
Step 4 – Evaluate yourself with practice tests
Make sure that you have practiced enough before taking the written exam. practicing more and more will help in identifying the weak portions and remove the loopholes in your preparation. This is the best way to judge how well you are prepared. You can try a free practice test now! Practicing more and more will even make you confident and you will feel less strange on the day of the examination.

Event Management Interview Questions
Checkout these latest online interview questions on Event Management to prepare for any job interview. The questions are created by domain experts, to help you to overcome the job interview obstacle.
Boost your chances to become a Certified Event Management Professional. Start preparing and get a step closer to your Dream Job Now!