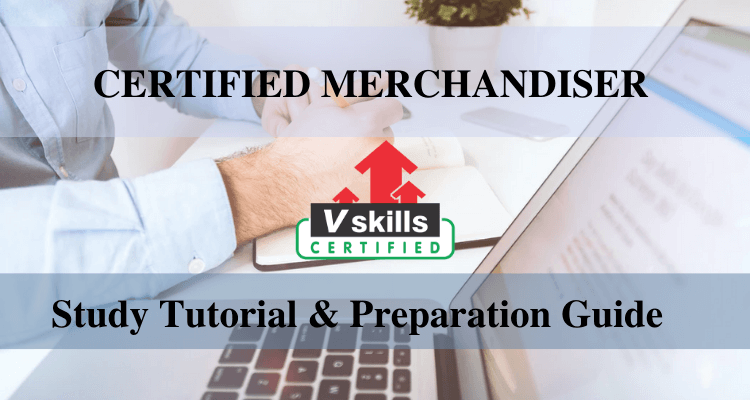 Merchandising is basically the activity of promoting the sale of goods, by presentation in retail outlets. The Vskills Certified Merchandiser course evaluates a candidate, and makes them eligible for the company based on their requirements, as a Merchandising professional. The candidates are examined in various areas in fashion merchandising, visual merchandising, design principles, color theory, consumer behavior, pricing packaging, market segmentation, distribution, vendor management, import, and export.
Why become a Certified Merchandiser?
This course is designed for those who are already working and would like to take this certification for further career progression and also for the professionals and graduates who wish to excel in the area of Merchandising. This certification is one of the best certifications to increase your employment opportunities in today's competitive market, by showcasing your skills and will also increase your earning potential.
Who should take the Merchandising Certification?
Job seekers who aspire to work in merchandising or in retail departments of various firms and students who wish to make their CV's strong and improve their skills, this certification will open the doors for such candidates.
Roles and Responsibilities of a Certified Merchandiser
Given below are the Roles and Responsibilities of a Certified Merchandiser.
Firstly, to analyze sales figures to identify market trends, customer reactions.
Secondly, to plan and develop merchandising strategies
Thirdly, to work with buyers, suppliers, and analysts to negotiate prices, quantities, and time sales
According to customer interest and maximize sales level by showcasing the best product
Also, to maintain store shelves and inventory and manufacture layout plans for stores
Then, to keep a proper eye on stock movement and contemplate markdowns, promotion and price changes, clear outs.
Last but not the least, to strengthen customer relationships and with channel partners as well to build pipeline and close deals
Subsequently, to keep an update about the industry's best practices
Finally, to predict profits/sales and plan budgets.
Benefits of taking Vskills Certification
Vskills being India's largest certification providers gives candidates access to top exams as well as provides after exam benefits. This includes:
The certifications will have a Government verification tag.
The Certification is valid for life.
Candidates will get lifelong e-learning access.
Access to free Practice Tests.
Candidates will get tagged as 'Vskills Certified' On Monsterindia.com and Shine.com.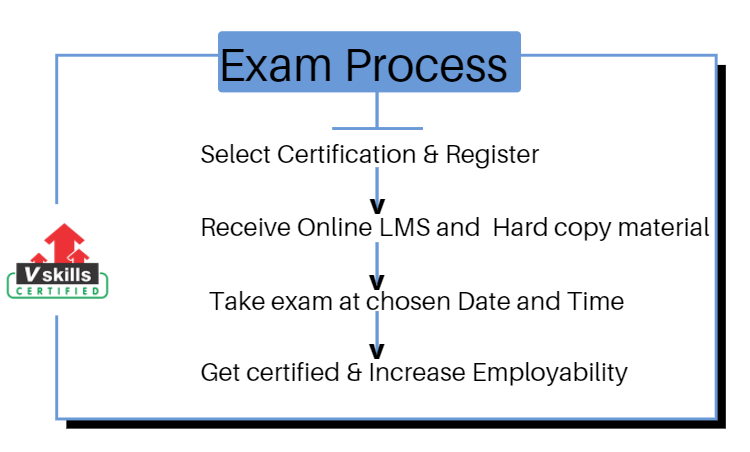 Exam Details
Exam Duration: 60 minutes
Vskills Exam Code: VS-1171
Number of questions: 50
Maximum marks: 50
Passing marks: 25 (50%)
Exam Mode: Online
There is NO negative marking in this module.
Course Details
Certify and Increase Opportunity.
Be
Govt. Certified Merchandiser Professional
Fashion Merchandising
Introduction
Merchandise Department
Fashion Buyer
Qualities of a Successful Buyer
Buyer Rights
Qualities of a Successful Buyer
Fashion Forecasting
Forecasting fashion trends
Market Reports
Visual Merchandising
History
Window Display
Shelves in the Clothes
Cross-Mix Merchandising
Props
Colour
Lighting
Graphics & Signage
Shop Interior
Senses Seduction
Stocking Basics
Repetition
Design Principles and Elements
Design Elements
Principles of Design
Color Theory
Historical Background
Color Abstractions
Complementary Colors
Warm vs. cool colors
Achromatic Colors
Tints and shades
Split Primary Colors
Color Harmony
Current Status
Basic Techniques for Creating Color Schemes
Retail
Types of Retail Outlets
Retail Pricing
Second-Hand Retail
Consumer Behavior
Black Box Model
Information search
Evaluation of Alternatives
Purchase Decision
Other Influences
Buyer Decision Processes
Packaging and Labelling
Purpose
Packaging Types
Symbols Used
Label
Specialized Labels
Label Stock Types
Label Attachment
Pricing
Influencing Attributes
Pricing Approach and Strategies
Cost Sheet Analysis
Fashion Industry
Fashion
Fashion Industry
Social Media and Fashion Industry
Advertising through Apps
Successful Campaigns
Fast Fashion
Category Management
Quick Response Method
Supply Chain, Vendor Relationships and Internal Relationships
Design Lawsuits and Legislation
Target Market
Target Markets
The Psychology of Target Marketing
Benefits of Mass Marketing
Market Segmentation
Criteria for Segmenting
Methods for Segmenting Consumer Markets
Psychographic
Supplier Segmentation
Positioning Strategies
Product Lifecycle
Fashion Reflect Lifestyle
Goals and Change
Types of style
Distribution
Physical Distribution, Marketing Logistics, and Supply Chain Management
The Physical Distribution Concept
Supply Chain Management (SCM)
Materials Management
Order Processing
Inventory Management
Production Control and Materials Requirement Planning
Just-in-Time (JIT) Logistics Systems
Vendor Management
System of Vendor Evaluation
Parameters for evaluation of Vendors Performance
Social Audit
Total Evaluation
Guidelines for Purchases through Tender and Negotiations
Purchase Review
Export and Import
Export
Ways of exporting
Making the export decision
Import
Export Documentation
Incoterms
Preparation Guide for Certified Merchandiser Exam
Preparing the right strategy for studying and grabbing relevant study resources avoids confusion and saves time. This preparation Guide aim is to ease your learning in regards to the difficult and complex concepts or subject areas. It is an outline of proper and necessary steps that should be taken before the exam for better results. The steps given below will help you and guide you for this certification.
Step 1 – Review the Exam Objectives
The very first task for candidates should be to get all the content and topics related to the exam. As it provides a benefit to candidates to understand better during the preparation time. Doing this will help them to understand things more accurately. For the Certified Merchandiser Exam the topics include:
Fashion Merchandising
Fashion Buyer
Fashion Forecasting
Visual Merchandising
Design Principles and Elements
Color Theory
Retail
Consumer Behavior
Packaging and Labelling
Pricing
Fashion Industry
Fast Fashion
Target Market
Market Segmentation
Product Lifecycle
Fashion Reflect Lifestyle
Distribution
Vendor Management
Export and Import
Refer: Certified Merchandiser Brochure
Step 2 – Learning with Books
Books boost critical thinking and develop the skills of a student. They bestow proper descriptions of the concepts and helps to memorize it better. Books are a vital source of learning, as they primarily improve your conceptual knowledge. The books mentioned below are the top 3 books that can be referred by candidates for the Certified Merchandiser exam.
Fashion Retailing: From managing to merchandising (Basics Fashion Management) by Dimtri Koumbis – The book primarily enlightens upon the fundamental features of management in merchandising and essential elements of a merchandiser
Merchandising Mathematics for retailing by Cythia. R. Easterling and Ellen. The book has a deep insight into the mathematical theories in merchandising. Mathematical concepts which are mandatory are present in the book
Visual Merchandising – Third Edition: Window and in-store display for retail by Tony Morgan. The book highlights the secrets of visual merchandising and covers both the area's window dressing and storage areas as well. Glossaries are also present in terms used in the books.
Step 3 – E-Learning and Study Materials
E-learning promotes a consistent process of learning and proves to be a valuable source of learning. It has all necessary concepts summarized in detail, that can be saved on your devices through the website, facilitating access to the content anywhere, anytime. This helps save your time and money, and also increases your motivation level.
Vskills offers E-Learning Study Material for the Certified Merchandiser exam. One very special advantage of Vskills learning material is its timely updates and lifetime access. In addition to supporting your e-learning, Vskills also provides study materials in hard copy for the candidates preferring offline study methods.
Refer: Certified Merchandiser Sample Chapter
Step 4 – Check your Progress with Practice Tests
In any field before implementing your knowledge, regular practice is essential. And when you are preparing for an exam, practice tests help you achieve better results. Taking these regular mock assessments increases your stamina and motivates you to do better than before. Moreover, it helps rectify possible errors that you can make in the final exam. So Start Practicing Now!

Job Interview Questions
Prepare for your next job Interview with Vskills Latest online Interview questions, these questions are created by experts to help you to overcome the interview fear.

Enrich your skills with our resources to increase your career benefits and pass the Certified Merchandiser exam. Start Practicing Now
Apply for Merchandiser Certification Now!!
http://www.vskills.in/certification/Merchandiser-Certification