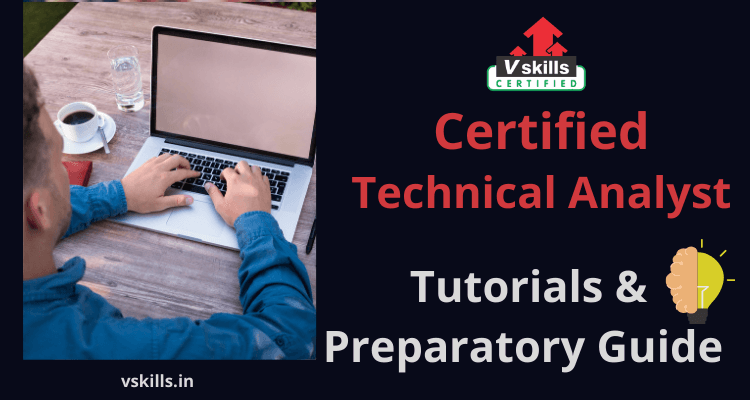 Are you preparing for Certified Technical Analyst exam? Do you have aspirations to become a government certified professional? You have arrived at the right place. The demand for Certified Technical Analyst has soared really high in the recent years. Employers prefer Technical Analysts with good critical-thinking and analytical skills. This certification will validate your expertise and help you grab higher paying jobs
Vskills Certified Technical Analyst Overview
Vskills Certified Technical Analyst is able to understand the market actions and analyse the changes that occur over a period of time. This certification tends to equip you with skills required to assess the overall situation concerning stocks by analyzing technical indicators, such as breadth of market data, market sentiment, momentum, and other indicators and thereby perform security analysis used for forecasting the direction of prices. Along with evaluating stock market trends, analysts may gather, file, and present such data for use by their employers.
Who should take this certification?
This certification is a program for candidates seeking a career in technical analysis. It targets job seekers looking for employment in the field of financial services, banking, investment, insurance and stock broking. Also, existing employees looking to advance their career prospects can prove their employers the value of their skills with this certification.
Why become a Vskills Certified Technical Analyst?
A Vskills certification helps you unlock new opportunities in your professional career. It helps you gain competitive advantage and distinguishes you from the other candidates. There are various companies like Sharekhan Limited, Angel Broking, Kotak Securities Limited, Aditya Birla Money Ltd, IndiaBulls, Religare Securities Ltd and ICICI Direct that keep on hiring certified technical analyst. Thus this certification helps you widen spectrum of employment opportunities in public as well as private sector. Also, Vskills certification offers you the following benefits:
This certification will have a Government verification tag.
Also, the Certification will have lifetime validity.
Further, you will get Lifelong e-learning access.
Moreover, you get access to Free Practice Tests.
Additionally, You will get tagged as 'Vskills Certified' On Monsterindia.com and 'Vskills Certified' On Shine.com.
Roles and Responsibities : Certified Technical Analyst
Technical analysts play a key role in decision making for an organisation. They are the communicator of their technical knowledge and are responsible for the following:
Firstly, research such as interviewing people about business requirements and create specifications for projects
Then, analyze and organize the gathered information to understand and implement project requirements
Also, work on employee engagement during projects by going between management and employees
Moreover, facilitate a consistent and organized flow of information during projects
Exam Details
Exam Code: VS-1009
Duration: 60 minutes
No. of questions: 50
Maximum marks: 50, Passing marks: 25 (50%).
There is NO negative marking.
This is an Online exam.
Exam Process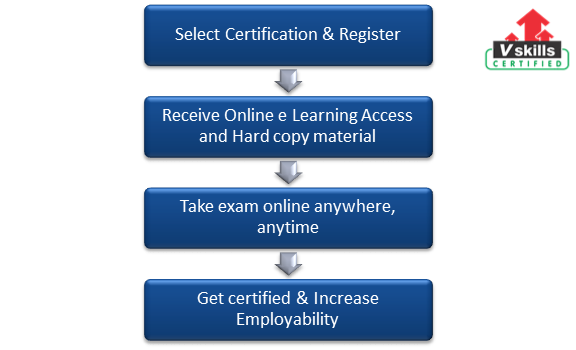 Course Outline: Certified Technical Analyst
The Certified Technical Analyst Exam covers the following:
Trading Rules with Technical Analysis
Preparatory Guide: Certified Technical Analyst
This certification is one of the most essential credentials to include in your academic records. Achieving this certification brings wonders to your career opportunities. Therefore it important to kick start your preparations and have the knowledge of all preparatory resources. Don't worry, we have done the tedious task of summarising the preparatory resources and here provide you with our study guide. Therefore, follow the step by step guide to excel in this exam.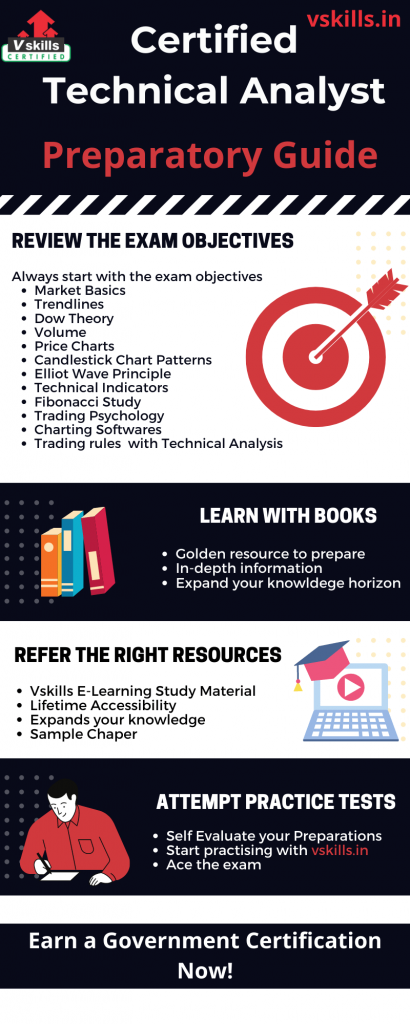 Step 1: Deeply Analyse the Exam Objectives
The first and foremost step in your preparation guide is to deeply analyse the exam objectives and gain complete understanding of the exam domains. You should have utmost clarity before commencing on with your preparations. Align your study plan around these exam concepts to earn your desired certification. This will in turn strengthen your preparations. The objectives covered in this exam are:
Market Basics
Trendlines
Dow Theory
Volume
Price Charts
Candlestick Chart Patterns
Elliot Wave Principle
Technical Indicators
Fibonacci Study
Trading Psychology
Charting Softwares
Trading rules with Technical Analysis
Step 2: Become a Bookworm
Preparation for any exam without books seems unreasonable and unproductive at the same time. You should refer the right books to gain in depth knowledge about the exam. Moreover, select relevant and credible books by expert authors for your exam preparations. They provide detailed explanation of the exam concepts. You must include the following books in your preparations to ace your learning
Firstly, Getting Started in Technical Analysis by Jack D. Schwager
Secondly, Technical Analysis of the Financial Markets by John J. Murphy
Thirdly, A Complete Guide To Volume Price Analysis by Anna Coulling
Also, Technical Analysis from A to Z by Steven B. Achelis
Additionally, Technical Analysis Explained by Martin J. Pring
Step 3: Wisely Choose your Learning Resources
To ace the exam, you need to choose the best set of resources suited to your type and your level of understanding. There are abundant resources out there in the market place. Remember to make a wise choice and choose from genuine and authentic sources. Vskills offers you its official resources to help you with your preparations. You get Lifetime Access to Vskills E-learning and Study Material. Moreover, these resources are updated regularly and are an information goldmine.
Refer: Certified Technical Analyst Sample Chapter
Step 4: Practice Practice and Practice
Regardless of how you prepare for the exam, a practice test always helps you evaluate your preparations. These practice tests help you diversify your study strategy and ensure the best possible results. . Analyzing your answers will help you identify the areas where you need to give special attention to, and will also let you know your alignment with the exam objectives. Moreover, the best way to start doing practice tests is after completing the syllabus. Solving Practice tests can provide you with the confidence you need to be stress-free. Start Practising Now!

Job Interview Questions
Checkout these interview questions on technical analyst to prepare for the next job interview, these questions will help you to gain more knowledge and makes you job ready.