Are you looking for employment in the restaurant or hospitality industry? Then earning a professional certificate should be your first preference! A Certified Restaurant Manager ensure that restaurants operate efficiently and profitably while maintaining their reputation. The certification exam enhances your knowledge in this field and boosts your career.
Vskills Certified Restaurant Manager Overview
Vskills Certified Restaurant Manager aims at providing a fulfilling and secure career in service industry. The objective of this government-certified course is to inculcate all the skills required to excel in the industry and achieve expertise for better career growth. Earning this certification will help you prove your professional commitment and get employed in restaurants and cafes. To get an overview of the hospitality sector and associated practical aspects of providing service to the customer and get a visible recognition for their skills you should take this certification exam.
Why become a Certified Restaurant Manager?
Vskills Restaurant Manager certification is designed to help candidates get accustomed to the fast-paced and lively environment of the hospitality industry. Jobs in Restaurants and Café houses have various avenues to offer, and one needs only formal education and etiquette's to enter this field. If you are humble, polite, well-groomed, sensible and with good presence of mind then there is no dearth of jobs in Food and Beverage industry. Moreover, this certification will help candidates get accustomed to the fast-paced and lively environment of the hospitality industry.
Vskills is India's largest certification provider and gives candidates access to top exams as well as offers after exam benefits. This includes:
This certification will have a Government verification tag.
Also, the Certification will have lifetime validity.
Further, you will get Lifelong e-learning access.
Moreover, you get access to Free Practice Tests.
Additionally, You will get tagged as 'Vskills Certified' On Monsterindia.com and 'Vskills Certified' On Shine.com.
Who should take this exam?
This certification is intended for candidates who are looking for employment in the service industry and wish to understand the working of the hospitality sector. Also, designed for those who wish to improve their prospects and generate the skills for excelling in the field
Restaurant Manager Career Path
Restaurant managers are in charge of the restaurant's profitability, quality standards, health and safety, as well as employee and customer happiness. Let us look at Restaurant Manager Career Path!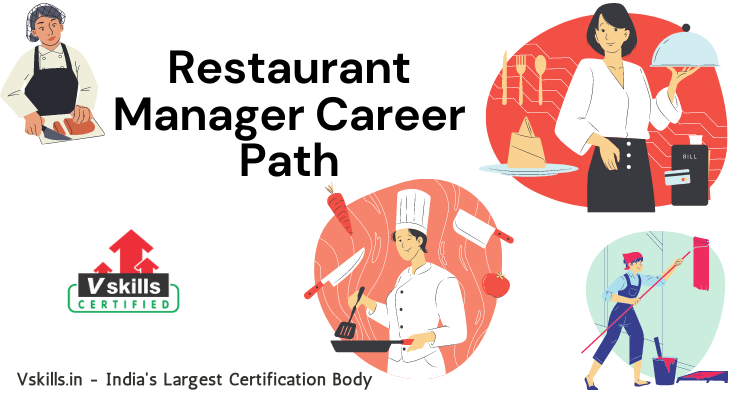 Roles and Responsibilities
From managing employees, keeping the customers happy, to supervising the operations, a restaurant manager has lot of roles to perform. There are various other responsibilities of a restaurant manager:
Firstly, Restaurant managers have to coordinate daily Front of the House and Back of the House restaurant operations
Secondly, they have to deliver superior service and maximize customer satisfaction
Thirdly, respond efficiently and accurately to customer complaints
Also, regularly review product quality and research new vendors
Moreover, organize and supervise shifts and train new and current employees on proper customer service practices
Further, appraise staff performance and provide feedback to improve productivity
Furthermore, ensure compliance with sanitation and safety regulations
Additionally, they have to manage restaurant's good image and suggest ways to improve it
Exam Details
Duration: 60 minutes
No. of questions: 50
Maximum marks: 50
Passing marks: 25 (50%)
There is NO negative marking
This is an Online exam
Exam Process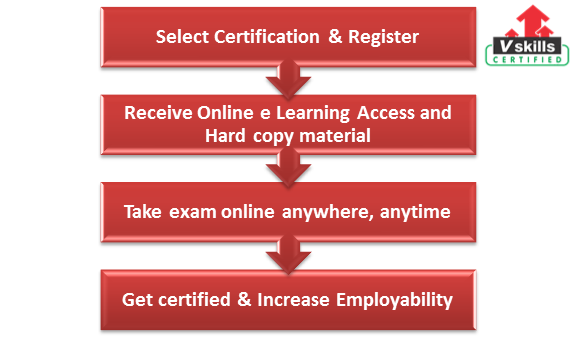 Course Outline
This exam covers the following topics:
Insight to Restaurants
Preparatory Guide
Now that we have all the details in hand lets move further and gather all expert resources. There are plenty resources available which makes it difficult to choose the right ones. You must have the right information and tools to crack the exam. So, for making it a little bit easy for you, we have curated the most reliable and helpful resources in our Preparatory Guide. It will walk you through all the necessary steps to achieve this much valued certification.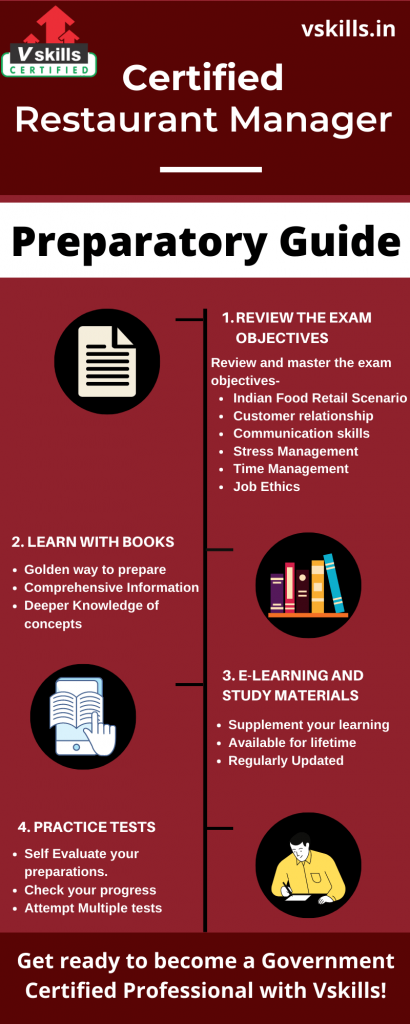 Familiarise with the Exam Objectives
Before beginning with your preparations you should know where to start from. Therefore the first step is to familiarise with the exam objectives. You must have complete clarity about the concepts covered in the exam. The exam domains cover various subtopics that help candidates prepare for the exam by identifying specific content within each topic that may be tested. The exam topics are:
Indian Food Retail Scenario
Customer relationship
Communication skills
Stress Management
Time Management
Job Ethics
Learn with Books
Books are the most preferred resource when it comes to studying for an exam. They provide detailed explanation of the exam concepts. Also, they provide you with a stronger base that will help you qualify, but also this will provide you with that confidence among your peers. You must include the following books in your preparations to ace your learning:
Firstly, Setting The Table by Danny Meyer
Secondly, Restaurant Success by the Numbers by Roger Fields
Then, Restaurant Owners Uncorked by Will Brawley
Also, Chasing the Heat by Leonard Gentieu
Further, The Profit Recipe by Cesar Quintero
Finally, The Restaurant Manager's Handbook by Douglas Robert Brown
Explore Learning Resources
You need access to the authentic resources to crack the exam. These resources determine how well you pass the exam. Vskills offers its own Official Resources to help you while preparing for the exam. You get lifetime access to E-Learning and Study Material. Moreover, these materials are updated regularly and provide wealth of information. They supplement your learning experience and exam preparation
Refer: Certified Restaurant Manager Sample Chapter
Attempt Practice Tests
One way to ensure maximum comfort and minimal anxiety is to practice. The more often you sit for a practice test, the more natural it will feel the day of the actual test. This will also assist in tracking your progress, to know which study strategies are helpful. Attempting Practice tests is the key to check your knowledge and identify the areas that require improvement. Strengthening your weaker domains will help you crack the exam. Moreover, you should take up practice tests once you have through with your preparations. Ready to evaluate yourself, try free official practice test here!
Prepare for Job Interview
Prepare for your upcoming job interview with our latest online interview questions. The questions are designed by experts to help you to brush up your knowledge.