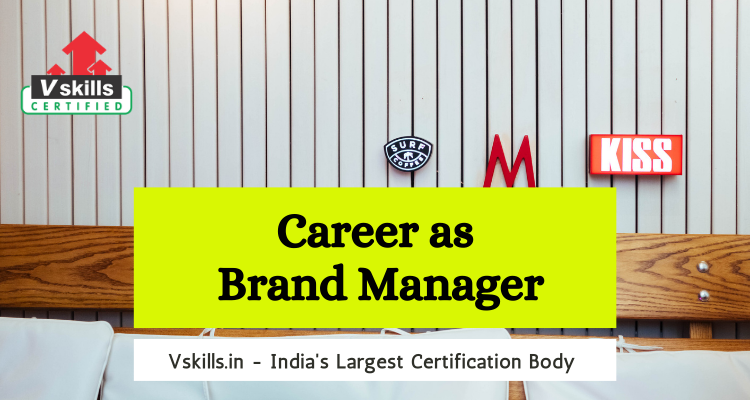 We connect with brands from the moment we wake up. Anything from the coffee we drink to start our day to the applications we use during the day to choose items of our choosing is from a brand we love. It's sometimes fascinating to learn what makes these brand tactics so effective in causing brands to become an indispensable part of our lives. If this is something that concerns you as well, then being a brand manager is the role for you.
Let us look at Brand Manager Career Path!
Who is a brand Manager?
Brand Managers are responsible for analyzing brand positioning and consumer insights as well as help in shaping and communicating the vision and mission. They also translate brand elements into plans and go-to-market strategies. Most companies appoint a brand manager to manage and sustain their brands according to market trends.
Intended Audience – This field is not limited to certain kind of people. While formal education in the field is essential for a candidate to make a career in Brand Management, it is not compulsory. It can be said that experience counts more than a degree in this field but formal education becomes necessary to develop certain skills and knowledge after a level of experience has been gained. Any person with enough innovation and strategic planning can get his or her hands on the job of a brand manager.
Roles and responsibilities
Brand managers manage a team of marketing people working on brand initiatives. And, also lead creative development for motivating the target audience.
Additionally, They establish performance specifications, cost and price parameters, market applications, and sales estimates.
Furthermore, Brand managers measure and report the performance of all marketing campaigns, and assess ROI and KPIs. And, they also monitor the market trends, research consumer markets, and competitors' activities.
Next, they also control new and ongoing marketing and advertising activities as well as monitor product distribution.
Lastly, they align the company around the brand's direction, choices, and tactics.
Skills required for being a good brand manager
This field does not require anyone to possess any specific set of prerequisites. However, if you possess these additional skills, you can really get an advantage over others. Some of the skills that you need to have are –
Be adaptive and flexible
leverage the Technology
Additionally, Align with the market demand
Furthermore, Always do handful of market research
Keep brainstorming to expand the reach of your brand
Also, Focus on aesthetics and what your consumer demands
How do you become a brand manager?
There are many ways through which you can land on the job of being a brand manager. Let us have a look at some of the ways through which you can be a brand manager –
An Undergraduate Degree – You can get an undergraduate degree right after completing your class 12th. You can begin your career in this field through this and after getting started, you will be promoted to the position of a brand manager after some time. Some of the degrees which will help you in the process of becoming a brand manager are –
UG Courses in Brand Management / Luxury Brand Management
Also, Bachelor of Business Administration (BBA)
additionally, Bachelor of Management Studies (BMS)
moreover, Bachelor of Business Studies (BBS)
also, Bachelor of Mass Media (BMM)
However you need to get specialization too in order to directly secure the high paying job in this sector.
A Specialization Degree – Going for post graduation in this field becomes essential after a point of time. However, it is highly recommended that candidates gain some practical experience of Brand Management, Marketing and Advertising before they go for a master's degree course. You can go for PGDM in Brand management or a masters in business administration.
Certification Courses – Certifications are indeed best source to learn as there are no specified qualifications required for earning them such as 12th class certificate or a specified degree. They have become the modern currency of the 21st century to get a real job in the sector you are most interested in. Some of the sites that provide really good certification courses are – VSkills, Udemy, Coursera and many more.
Learning through online Resources – There are many online resources available like online classes or instructor-led training courses which are offered by online educational sites. They offer interactive classes that can be helpful for clearing your conceptual parts and doubts. They also keep you updated on new changes in the requirements and other updates.
Learning by Doing – You can do a lot of internships or apprenticeship programs to inculcate the required skill into yourself. In fact, this field prefer candidates with a lots of experience in dealing people and managing crisis. You can also do various internships or apprenticeship programs to gain experience in this field because at one point it becomes essential to have practical knowledge along with the theoretical knowledge for getting a job. So, instead of getting a job which is less paid just because you lack experience, you should do a lot of internships or apprenticeship programs.
Market Demand and Average salary for a brand manager
An effective brand strategy can bring new opportunities & leverage the brand success. A Certified Brand Manager will find employment in marketing, advertising, brand management & social media departments of various companies. Certified Brand Manager find employment in Top MNC's and organizations like Lava Mobiles, Info Edge, Lintas India, Ogilvy & Mather Ltd, Mudra Communications Ltd, McCann-Erickson India.
Some of the top recruiting areas of brand managers include:
E-Commerce Companies
also, Tech-Based Startups
subsequently, Service Aggregator Companies
furthermore, Advertising and Marketing Agencies
additionally, PR Agencies
moreover, Telecoms
and, Marketing Departments of Companies etc.
Starting salaries in Marketing and Brand Management are quite low but experienced candidates can demand a fat paycheck in this field. Plus, this is a highly target-based domain and entry-level candidates including Executives and Analysts are usually offered high incentives on top of their CTCs.
Types of Job roles
The job of a brand manager is not an on the desk job, they are required to be very active in strategizing and implementing the plans very much quickly. Because a delay would mean losing a lot of customers in this fast moving world, where consumer shifts to another brand without any second thought. In this sector, some of the job roles that you can expect are –
Management Trainee / Intern – A management trainee works in an organisation under the direction of managers and executives. Their aim is to gain all of the necessary skills to become potential managers, usually in specific fields such as marketing, sales, or operations.
Additionally, Market Research Analyst / Executive – Market research analysts are marketing experts who assist companies in determining their market position so that they can efficiently advertise their goods and services. They investigate rivals and their marketing strategies, as well as analyse and collect customer data.
Assistant Marketing / Brand Manager – Assistant brand managers assist brand managers in the day-to-day activities of a marketing department or organisation by providing analytical and logistical help. Your job as an assistant brand manager is to prepare and coordinate successful policies that will help the department meet its objectives.
Furthermore, Marketing / Brand Manager – Brand management in marketing starts with an overview of how a brand is actually viewed in the market, then moves on to preparing how the brand should be perceived in order to achieve its goals, and finally to ensuring that the brand is perceived as expected and achieves its goals.
Marketing Director / Head of Department – A marketing director is in charge of the marketing department's direction, guidance, and leadership. They are usually in charge of marketing for a company, an agency, a specific product, or a group of products.
Advantages of being a brand manager
Firstly, Brand Management is a fast-paced and charming field.
Additionally, It offers good fortune and prospects for growth.
Also, The field supports creative freedom and strategizing.
Furthermore, Opportunities to work with great and creative minds increases learning opportunities.
Moreover, One of the best fields of socializing and networking with people.
Disadvantages
firstly, strict project deadlines demand extra working hours.
moreover, Professionals usually face a disturbed work-life balance.
Additionally, The job can be stressful and confusing
And, High attrition rates in entry-level jobs.
furthermore, Not for candidates who are not good at communication skills.
Hence, give a boost to your career by becoming a certified brand manager. Hurry up and try a free practice test now!