Leadership Style
Leadership is the key to manage and run an organization. Then there come different leadership styles. The decision for the leadership style is based on the culture and goals of an organization. Companies also offer several leadership styles within the organization, dependent upon the necessary tasks to complete and departmental needs.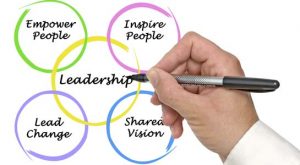 There are a number of leadership styles available.
Laissez-Faire – the highly experienced and trained employees who require little supervision fall under the laissez-faire leadership style.
Autocratic – The autocratic management has proved advantageous as it provides strong motivation to the manager.
Participative – this style consists of the leader sharing the ability to make decisions with the employees/group members.By practicing social and by endorsing the interests of the group members
Transactional – in this Managers and team members set predetermined goals together, and employees agree to follow the direction and leadership of the manager to accomplish those goals.
Transformational – This style involves the high levels of communication from the management to meet the goals.
Narcissistic – in this leadership style in which the leader is only interested in him/her.
Toxic – in thi9s style the leader tend to leader-follower relationship. Thus leaving the group or the organization in an inferior complex.
Task-oriented – it is a style in which the leader pays attention to the tasks that need to be performed in order to meet a certain production goal.
Relationship-oriented – ln this the leader is more concerned with the relationships amongst the group. Therefore generally more concerned with the overall well-being and satisfaction of group members.
Charismatic Leadership – Charismatic leadership resembles transformational leadership. As both types of leaders inspire and motivate their team members.
Servant Leadership – A 'servant leader' is someone who regardless of his level tend to serve the needs of the team. ,
Gender Difference and – When men and women come together in groups. They tend to utilize different leadership styles.
The organization can choose from the listed categories of the leadership style.
For certification in L&D visit –