Human Resource Development (HRD)
The Human resource development field empowers and encompasses the resources in an organization by empowering the human resources in an organization. Earlier Human resources were only about the managing people in the organization, training & other functions for the employees' welfare and main emphasis on the payroll. Whereas, in the current scenario of HRD is about actualizing the potential of the employees. By making them capable of fulfilling their aspirations.
This shift in the HRD has come about to break the old notion of it's being the source of the competitive advantage and not about fulfilling the job responsibilities of the employees. The current demand from the employees is to actualize their own potential and not treat the employees as an asset only. To get a clear picture on the HRD refer to Vskills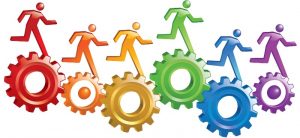 There are many new tactics of the human resource development:
Recruitment and Hiring: the recruitment and the hiring of employees is a necessary part of running a business. This process takes a long way and also takes time away from all the other important tasks. While training an employee is an intense process. In setting the long-term growth and productivity the recruitment is of utmost importance. Keeping current growth pace in mind the organization should always hire the right candidate for the right position. E.g. if you need an IT expert then you cannot fill the position with someone having expertise in the marketing to fill the position.
Training: Once the hiring process gets completed. There starts a need for the training as per your business requirements. While hiring skilled people don't nullify the need for training, because every business has its own requirements. Almost every employee needs some kind of the on the job training. All the work policies should be communicated to the new employees initially. While current employees should polish their skills and get the retraining with time.
Evaluation and Professional Development: the final key to human resource development is evaluating the employees' performance. Mostly the organizations follow the annual evaluation procedure and some organizations evaluate only when something goes wrong. A regular evaluation can help in spotting the need for the additional training and rewarding.
For certification in L&D visit –
Government certification in L&D