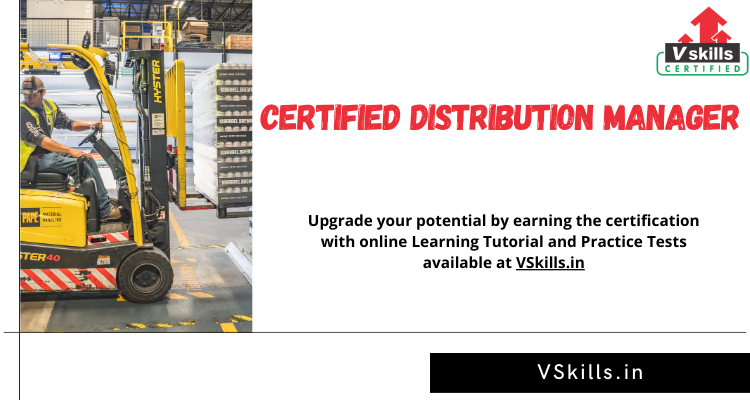 To stand out in the crowd you need to have somewhat different skills than others. Vskills certification for Distribution Manager assesses the candidate as per the company's need for managing ordering and distribution of products, parts and accessories. The certification tests the candidates on various areas in distribution management which includes logistics, material management, transportation, warehousing, physical distribution, marketing channel, channel management, monitoring and benchmarking.
Getting certifications to make you a preferable candidate for the job as well as increases your importance. They help in showing your commitment towards your aim and dedication towards your work and organization. Let us get into details of this valuable credential.
Why become a Certified Distribution Manager?
This Course is intended for professionals and graduates wanting to excel in their chosen areas. It is also well suited for those who are already working and would like to take certification for further career progression. Earning Vskills Distribution Manager Certification can help candidate differentiate in today's competitive job market, broaden their employment opportunities by displaying their advanced skills, and result in higher earning potential.
Who should take this certification?
This is the apt certification for those who are looking to develop their career into the similar field. Job seekers looking to find employment in distribution, logistics and supply chain departments of various companies, students generally wanting to improve their skill set and make their CV stronger and existing employees looking for a better role can prove their employers the value of their skills through this certification.
Career as a Distribution Manager
As a distribution manager, you'll be in charge of organizing commodities storage and distribution. You'll make sure the appropriate things get to the proper place on time and for a reasonable price. Transportation, stock control, warehousing, and monitoring the movement of commodities are all possibilities. Let us know about Career as a Distribution Manager.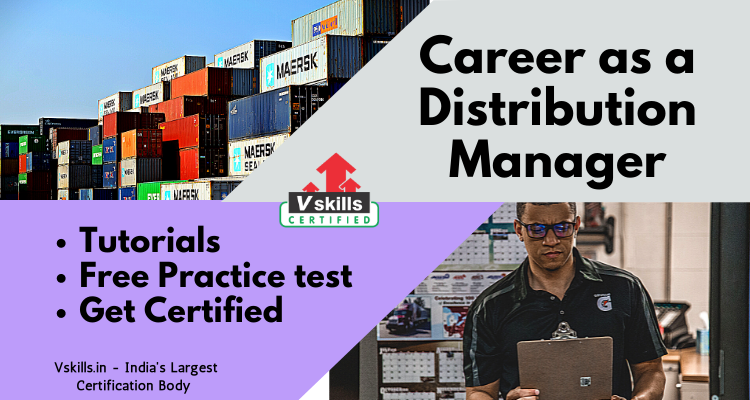 Benefits of Certification
Test Details
Duration: 60 minutes
No. of questions: 50
Maximum marks: 50, Passing marks: 25 (50%).
There is NO negative marking in this module.
Online exam.
How it Works
Select Certification & Register
Receive a.) Online e Learning Access (LMS) b.) Hard copy – study material
Take exam online anywhere, anytime
Get certified & Increase Employability
Content Outline
Introduction to Logistics
Material Management
Marketing Channel
Marketing Intermediaries
Function of Marketing Channel
Channel Design
Selection of Appropriate Channels
Channel Management
Distribution Channel Management
Channel Motivation
Physical Distribution Concepts and Objective
Components of Physical Distribution
Transportation
Warehousing
Impact on Physical Distribution
Supply Chain Management in Physical Distribution
Distribution and Networking
Monitoring and Benchmarking
Miscellaneous Topics
Preparation Guide for Certified Distribution Manager
There are numerous resources that can be used for preparation. But cracking the certification becomes difficult when the set of resources chosen is not apt. You should be very careful while choosing the resources as they will determine actually how well you will pass the exam. let us have a look at handful of resources.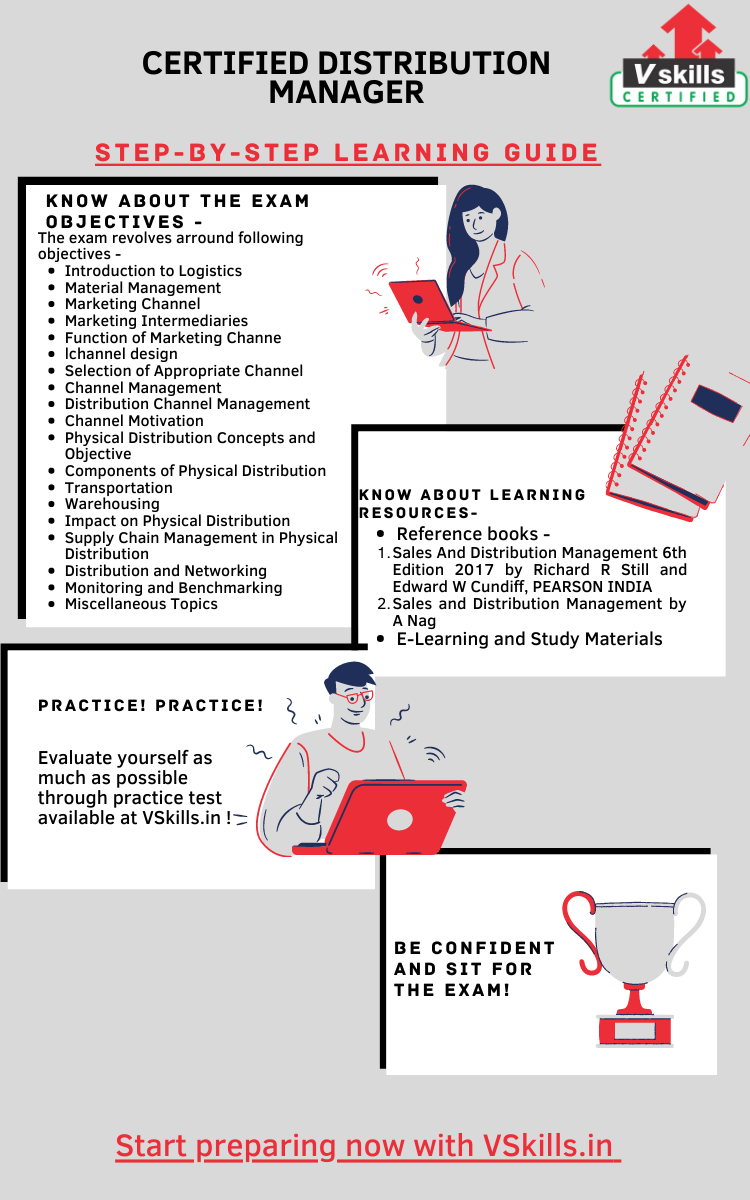 Step 1 – Review the Exam Objectives
The first and foremost thing before you start preparing is to get well versed with the objectives of the exam. Knowing in detail about the exam objectives will let you understand the way through which you will prepare for the exam and then help to pass that with the flying colors. The exam revolves around the following objectives –
Introduction to Logistics
Material Management
Marketing Channel
Marketing Intermediaries
Function of Marketing Channel
channel design
Selection of Appropriate Channels
Channel Management
Distribution Channel Management
Channel Motivation
Physical Distribution Concepts and Objective
Components of Physical Distribution
Transportation
Warehousing
Impact on Physical Distribution
Supply Chain Management in Physical Distribution
Distribution and Networking
Monitoring and Benchmarking
Miscellaneous Topics
Refer – Certified Distribution Manager brochure
Step 2 – Hitting the books
You can refer to as many books as you want and can get them from bookstores or libraries. Books are the most valuable and reliable source for collecting the information relating to the theoretical concepts of the syllabus. Make sure that the books you select has all the necessary concepts that will be asked in the exam. also, the book should offer maximum practice exercises that will help to understand better and learn the things for a long time. Some books that you can refer are –
Distribution Management 6th Edition 2017 by Richard R Still and Edward W Cundiff, PEARSON INDIA
Sales and Distribution Management by A Nag
Step 3 – E-Learning and Study Materials
Learning for the exam can be fun if you have right set of resources matching your way of studying. Vskills offers you its E-Learning Study Material to supplement your learning experience and exam preparation. This online learning material is available for lifetime and is updated regularly. You can also get the hardcopy for this material, so, you can prefer either way in which you are comfortable.
Refer – Certified Distribution Manager Sample Chapter
Step 4 – Evaluate yourself with Practice Tests
Practices makes a man perfect. You can also find the problems you are facing in your strategy. We all are quite well versed with this saying and also with the truth in this. Practice papers and test series help you in identifying the loopholes in the preparation. Practicing as much as you can will help in identifying various parts of the syllabus that need more attention and that are fully prepared. This is the best way to know your level of preparation. Start practicing now!

Distribution Manager Interview Questions
Checkout these latest online interview questions on Distribution Management to prepare for any job interview. The questions are created by domain experts, to help you to overcome the job interview obstacle.

Give a boost to your career by clearing the Certified Distribution Manager exam. Try a free practice test now!