Certify and Increase Opportunity.
Be
Govt. Certified DTP Operator

Windows Explorer
File Explorer or Windows Explorer, Explorer is a file browser found in Microsoft Windows 95 and above to explore and manage the drives, folders, and files on the computer. Although similar, Microsoft Windows Explorer is not the same as "My Computer" and is not "Microsoft Internet Explorer", even though Internet Explorer is sometimes improperly referred to as Explorer. In the picture to the right, is an example of what the Explorer may look like.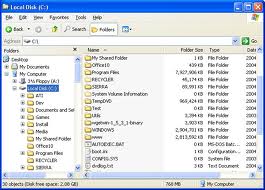 To open Explorer a user can do any of the below steps.
Users with a keyboard that has the Windows logo can use the shortcut of holding the Windows key and E at the same time.

In Windows 7 and lower right-click the Start button and click Explorer.

In Windows 8 right-click the bottom-left corner of the screen to get the Power User Menu and choose File Explorer

Click Start, Programs, and then Windows Explorer or Explorer.

Click Start, Run, and type explorer and press enter.

Open the windows or winnt directory and double-click the explorer.exe file.