Are you looking for a career in the ever-growing field of Wealth Management? Do you want to enhance your career prospects with a professional certification? Then the exam is just for you. Wealth Management has seen a boom in recent years due to its increasing awareness. People know how to acquire wealth but are not wise enough to manage it. They hire well-qualified wealth managers to help them plan their wealth.
Roles and Responsibilities of Wealth Manager
A Certified Wealth Manager has a thorough understanding of financial planning process, as well as, of financial products including equity, banking and fixed income, insurance, real estate, art, derivatives and structured products. A wealth manager must be conversant with these aspects to assist the client in aligning to their wealth management plans and offer additional value to them. The major responsibilities of a Wealth Manager include –
Firstly, develop new business relationships
Then, assess the client's profile and need and offer them financial advice
Subsequently, recommend the clients, strategies in cash management, insurance coverage, investment planning, or other areas to help them achieve their financial goals.
Further, maintain communication with clients and record of each client, business transactions, credit facilities, etc. as per rules and regulations of the bank at all times.
Furthermore, promote cross-selling by developing and maintaining relationships with other areas of the bank
Also, ensure compliance with the bank's policies/procedures and regulatory requirements
Likewise, Monitor financial market trends to ensure that client plans are responsive.
Vskills Certified Wealth Manager : Exam Overview
Vskills Certification in Wealth Manager exam is for those candidates looking for opportunities in this sector catering to wide variety of services. This certification exam focuses on the steps and process involved in wealth management, understanding client goals and constraints, role of insurance, retirement and estate planning and wealth management strategy. This certification equips you with knowledge and training of wealth management.
Who should take this certification?
This certification is specially designed for Wealth managers, financial planners and advisers, fund managers etc. Banking and Finance sector are the major recruiters in this domain. Moreover, it is also for existing employees who are willing to validate their skills and prove their professional commitment.
Benefits of becoming a Certified Wealth Manager
Vskills Certified Wealth Manager certification significantly improves you chances of getting your desired role and adds value to your resume. It helps you unlock various opportunities. Moreover, the rising awareness about the field of Wealth Management has made this certification all the more important. Also, Vskills offers the following benefits for this certification:
This certification will have a Government verification tag.
Also, the Certification will have lifetime validity.
Further, you will get Lifelong e-learning access.
Moreover, you get access to Free Practice Tests.
Additionally, You will get tagged as 'Vskills Certified' On Monsterindia.com and 'Vskills Certified' On Shine.com.
Exam Details: Certified Wealth Manager
Code: VS-1040
Duration: 60 minutes
No. of questions: 50
Maximum marks: 50
Passing marks: 25 (50%).
There is NO negative
This is an Online exam.
Exam Process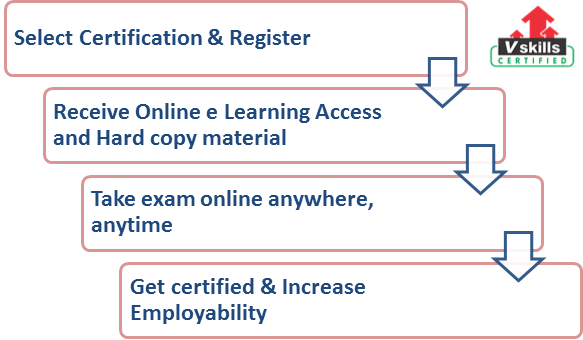 Course Outline
This exam covers the following topics:

Introduction to Wealth Management
Preparatory Guide for Certified Wealth Manager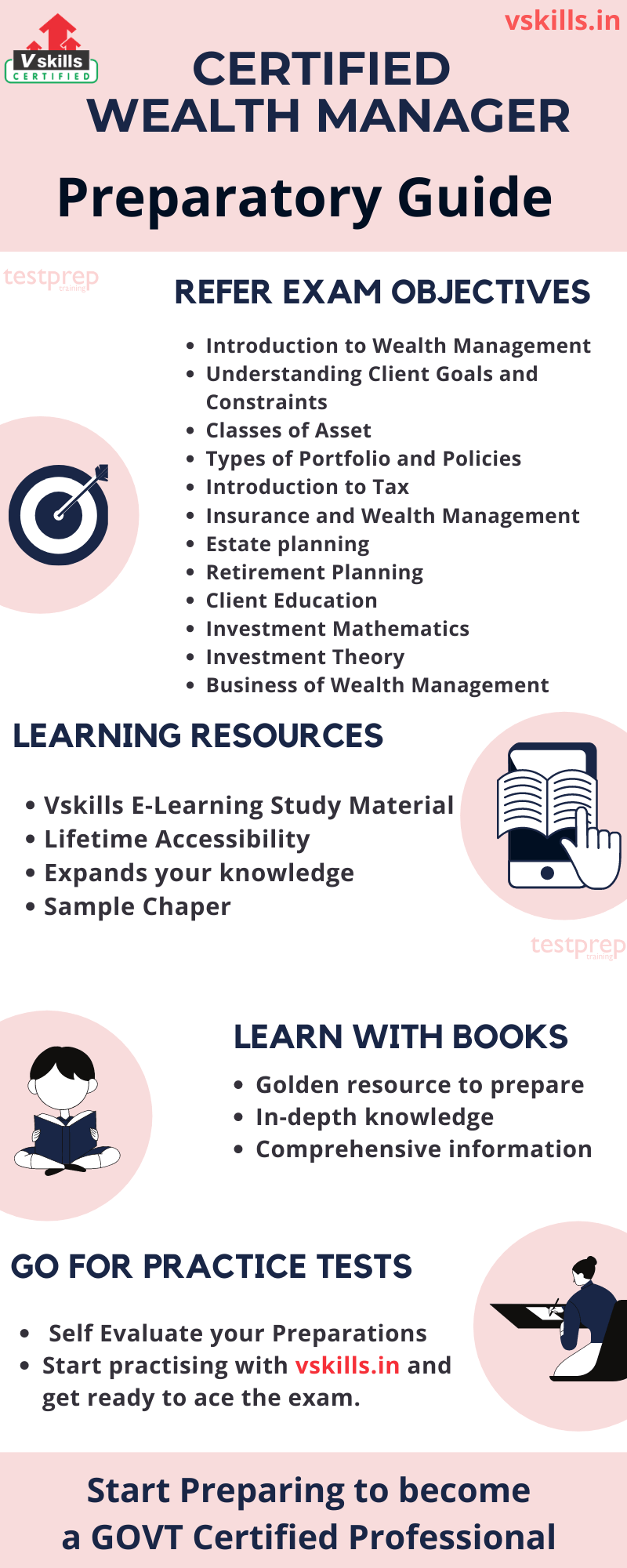 Preparing for an exam is the real task. Consistency and determination are the two most essential keys to unlock your certification. But preparing from the genuine resources and being on the right track is also important. Look no further as we present you our step by step preparatory guide. Resources in the guide will help you refresh your skills and concepts related to the exam while providing you with all the important insights.
Start with Exam Objectives
Before heading towards your preparation journey, you must get yourself familiar with the main objectives of the Certified Wealth Manager exam. A thorough analysis will let you align yourself more deeply with the chief objectives if the exam. And hence, enabling you to gain the required command to earn your desired certification. This exam covers the following topics:
Introduction to Wealth Management
Understanding Client Goals and Constraints
Classes of Asset
Types of Portfolio and Policies
Introduction to Tax
Insurance and Wealth Management
Estate planning
Retirement Planning
Client Education
Investment Mathematics
Investment Theory
Business of Wealth Management
E-learning and Study Material
Passing the exam can be easy if you have access to the right set of resources. Make sure the content is precise and reliable enough. The resources that you'll pick will determine how well you prepare and pass the exam. To help you out Vskills offers its own Learning Resources. The E-Learning Study Material helps broaden your knowledge and familiarise with the exam concepts. Moreover, it offers revised and updated content to supplement your learning experience and exam preparation.
Refer: Certifid Wealth Manager Sample Chapter
Learn with Books
Preparing with books have been the traditional way. They are the go-to resource for any exam. These Books help you gain in-depth clarity about the exam domains. Most important of all, you can find real-time examples of the different concepts you learn for this certification exam. As a result, you can strengthen your knowledge about the application of these concepts. In addition, books are also useful for cross-referencing and verifying the authenticity of the information from other learning resources. We suggest you to include the following books in your preparation journey:
To begin with, The New Wealth Management by Harold Evensky
Then, A Wealth of Common Sense: by Ben Carlson
Also, Private Wealth Management: By G. Victor Hallman, Jerry Rosenbloom
Moreover, Wealth Without Stocks or Mutual Funds by John Jamieson
Further, Wealth Management Unwrapped Charlotte B. Beyer
Evaluate with Practice Test
Finally, we're on the last step for the preparation of the exam. This last step will provide the candidate with the exact insight of where they need to work on. Your practice is an important determiner of how well you pass the exam. Are you ready to self-evaluate? Make sure you're going through sample tests only after you have gone through the whole syllabus. Moreover, all the sample test mock test/ practice tests are designed in such a way that you encounter the real exam environment around you. After completing sample tests, you can easily understand the areas you're lacking behind and work upon them. Remember the more you practice, better the result. So START PRACTICING NOW!

Prepare for Job Interview
Prepare for Wealth Manager Interview with our latest interview questions, these interview questions can prove handy during the job interview, checkout now !