Organization and Leadership Communication is a vast and ever-evolving field that is becoming increasingly important in our increasingly linked society. Career opportunities expand as technology improves and additional avenues for conveying messages to the general public and targeted audiences become accessible. As a result, communication careers are varied, rewarding, and fascinating.
Let us get into details of Organization and Leadership Communication Career Opportunities!
What is Organization and Leadership Communication?
Organization and Leadership Communication experts create and disseminate information to specific audiences. They develop the finest messages to convey through the finest channels with specific objectives in mind that help their company. They also encourage collaboration among team members and between teams, as well as maintaining open and effective communication channels between team members and management.
Roles and Responsibilities
Leadership professionals inspire their teams by fostering an open culture of communication and establishing clear team objectives.
They assign assignments and establish deadlines. Then go over the day-to-day operations.
They also keep track of team performance and work to motivate team members.
Finally, they recognise and reward exceptional performance. Also, arrange and suggest team-building events.
Related Skills
Some of the skills that can make you perform better in this field are –
Effective oral and written communication skills
Strong interpersonal skills
Effective writing capability
Creativity – using sounds, color, imagery and art
Reporting and computer skills
Ability to create influential and effective messages
Strong research capabilities
Critical thinking skills
Career opportunities
With the right combination of education, experience, and training, people may be able to seek careers in fields such as:
Marketing
Public relations
Journalism
Publishing
Technology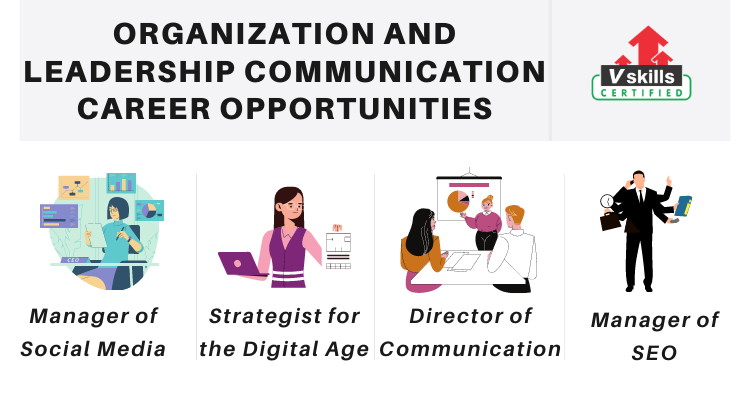 Some of the career options you can explore are –
Manager of Social Media
The social media manager's domain is the strategic design of an organization's social media content. This role has evolved in tandem with the rise of social media platforms that connect industries with their target audiences. Social media managers build brand awareness, assess performance indicators, and optimise their work for search engines, engagement, and conversions in addition to generating content plans to grow an organization's online reputation and reach.
Strategist for the Digital Age
Communication graduates who work as digital strategists use their expertise to develop and implement concepts that integrate a company's voice, objectives, and reach. They bring the goals of the brand and the consumer together in order to create relationships between an organisation and the general public. You'll be expected to assess consumer information and data, direct teams on online content best practises, make social media posts, design commercials, and meet with clients to learn about their highest objectives as a digital strategist.
Director of Communication
Internal and external messaging are managed by communication directors. They may supervise other public relations and marketing workers, and they are frequently the primary point of contact for the media. Businesses, organisations, institutions, and political campaigns all need a director of communication to assist them produce, distribute, and govern their communication with the rest of the world.
Manager of Search Engine Optimization
Managers of search engine optimization (SEO) are in charge of making sure that an organization's written material is searchable on the internet. These experts plan, execute, and monitor a company's whole SEO strategy. This is a fast-growing and often lucrative position among communication degree careers since they work completely with digital content and online administration. SEO managers are typically in charge of web marketing, web analytics, strategic content planning, and keyword research for use across digital platforms.
Specialist in Public Relations
Public relations professionals serve as the public face of businesses, nonprofits, and organisations. Individuals with a background in communication undertake a number of activities in this area, including controlling outbound communications for consistency and clarity. Public relations professionals also prepare and distribute press releases, build press kits, curate web content, help companies develop communication plans, attend or conduct press briefings, and maintain contacts with the media and the general public.
Market Demand
Learning how to manage and lead in a number of organisational contexts opens the door to a variety of career opportunities, many of which are in the upper management ranks. With an organisational leadership degree, you can make more than six figures a year depending on your expertise, industry, and company.
Companies such as Seattle Genetics, SAS, Amazon, Bonobos, AT&T hire professionals in this field and are also known for providing best on the job training for this field.
Average Salary
CEOs, presidents, general and operations managers, and other top executives receive a median annual compensation of $101,250 a year. The highest-paid CEOs earn just over $165,000 per year, while the lowest-paid CEOs make an average of $75,000 per year. The lowest pay level for general and operations managers was roughly $47,000 per year, with the top paid managers earning roughly $166,000 per year.
Resources
Before you can become an expert in desired areas, you must first build a solid base. Before you can move on to practical teaching, you'll need to have the right applied skills. To gain a full understanding of the domain, you can use the following tools:
Firstly, Online Tutorials for Organization and Leadership Communication
Bachelor's and Master's degree in Organization and Leadership Communication
Also, Certification Courses from verified sources such as Vskills, Coursera, Udemy and so on.
In addition, Online communities
Moreover, Blogs and study material from experts in this field and many more.
Here are some examples of how you can improve your abilities:
Freelancing
Internships
Apprenticeship programs
The above steps will help you to get this domain started. It's a long way to go, however. You can take an advanced course to reach a new level of skills.
Some resources offered by Vskills
Vskills offer Organization and Leadership Communication Professional certification for all those interested in working in this field. This certification course covers the following topics –
Leadership
Inspirational Leadership
Self-Assessment and Motivation
Influence Building
Communication and Organizational Vision
Leadership Communication
Leadership Messaging
Conflict and Negotiation
Emotional Intelligence
Leadership Development Plan
Business Ethics
Corporate Governance
Vskills also offers free practice tests and online tutorials to supplement the learning process. You can check them by clicking on the following links –
Discover the career opportunities and other prospects of career in Organization and Leadership Communication. Hurry up and start preparing now with Vskills.in!