Learner Types
When it comes to learning, there are different styles it has, and in the same way, there are learner types. Determining the learner types helps in designing the learning programme. It helps the learner to perform better. Because every student learns differently, so it helps in better learning.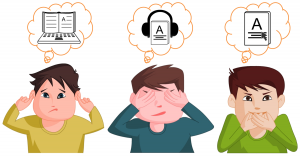 The types of learner –
The sound oriented: this type of learners are the ones who must have done well in their high school. Because when you hear the information retains in the mind for longer. The sound learners prefer the auditory mode of study material rather than the reading or writing style.
The reading/writing oriented: this types of learners are more into the study material. They like to read the concepts thoroughly and prepare notes out of it. They prefer the writing exercises to perform better. There best way of learning is through diagrams with written statements.
The unmotivated type: These types of learners are uninterested and unchallenged types. They tend to perform better by successfully applying their own strategies. For a better understanding and additional certificates by Vskills
The visual learner: this type of learners prefers the visual mode of studying. They study through online tutorials and other related videos along with presentations and PPTs. Also, some do prefer learning through shapes and patterns rather than videos or tutorials.
The practical learners: they learn through the experiences and different learning strategies. Using different modes of learning through practice is what better defines them.
Surveys and researchers have shown that there is an immense improvement in the end goals of the organizations, after, implementing the different type of learning programme in the workplace.
For certification in L&D visit –
Government certification in L&D