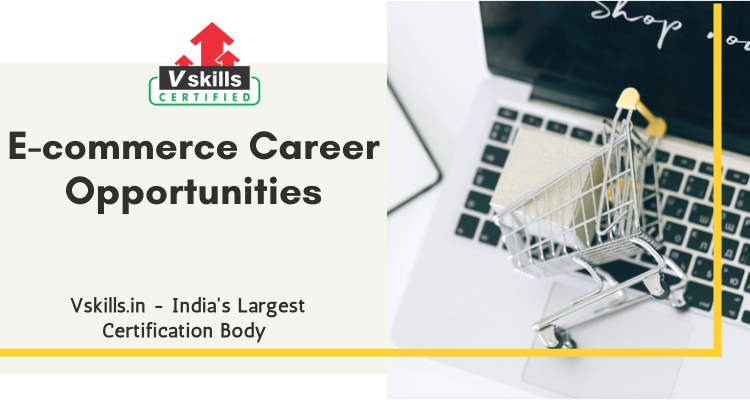 Companies specializing in planning and implementation of E-commerce project are constantly hiring knowledgeable professionals. Various public and private companies also need E-commerce professional for project management, planning and implementing E-commerce projects. E-commerce sector indeed become the most demanding profession of this century.
Let us get into details of E-commerce Career Opportunities.
What is E-commerce?
E-commerce (electronic commerce) refers to the buying and sale of goods and services, as well as the transmission of funds and data, over an electronic network, most commonly the internet. Business-to-business (B2B), business-to-consumer (B2C), consumer-to-consumer, and consumer-to-business transactions are all possible.
Why to choose working in this sector?
Economic developments over the last ten years have resulted in a modern way of doing business. Ecommerce platforms such as eBay, Amazon, and Etsy play a significant role in the retail industry and economy of the United States.
They outperform traditional retailers and steal customers. According to statistics, they now have the largest global customer base, with the number of online shoppers projected to double in the next five years. And here's the rub for retail employees: even commerce store owners are being forced to reduce the number of available brick and mortar retail sites, and as a result, retail job openings. As a result, these employees only have one option: work in ecommerce.
How can you start your career in E-commerce?
To be acceptable at something, it is critical to have a good start with appropriate assets and learning content. As a result, in order to be a pro in this area, your first steps toward learning must be appropriate. Let's take a look at some steps you can take to start your learning process –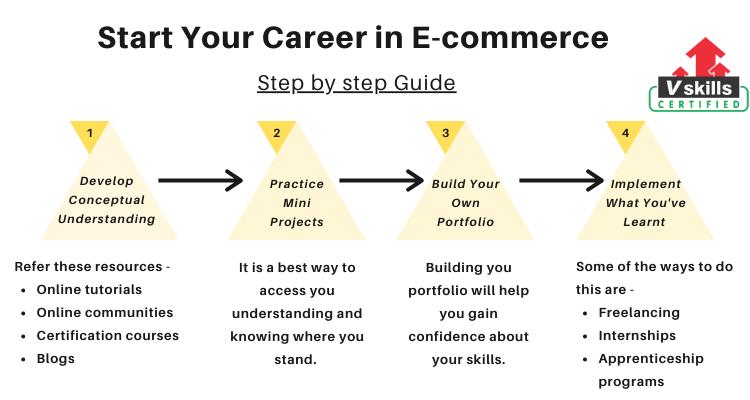 Step 1 – Learn about the basics and Develop Conceptual understanding
You must first establish a stable foundation before you can become an expert in those fields. And you'll need to have the right applied skills before you can move on to the practical labs. Everything has to begin somewhere. You must begin small if you want to have a successful career in this field. You may use the following tools to get a complete understanding of the domain:
Firstly, Online Tutorials for E-commerce
Also, Certification Courses from verified sources such as Vskills, Coursera, Udemy and so on.
In addition, Online communities
Moreover, Blogs and study material from experts in this field and many more.
Vskills also provide Online tutorials, certification courses and free practice tests for the same. You can check them out on our official site.
Step 2 – Practice Mini Projects
If you want to land in a good position, you must practise. It's also a perfect way to see where you are in terms of putting your knowledge into effect. In practical aspects such as the application of E-commerce in ventures, experience will help you outlast other things. To better understand the practical aspects, you can supplement your learning by reading blogs and tutorials on various websites.
Step 3 – Build Your Portfolio
Building a portfolio will help you gain trust in your abilities while also giving you a place to practise what you've learned. Your portfolio shows the ability to prepare and execute various codes, as well as the quality of your E-commerce skills. These tasks can provide a variety of datasets and provide readers with interesting tidbits of knowledge gleaned from your research. Your portfolio doesn't have to be about a single subject; pick a few that interest you and see what you can do with them.
Step 4 – Implement your skills in Real world
It's important to practise your skills, which is why you've spent so much time learning how to do it perfectly! It's also important that you stay up to date and continue to improve your own skills. Some specialist courses may also be used to show advanced abilities. You are also welcome to attend. Here are some examples of how you can improve your abilities:
Freelancing
Internships
Apprenticeship programs
The above steps will help you to get this domain started. It's a long way to go, however. You can take an advanced course to reach a new level of skills.
Job opportunities in E-commerce Sector
E-commerce sector is not limited to some kind of jobs, you can fit with any kind of education into this sector. Some of the job opportunities you can check are –
Customer service representative
Customer service representative is the most basic of all ecommerce work descriptions. Without these workers, no ecommerce business can survive. They're the people on the front lines who take orders and respond to customer questions. They can also handle inbound sales over the phone on occasion.
Marketing specialist
Marketing is a crucial component of ecommerce. Marketing experts assist companies in tracking and comprehending current market patterns. They make sure that new products, promotions, and other aspects of the business are customised to the needs of customers. A marketing manager may be in charge of a team of specialists in larger ecommerce companies. A customer service representative or another team member might be asked to work as a marketing specialist at a small business.
SEO content writer
The search engine is king in the online world. If your pages aren't getting enough traffic, your ecommerce company will fail. An SEO content writer is critical for propelling a website to the top of search engine results pages. These individuals are in charge of optimising all written content on ecommerce pages. They monitor and enhance the performance of product, category, and other pages using platforms like Google Analytics. They'll almost certainly be interested in link building as well.
Warehouse personnel
Ecommerce relies heavily on logistics. You may have all the SEO or digital marketing in the world, but if you can't meet orders, your company will fail. Order fulfilment needs warehouse staff. They select the necessary items for each order, prepare them, and ensure that they arrive on time. Warehouse workers are also important for inventory management.
Administrative assistant
An ecommerce company produces a lot of paperwork. This covers things like handling supplier fees, accounting, and more. Such paperwork and organisation are handled by an administrative assistant. In a smaller company, an admin assistant's work may be combined with that of a customer service representative. This is despite the fact that their work description does not cover it. Meanwhile, more recognisable brands will employ non-customer-facing specialists.
Retention specialist
In the world of ecommerce, this is one of the more diverse job descriptions. A customer retention specialist strives to keep consumers loyal to a company in every way possible. After all, every company's ability to maintain a client base is crucial. These workers may work full-time or part-time. However, they are normally limited to more well-known labels.
Market Demand
You can work as an entrepreneur and start your own e-commerce company if you have extensive knowledge and experience in the industry. Many entrepreneurs have flourished in the e-commerce sector in recent years. You can work in E-Commerce companies, Online Auction Services, Software Solution Firms, E-Business Solutions Companies, Business Process Outsourcing, and several other places if you have an E-Commerce degree.
eCommerce Industry in India is divided primarily into 6 major segments and these are the companies that hire the professionals in E-commerce domain:
Travelling / Ticketing – Cleartrip, MakeMyTrip, Yatra, Thrillophillia etc.
Retail(R) & Marketplace (M) – Shopperstop (R), Flipkart (M), Snapdeal (M), BigBasket (R) etc.
Deals – GroupOn, CashKaro etc.
Education – Edureka
Classified portals – Shaadi.com, Naukri.com etc.
Hyperlocals – Grofers, PepperTap, Swiggy
Average Salary
In India, an average annual salary in the field of e-commerce ranges between Rs.2.5 and Rs.4 lacs. Salaries differ depending on the role you hold in your field of employment. With advanced skill sets, relevant experience, and a relevant educational degree, you can easily earn a sizable salary package in this area.
Conclusion
There are plenty of hot jobs in ecommerce, whether you're just starting out or have some experience. Hopefully, after reading through our list of options, you've found the one that's right for you. The only thing left for you to do now is place yourself in the best possible way to land the dream work. To make yourself an irresistible candidate, develop your technical and soft skills. Then comb through your contacts, recruiters, and career boards to find the opportunity that will lead to a new job. You can't go wrong with your new knowledge of ecommerce work.
Discover the career opportunities in the field of E-commerce. Hurry up and start preparing now!