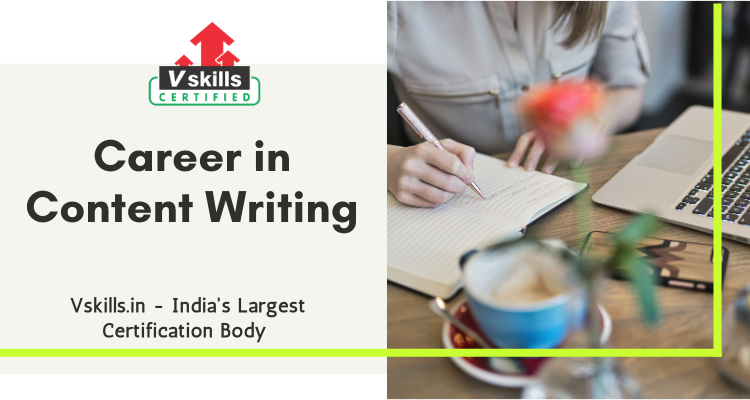 Professionals in the field of content writing are in high demand. Companies that specialise in content writing and website production are always looking for qualified candidates. Various public and private organisations require content writers to manage their correspondence, web presence, and other content writing requirements. This field is really booming in this era.
Let us analyse Career in Content Writing!
Who is a content writer?
Content writers are those who create content for the internet or who produce entertaining content for use on the internet. With the growth of the industry in recent years, the demand for content writers has increased dramatically. Today's job market includes content authors who write posts, blogs, scripts, and other forms of content. A content writer is responsible for delivering high-quality content for the company for which he or she works.
Roles and responsibilities
Some of the roles and responsibilities which are included in the work domain are as follows –
Creating content for the company's website, such as the Home Page, About Us, Product/Service Details, and Customer Testimonials.
For magazines, newspapers, and company websites, I write insightful blogs, articles, and newsletters.
Statements of Intent, Letters of Recommendation, Resume Writing, Overseas Application Essays, Motivation Letters, and other services are available.
Posters, Smart Fliers/Brochures, Videos, White Papers, Customer Case Studies, Testimonials, and other marketing collaterals
How can you start your career in Content Writing?
To be acceptable at something, it is critical to have a good start with appropriate assets and learning content. As a result, in order to be a pro in this area, your first steps toward learning must be appropriate. Let's take a look at some steps you can take to start your learning process –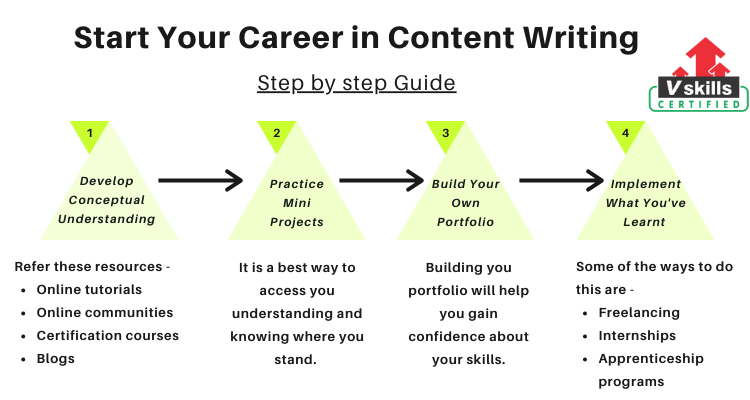 Step 1 – Learn about the basics and Develop Conceptual understanding
You must first establish a stable foundation before you can become an expert in those fields. And you'll need to have the right applied skills before you can move on to the practical labs. Everything has to begin somewhere. You must begin small if you want to have a successful career in this field. You may use the following tools to get a complete understanding of the domain:
Firstly, Online Tutorials for Content Writing
Also, Certification Courses from verified sources such as Vskills, Coursera, Udemy and so on.
In addition, Online communities
Moreover, Blogs and study material from experts in this field and many more.
Vskills also provide Online tutorials, certification courses and free practice tests for the same. You can check them out on our official site.
Step 2 – Practice Mini Projects
If you want to land in a good position, you must practise. It's also a perfect way to see where you are in terms of putting your knowledge into effect. In practical aspects such as the application of Content Writing in ventures, experience will help you outlast other things. To better understand the practical aspects, you can supplement your learning by reading blogs and tutorials on various websites.
Step 3 – Build Your Portfolio
Building a portfolio will help you gain trust in your abilities while also giving you a place to practise what you've learned. Your portfolio shows the ability to prepare and execute various codes, as well as the quality of your Content Writing skills. These tasks can provide a variety of datasets and provide readers with interesting tidbits of knowledge gleaned from your research. Your portfolio doesn't have to be about a single subject; pick a few that interest you and see what you can do with them.
Step 4 – Implement your skills in Real world
It's important to practise your skills, which is why you've spent so much time learning how to do it perfectly! It's also important that you stay up to date and continue to improve your own skills. Some specialist courses may also be used to show advanced abilities. You are also welcome to attend. Here are some examples of how you can improve your abilities:
Freelancing
Internships
Apprenticeship programs
The above steps will help you to get this domain started. It's a long way to go, however. You can take an advanced course to reach a new level of skills.
Career opportunities
Here is a list of some of the most common and prominent content writer job roles:
Content Development Specialist – A content creation professional is someone who conducts research on hot topics and develops content strategies, then combines the two to produce unique content.
Web Content Manager – A web content manager is the sole person in charge of all content design, organisation, preparation, and publication. A web content manager serves as a link between sales teams and the leadership team, ensuring that all content generated by the entire team reaches the intended audience.
Digital Content Strategist – A digital marketing strategist is someone whose job it is to build content for branded websites. Simply put, someone who creates original content for an already existing brand/organization with a fan base in order to target new people or others who were previously ignored.
Blogger – Blogging assists you in improving your skills in your chosen field. A blog is an excellent way to create a following of people who value your opinions. Bloggers are divided into three categories. For starters, blogging is a pastime for them. They are passionate about a subject and would like to share their experience across multiple platforms. Second, part-time bloggers may either start their own blog from scratch or work as a freelancer or employee blogger for an existing company or website. Third, full-time bloggers are those who make a living from their posts, have a large audience, and loyal readers who trust them.
Script Writer – The Audio/Video script writer is in charge of writing shoot-ready scripts for training modules that include video, audio, and multimedia. You must use the appropriate tone to communicate with your audience, and you must understand how and when to modulate your sound. You must be able to function through various channels as a Script Writer. Working needs a high level of attention to detail. To engage your target audience, you must use fresh and interesting ideas in your work.
Market Demand
Professional candidates may find job opportunities in various MNC's like Tata Consultancy Services Ltd, HCL, Motherson Sumi Infotech Design Ltd., Randstad India Limited, Shiksha.com, Naukri.com. Content marketing is provided by a content writer to persuade consumers to purchase an online product or service. The growing reliance on the Internet has fueled the demand for content writers in India and around the world. SEO content writers are distinguished by their useful skill set.
Average Salary
The pay scale or salary of a content writer is determined by a number of factors, including the content writer's experience, the organization's brand image, and the state/city in which the content writer works. At the start, a content writer's average salary ranges between 13,900 and 50,600 rupees. With experience, a content writer's average salary may or may not exceed $50,000, depending on a variety of factors.
Conclusion
Years ago, content writing as a profession was not something that most people would accept as a viable choice. Even our educational system has only recently accepted it as a formal educational course, but now that our culture has progressed so much thanks to the internet, knowledge of content writing as a career choice has exploded. So, if you are thinking to go for this field as full time career, this choice may prove beneficial to you!
Discover the career opportunities in the field of Content Writing. Hurry up and start preparing now!