Certified Talent Manager in the process of HR, attracts, develops, motivates and retains high-performing employees.They are responsible for increasing the overall performance. With the practice and experience of a talent manager, companies can build a sustainable competitive advantage and outperform their competition through an integrated system. A talent manager also hires and manages the employees in a company.
Talent Manager Responsibilities:
Talent Manager developing and presents pitches to potential clients.
They identify and evaluate talent as well as well conduct research on potential clients.
Talent Manager creates marketing strategies to promote clients.
They design and deliver employee training programs.
Talent managers develop mentoring and coaching sessions for employees as well as build succession plans.
They create organizational charts and define each position's responsibilities. And, they organize quarterly and annual performance review sessions.
Vskills Certified Talent Manager
Vskills certification for Talent Manager examines the candidate according to the company's need for talent identification, retention, and management. Moreover, this certification measures the candidate's skills and knowledge in various areas that include:
Basics of talent management
Strategic workforce planning
Talent acquisition
Performance and potential measurement
Talent development
Employee retention
Benefit of certification
With Talent Manager certification candidates will learn the best practices in selecting, recruiting, and bringing talent. They will understand and learn key approaches in performance measurement & employee evaluation. However, Managing & developing talent is one of the major tasks in an organization. So, this certification will provide you the frameworks to effectively manage & develop talent in an organization. For those who are working in HR and looking for new job opportunities or promotion or simply more responsibility, then you can take this certification and prove your knowledge. Some of the top companies hiring for Talent manager includes TeamLease Services Limited, Ikya Human Capital Solutions, Adecco, ABC Consultants.
Vskills being India's largest certification providers gives candidates access to top exams as well as provides after exam benefits. This includes:
The certifications will have a Government verification tag.
The Certification is valid for life.
Candidates will get lifelong e-learning access.
Access to free Practice Tests.
Candidates will get tagged as 'Vskills Certified' On Monsterindia.com and 'Vskills Certified' On Shine Shine.com.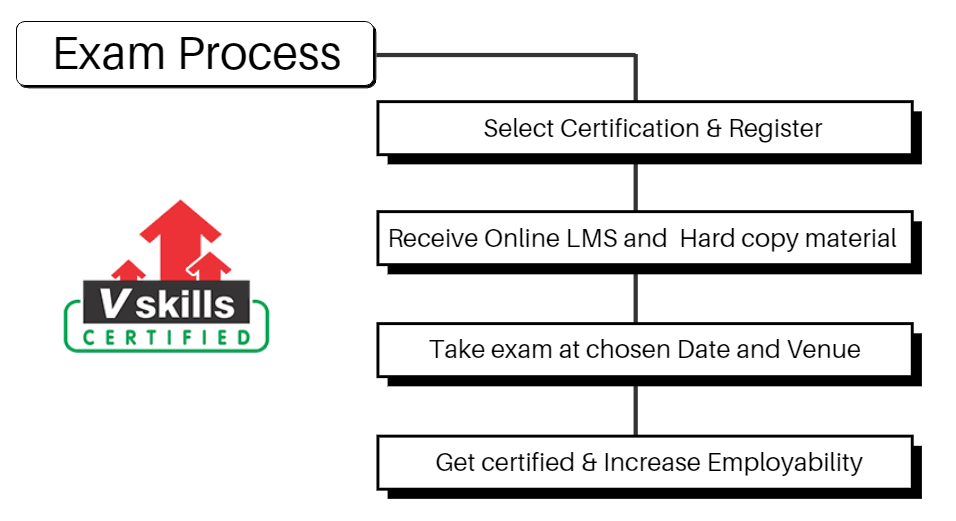 Test Details
Exam Duration: 60 minutes
Vskills Exam Code: VS-1051
Number  of questions: 50
Maximum marks: 50
Passing marks: 25 (50%).
There is NO negative marking in this module.
Career as Talent Manager
A bachelor's degree in management or marketing may be useful if you want to work as a talent manager. You should also be able to handle many clients at once and have good bargaining, scheduling, and communication abilities. Let us look at Career as Talent Manager!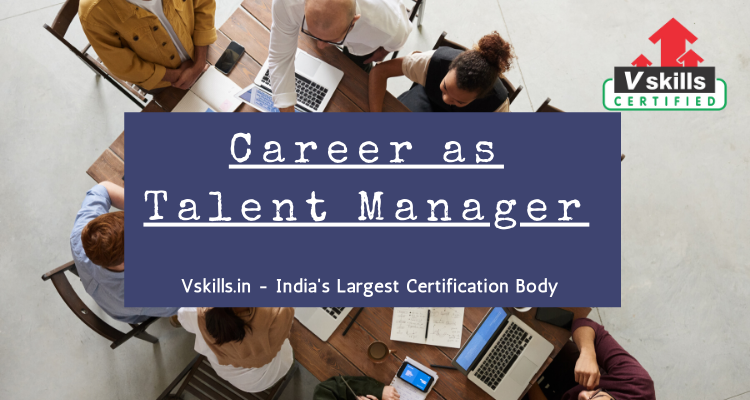 Course Outline for Certified Talent Manager
Certified Talent Manager covers the following topics –
Talent Management
The Application of Talent Management
Financial Perspective of Talent Management
Strategic Workforce Planning
Talent Acquisition
Performance Measurement
Potential Measurement
Talent Development
Employee Retention
HRMS or HRIS
Competency Based Management
Talent Management Integration
Preparation Guide for Vskills Certified Talent Manager
During the exam preparation, it is essential to get all the required exam study resources. In the Certified Talent Manager exam preparation guide, we will discuss some of the most important resources to help you prepare well for the exam.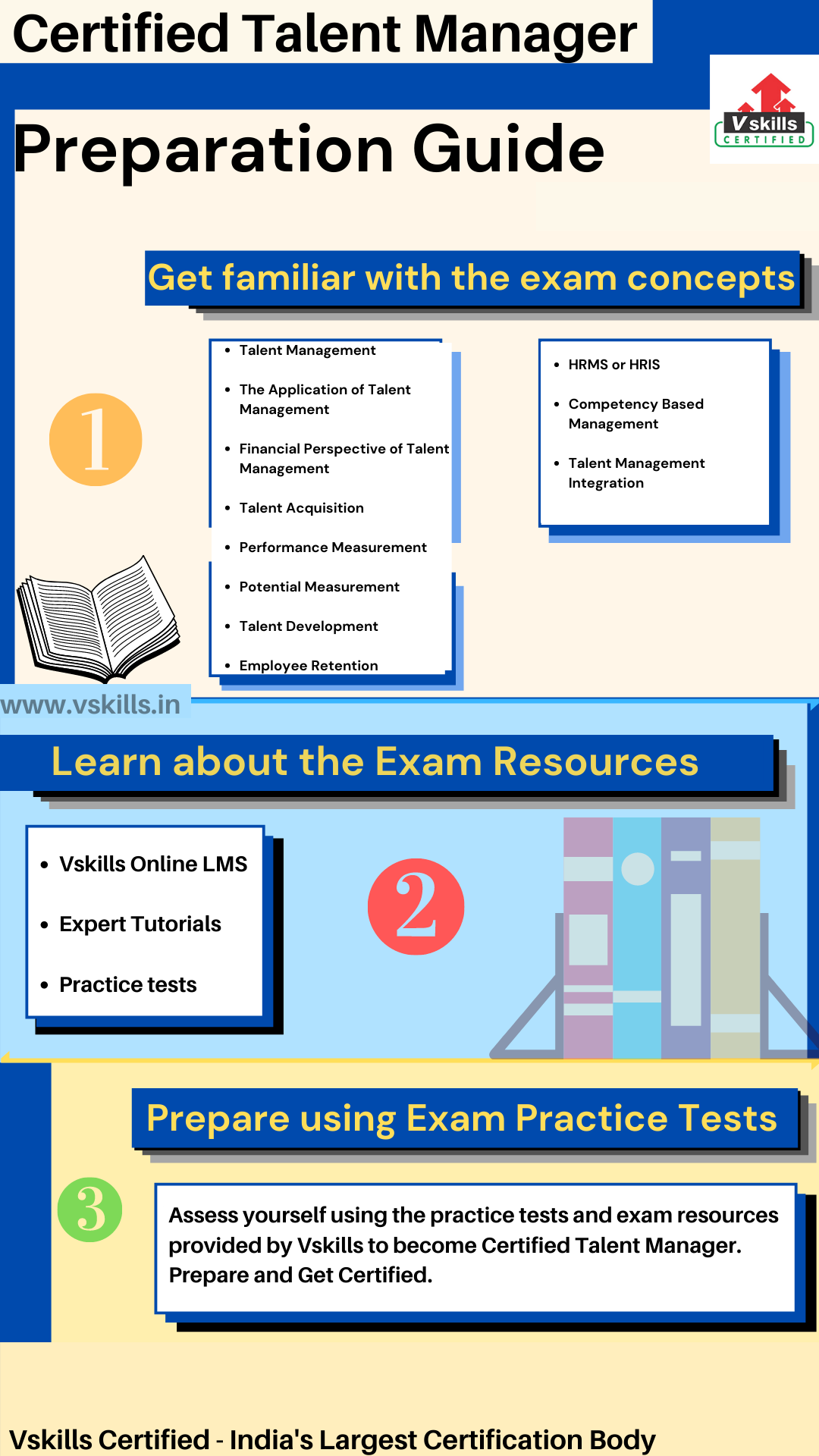 Study Resource: Exam Objectives
For every examination, the first task should be to get all the exam related details including the important contents and its topic. This will help candidates to easily start preparing for the exam and to understand things more accurately. For the Certified Talent Manager Exam the topics include:
Talent Management
Enterprise Systems Integration
Financial Perspective of Talent Management
Strategic Workforce Planning
Talent Acquisition
Performance Measurement
Potential Measurement
Talent Development
Employee Retention
HRMS or HRIS
Competency-Based Management
Talent Management Integration

Study Resource: Vskills Online LMS
Vskills Certified Talent Manager provides candidates access to prepare for the exam using the online learning material for a lifetime. The online material for this is regularly updated. Furthermore, e-learning is bundled with hard copy material which helps candidates to improve and update the learning curve for superior and better opportunities.
Study Resource: Practice Test
This can be a very essential part that can help you to prepare better for the exam. That is to say, practice tests are important as by assessing yourself with these tests you will know about your weak and strong areas. So, with practice tests, you will improve your answering skills that will result in saving a lot of time. So, make sure to find the best practice sources.
Prepare for Job Interview
If you are looking for a job role in human resource dept of any company, then you should also checkout these interview questions on talent management. Crack the job interview and move ahead in your career !