Certified Biopharmaceutical Professional
Certify and Increase Opportunity.
Be
Govt. Certified Biopharmaceutical Professional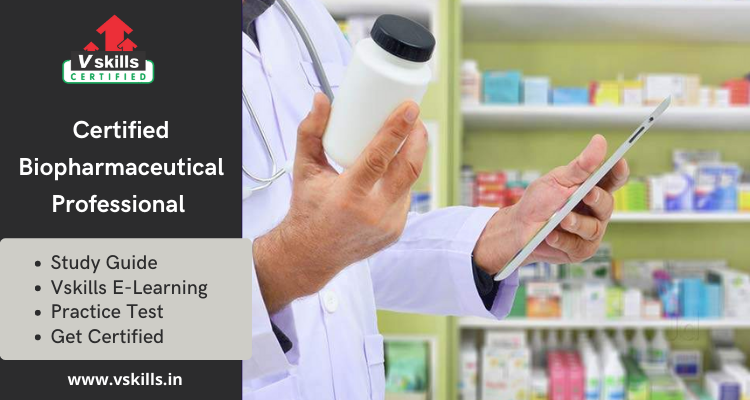 A Biopharmaceutical Professional is responsible for managing and developing various types & sources of biopharmaceuticals which also includes methods of production and legal issues. For candidates who are interested in pharmaceuticals, science, and health, building a successful biopharma career can actually be pretty simple, providing you know how to start and where to go from there. However, there are various skills and knowledge required to become a Biopharmaceutical Professional.
Roles and Responsibilities
With the increasing demand for biopharmaceutical professionals in the medical industry, getting a certification will definitely help you stand out in the crowd. Biopharmaceutical professionals are in great demand. Companies specializing in biopharmaceuticals or outsourced research labs are constantly hiring skilled biopharmaceutical professionals. Various public and private companies also need biopharmaceutical professionals for their biopharmaceutical departments.
Vskills Certified Biopharmaceutical Professional 
With the Vskills Biopharmaceutical Professional certification, you will able to acquire the skills and knowledge to find employment in good companies. Also, you can work with the top companies such as Glaxo SmithKline, Wockhardt, Max Healthcare, Biocon, and Piramal Healthcare.
Vskills being India's largest certification provider gives candidates access to top exams as well as provides after exam benefits. This includes:
The certifications will have a Government verification tag.
The Certification is valid for life.
Candidates will get lifelong e-learning access.
Access to free Practice Tests.
Test Details
Exam Duration: 60 minutes
Number  of questions: 50
Maximum marks: 50
Passing marks: 25 (50%).
There is NO negative marking in this module
It is an online examination

Course Outline
Introduction
History of the Pharmaceutical industry
Biopharmaceutical Evolution
Indian Pharmaceutical Industry
Biopharmaceutical Viability
Present Scenario
Industry Future
Emerging Trends for the Industry
Differences between Pharmaceuticals and Biopharmaceuticals
Pharmaceuticals and Biopharmaceuticals
Examples of Biopharmaceuticals
Humulin
Etanercept
Adalimumab
Infliximab
Gardasil
Alefacept
Briakinumab
Secukinumab
Ustekinumab
Ibritumomab tiuxetan
Tositumomab
Abciximab
Trastuzumab
Alteplase
Interferon-beta -alpha
Filgrastim
Urofollitropin
Humatrope
Darbepoetin alfa
Epoetin alfa
Types of Biopharmaceuticals
Directly Derived Biopharmaceuticals
Indirectly Derived Biopharmaceuticals
Sources of Biopharmaceuticals
Microbial Sources
Plant Sources
Animal Sources
Human Sources
Methods of Production
Direct Extraction from Living Systems
Recombinant DNA Technology
Tissue Culture
Gene Therapy
Large Scale Production
Cell or Tissue Culture
Production of Genetically Modified Organisms(GMO)
Legal Issues
Patents
Laws for production of biopharmaceuticals
Drug Pricing
New Developments In Biopharmaceuticals
Importance of Biopharmaceuticals
Preparatory Guide for Vskills Certified Biopharmaceutical Professional
Evaluate with Practice Test
After studying for the examination, it is important to practice sample papers. Practicing sample test will help you analyze your weak areas and strengths. Moreover, you will be able to improve your answering skills that will result in saving a lot of time. So, make sure to find the best practice sources.
If you are preparing for a role in Biopharmaceutical, then you must checkout these online interview questions to crack the job interview with ease. Try for free Now !