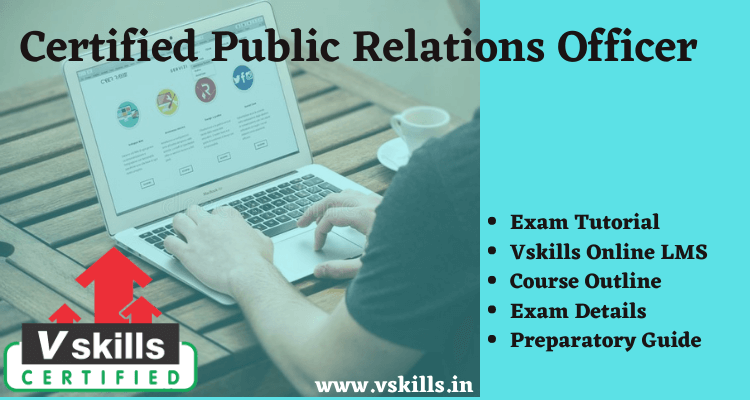 Public relations officers, also known as public relations or communications specialists, aid relations between organizations and the public. They may operate for corporations, government agencies, or nonprofit groups. Standard tasks for public relations officers incorporate providing journalists with information concerning their organizations' activities, coordinating public exhibitions for business representatives, and competing in marketing activities. The Certified Public Relations Officer exam proves that the aspirant has such abilities.
Responsibilities as a Certified Public Relations Officer
Outlining PR campaigns and procedures.
Monitoring the public and media's judgment of their client or employer
Writing and disseminating leaflets, press releases, brochures, newsletters, speeches, websites, and social media
Representing the company on occasions such as press launches, exhibitions, news conferences, open days, and sponsorship.
Forming good working relations with the media
Arranging for advertising or promotional films to be presented.
Public speaking at conferences, presentations, or radio and TV interviews.
Certified Public Relations Officer: Exam Overview
Vskills Certification in Public Relations is for those candidates who are looking for opportunities in this sector catering to a wide variety of services. The Public Relations Officer certification concentrates on developing public relations strategy and tactical requirements of the profession. Vskills Certifications on Public Relation is for media relations professionals, public relations practitioners, government public relations officers, corporate communicators, and practising public relations professionals. Public Relations certification significantly appends a value to the candidates' profile and assists in evaluating the skills for performance improvement.
Vskills being India's largest certification provider gives candidates access to top exams as well as provides after exam benefits. This includes:
Get Government Certification.
The Certification is valid for life.
Candidates will get lifelong e-learning access.
Access to free Practice Tests.
Candidates will get tagged as 'Vskills Certified' On Monsterindia.com and 'Vskills Certified' On Shine Shine.com.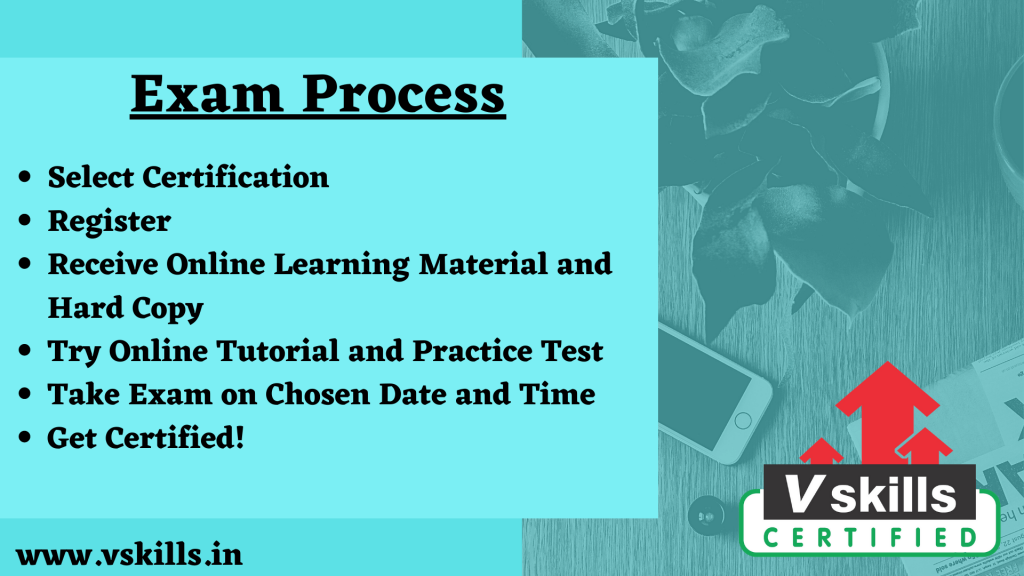 Exam Details
Exam Duration: 60 minutes
Vskills Exam Code: VS-1043
Number  of questions: 50
Maximum marks: 50
Passing marks: 25 (50%)
Exam Mode: Online
There is NO negative marking in this module.
Public Relations Career Options
The interaction between a corporation and the general public is referred to as public relations. Public relations (PR) professionals assist a firm in projecting a favourable image to the public in order to achieve its objectives. Let us discover Public Relations Career Options.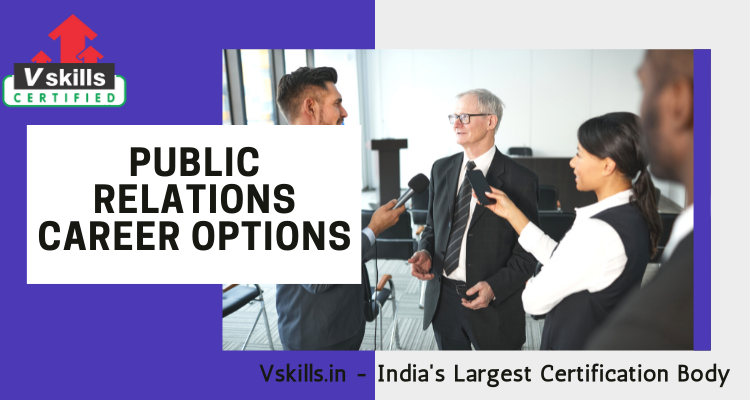 Course Outline for Certified Public Relations Officer
Certified Public Relations Officer covers the following topics –
Preparation Guide for Certified Public Relations Officer
Candidates preparing for the exam should understand the importance of exam resources. During the exam preparation, it is necessary to get all the required exam study resources. This will give the advantage to understand the concepts and meaning more accurately. In the Certified Public Relations Officer preparation guide, we will discuss some of the most important resources to help you prepare well for the exam.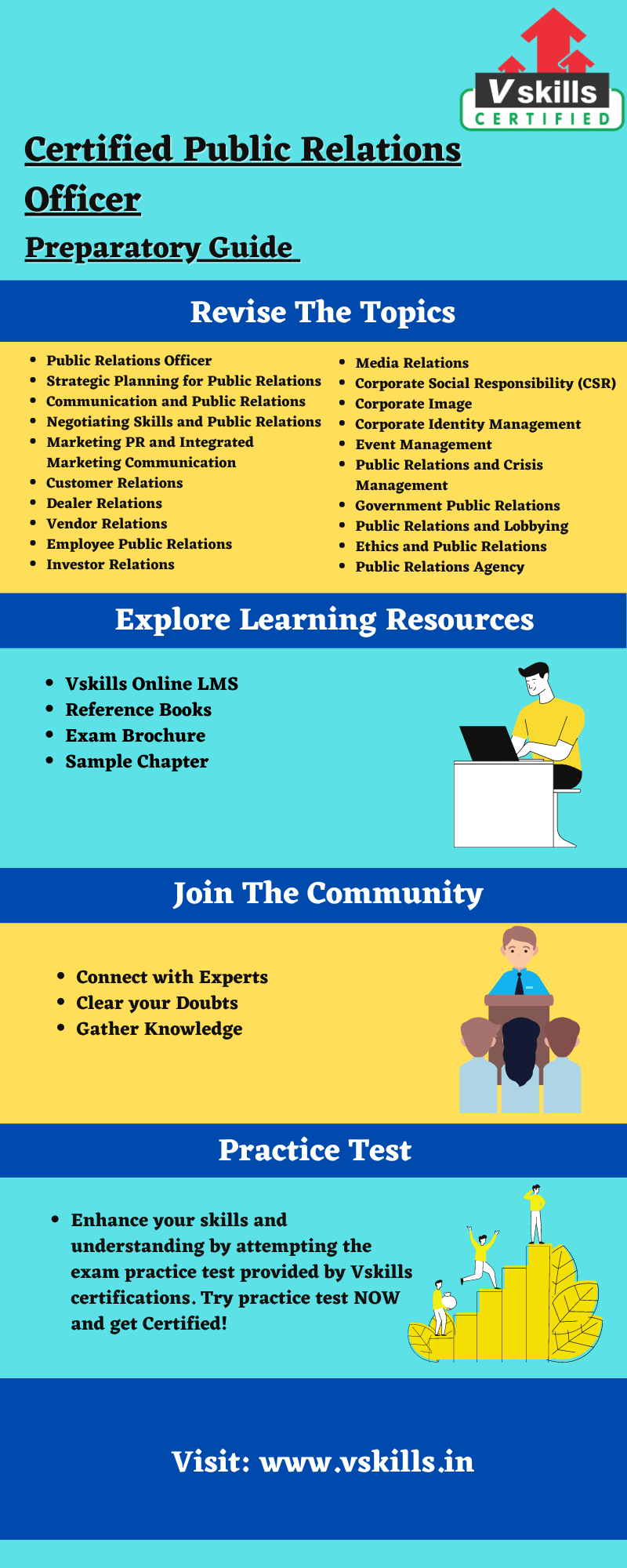 Exam Objectives
For every examination, the first task should be to get all the exam relevant details including the important contents and its topic. With complete exam objectives, the candidate's exam preparation time is better spent because they already know what to study. For the Certified Public Relations Officer exam, the topics include:
Public Relations Officer
Strategic Planning for Public Relations
Communication and Public Relations
Negotiating Skills and Public Relations
Marketing PR and Integrated Marketing Communication
Customer Relations
Dealer Relations
Vendor Relations
Employee Public Relations
Investor Relations
Media Relations
Corporate Social Responsibility (CSR)
Corporate Image
Corporate Identity Management
Event Management
Public Relations and Crisis Management
Government Public Relations
Public Relations and Lobbying
Ethics and Public Relations
Public Relations Agency
Vskills Online Learning Material
Vskills Certified Public Relations Officer provides candidates a way to prepare for the exam using the online learning material for existence. The online material for this is regularly updated. Moreover, e-learning is bundled with hard copy material which encourages candidates to enhance and update the learning curve for superior and better opportunities. The candidate can also download the sample chapter for the Certified Public Relations Officer exam.
Vskills Brochure
Vskills also provides a brochure for the Certified Public Relations Officer exam. The brochure contains all the necessary related to the exam such as details, sample papers, important information, course outline, etc.

Books for Reference
The next step in the preparatory guide should be books and study guides. The candidate needs to find those books which are enriched with information. Finding a good book may be a difficult task, but in order to gather knowledge and skills, the candidate has to find, read, and understand. We recommend the following for additional knowledge:
Public Relations by Tom Kelleher.
Strategic Writing: Multimedia Writing for Public Relations, Advertising, and More by Charles Marsh.
The Art & Craft of PR: Creating the Mindset and Skills to Succeed in Public Relations Today by Sandra Stahl
Practice Test
Practice tests are the one who ensures the candidate about their preparation for the Certified Public Relations Officer exam. The practice test will help the candidates to acknowledge their weak areas so that they can work on them. There are many practice tests available on the internet nowadays, so the candidate can choose which they want. Try the practice test here!

Job Interview Questions
Get ready to crack you interview whether you are a fresher or looking to upgrade your career. These interview questions are solely designed to serve the purpose to enrich you with knowledge. We have curated expert questions to help both beginners and professionals that will help them to advance their career and gain knowledge to face any typical interview.