A Planning and Scheduling Manager works on delivering office support and performing administrative duties such as maintaining the calendar, scheduling appointments, making travel plans, organizing meetings, and planning conferences, and performing other scheduling administrative functions. It is therefore important, to be disciplined and have enough knowledge and skills to become a successful Planning and Scheduling Manager.
Roles and Responsibilities
As a Planning and Scheduling Manager, you will be responsible for scheduling office and client visits, Furthermore, updating individual and office-wide calendars and planning for meetings, conferences, and trips is also done by a Planning and Scheduling Manager. To add on, Scheduling managers also do multiple tasks while keeping in mind the strict deadlines, developing process improvements in order to boost efficiency and productivity levels. Also, they work directly with the top management as well as the junior staff of the company.
Vskills Certified Planning and Scheduling Manager
The Vskills Certified Planning and Scheduling Manager is specially designed for those candidates who are looking for developing and learn relevant skills to enhance their career as a Scheduling Manager. This certification aims at helping a candidate differentiate in today's competitive job market, broaden their employment opportunities by displaying their advanced skills, and result in higher earning potential. Furthermore, this course is intended for professionals and graduates wanting to excel in their chosen areas. It is also well suited for those who are already working and would like to take certification for further career progression.
Benefits of the Certification
With the Vskills Certified Planning and Scheduling Manager, you can find employment in planning or scheduling departments of various companies, students generally wanting to improve their skill set and make their CV stronger, and existing employees looking for a better role can prove to their employers the value of their skills through this certification.
Also, the certification tests the candidates on various areas in project management basics, project planning, activity and schedule basics, constructing network diagram, forward and backward pass, AON, PDN, LOB, CPM, PERT, PERT/CPM simulation, reducing project duration and risk management.
Vskills being India's largest certification provider gives candidates access to top exams as well as provides after exam benefits. This includes:
The certifications will have a Government verification tag.
The Certification is valid for life.
Candidates will get lifelong e-learning access.
Access to free Practice Tests.
Test Details
Exam Duration: 60 minutes
Number of questions: 50
Maximum marks: 50
Passing marks: 25 (50%).
There is NO negative marking in this module
It is an online examination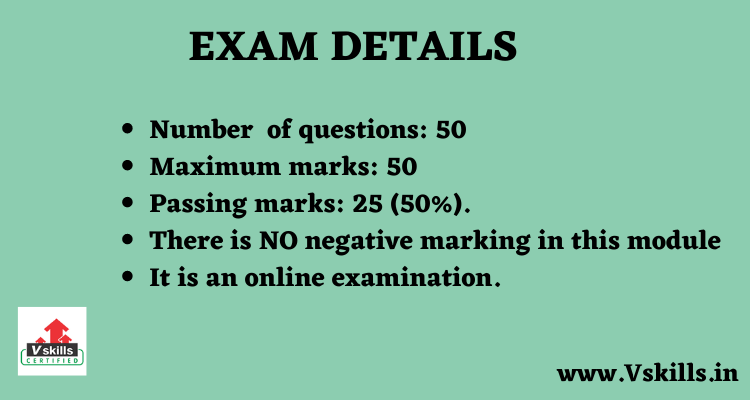 Course Outline
Project Management
Project
Project Management
Project Management Approaches
Project Life Cycle
Stakeholders
Project Scope
Base Lining
Project Planning and Scheduling
Introduction
The Specification
Providing Structure
Establishing Controls
Artistry In Planning
Planning For The Future
Importance of Project Planning
Planning and Scheduling Techniques
To-do Lists
Bar Charts
Flowchart
Critical Path Method (CPM)
Program Evaluation and Review Technique (PERT)
Arrow Diagramming Method
Precedence Diagram Method
Line of Balance (LOB)
Activity and Schedule
Activity Basics
Work Breakdown Structure
Activity Definition
Activity Sequencing
Activity Resource Estimating
Activity Duration Estimation
Schedule Development
Schedule Control
Constructing Network Diagram
Introduction
Network Construction
Event Representation
Constructing a Network Diagram from WBS
AON Basics
Introduction
The Workflow
Drawing of Activity Diagram
Examples
Forward Pass and Backward Pass
Introduction
Forward Pass
Backward Pass
Calculating and Executing a Forward and Backward Pass
Constructing Forward and Backward Pass Project Management
Forward Pass / Backward Pass Calculation
Precedence Diagramming Method
Introduction
Explanation
Constructing Diagram and Computations
Sample PDM Network Diagram
Gantt Charts
CPM/PERT
CPM/PERT
Calculations in Network Analysis
Calculation of Expected Time and Variance of a Path in PERT
CPM/PERT Network Development
CPM & PERT Weaknesses & Strengths
Advantages of PERT and CPM
PERT/CPM Simulation
Introduction
Description of CPM/PERT
Modification In CPM/PERT
Simplified PERT Procedure
Reviews
Structure and Elements of Simplified
Algorithm of Simplified CPM/PERT
Reducing Project Duration
Introduction
Project Audit and Closure
Steps to reduce Project duration
Project Crashing
Conclusion
Project Time-Cost Trade-Off
Activity Time-Cost Relationship
Uncertainty and Risk Management
Introduction
Risk Management Plan
Risk Identification Techniques
Risk management processes
Strategies to meet the Risks
Preparatory Guide for Planning and Scheduling Manager Certification
You must follow a study pattern while learning from authentic and genuine resources. This Preparatory Guide will act as a bridge for your career advancements. Our team has curated this guide to help you excel in your certification Let's discuss step by step-
Exam Objectives
The course domains and modules act as a blueprint for the exam. This will help candidates to easily start preparing for the exam. Also, for the Vskills Planning and Scheduling Manager Certification, the exam topics to refer to are:
Project Management
Project Planning and Scheduling
Planning and Scheduling Techniques
Activity and Schedule
Constructing Network Diagram
AON Basics
Forward Pass and Backward Pass
Precedence Diagramming Method
CPM/PERT
PERT/CPM Simulation
Reducing Project Duration
Uncertainty and Risk Management
Refer: Vskills Planning and Scheduling Manager Certification Brochure
Vskills E-Learning
For the skills Planning and Scheduling Manager Certification examination, our team has provided online study material. Also, this online material is regularly updated. Furthermore, e-learning is bundled with hard copy material which helps candidates to improve and update the learning curve for superior and better opportunities.
Refer: Vskills Planning and Scheduling Manager Certification Sample Chapter
Reference Books
It is important to prepare from the right books. To ease out your hunt for books we have provided a list of books which you can refer to:
Project Planning and Scheduling (Project Management Essential Library) by Gregory T Haugan
Maintenance Planning and Scheduling Handbook by Doc Palmer
Evaluate yourself with Practice Test
After studying for the examination, it is important to practice sample papers. Practicing sample test will help you analyze your weak areas and strengths. Moreover, you will be able to improve your answering skills that will result in saving a lot of time. So, make sure to find the best practice sources.
Apply for Planning and Scheduling Manager Certification Now!!

Planning and Scheduling Manager Interview Questions
Checkout these latest online interview questions on Planning and Scheduling Manager to prepare for any job interview. The questions are created by domain experts, to help you to overcome the job interview obstacle.